Twisted Marine recently launched the T450 RIB – a 450hp 8.7m RIB, rigged and completed in the company's Salcombe-based rigging facility. It's a craft based on the Cobra Nautique hull, with over 400 hours of bespoke assembly and fine-tuning aimed at delivering class-leading performance, handling and quality.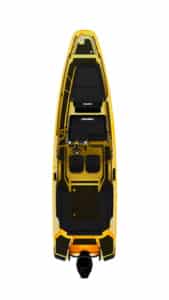 And Twisted have now announced the addition of two new models: the T200S and T300S. These 22ft 200hp and 25ft 300hp sports boats are the result of a new venture, as Twisted have secured the purchase of a limited number of Axopar 22 and 25 hulls to create their new adventure craft, further growing the offering of custom, pedigree, Twisted-edition hulls.  
Twisted founder Charles Fawcett commented on the venture: 'For Twisted to build upon the Axopar adventure story and add our own 20-year pedigree into this space, bringing the craftsmanship and fresh ideas that have made the business so successful to date, is an exciting prospect.'
For further details visit www.twistedmarine.com.