Built for abuse, this high-performance adventure craft wants for nothing, as Greg Copp discovers …
In the 4×4 world, few companies carry as much kudos as Twisted Automotive. Renowned for their bespoke 'zero-compromise' Land Rovers, this company has always had a strong focus on providing the ultimate adventure experience. Recently this ethos has taken on a new perspective with the launch of Twisted Marine. Based in Salcombe, Devon, this enterprise has been developing a range of adventure craft for the last two years. Tough, practical and with a distinct flavour of Land Rover, their new T300S has been subject to an extensive R&D programme. 
You will have likely realised that this is an Axopar 25 in a new skin, but the Twisted concept goes quite a bit deeper than the super-tough paintwork. The present colour scheme is Bahama Gold, arguably a posh term for mustard, but this is the original colour of the 1975 Range Rover, and it looks pretty good on the water. These boats are bought direct from Axopar – unfitted and unrigged. Twisted then put them through some 600 hours of fitting, fettling and rigging, while specifying them to a very high standard. Unusually there are virtually no extras on the price list, apart from a stainless steel Vanclaes trailer complete with electric winch – and antifouling should you need it. 
As is crucial for any offshore boat, the T300S has some serious seating. These are made by Twisted and involve cutting down the original GRP seat pods in order to accommodate a shock mitigation system with 75mm of travel. They use Fox suspension units, and the whole assembly fits neatly under the adjustable seats. Though they are original in shape, like the rest of the boat, they are upholstered with a square matrix pattern, in the same style as a Twisted Defender Land Rover. Twisted use a tough fabric-like material, similar to Silvertex, and the upholstery is actually twin-skin, as a thermo-bonded waterproof layer lies beneath the top surface. Consequently, you never get that wet-bottom feel from residual moisture lying in the seat foam that has seeped through the stitching – and importantly the seats are heated. The cockpit bench seats have the same standard of upholstery and sit on rot-free nylon boards, as opposed to marine ply.  
All decking is soft EVA SeaDek in the same box matrix pattern. Like the Axopar 25, the T300S has an adjustable windscreen, which can be raised or lowered to suit the weather. This is easily accomplished, without leaving the cockpit, via two adjusters that sit either side of the one-piece windscreen. This is a great feature, but I feel the bulletproof-like Perspex screen would benefit from rubber edging to protect the helmsman's face when standing with the screen lowered – especially as people tend to stand when reading a lively wave pattern. 
The helm layout packs in a wealth of features, notably two Simrad NSX 12in MFDs and a Simrad VHF, and there is also a Fusion hi-fi with six Hertz Marine speakers, plus a subwoofer. The steering wheel is taken from a Twisted Land Rover and has an automotive-style 'flappy paddle' wireless control for engine trim and a bow thruster – though a more realistic conventional thruster joystick sits next to the wheel. Mobile phones are taken care of by a waterproof wireless Scanstrut charger, and a conventional USB charger. 
Below decks, box matrix upholstery lines the sides of the cabin. Two adults can comfortably overnight down here, and there is an electric toilet under a seat at the foot of the bed, accommodated by a 25L holding tank. However, with any 25ft sports boat, there is always some degree of trade-off, and here it is the fact that you can't have a separate heads compartment and a sleeping cabin. There is some storage under the bed in the forepeak, some pocket storage on the aft bulkhead and a sink, which is fed from the tank that also feeds the aft-deck shower. You also have access, via a deck hatch and bulkhead hatch, to the helm electrics, transducers and forward bilge float switch.
The asymmetrical helm design means that you can easily access the foredeck via the port-side deck. The mid-height guard rails serve the purpose of convenient fender hanging rails, and like all the stainless work throughout the boat, they are covered in a tactile powder coating, enhancing grip in wet conditions. Lifting the sizeable cockpit hatch reveals a large under-deck cavity, which will no doubt attract a selection of water sports toys. It also enables the batteries and the power steering pump to sit on the starboard side of the hull centreline, rather than being located on the port side, as is the case with the standard Axopar 25. This is a Twisted feature and helps counteract the torque reaction from a single-engine boat, which otherwise causes the boat to heel to port. 
Behind the wheel
A substantial chunk of Twisted's R&D has gone into propulsion, and you really feel it once past 40 knots. Though it will shortly be available with a 250hp Mercury Pro XS, it has been set up to perform to its practical best with a 300hp Mercury Pro XS fitted with a Torque Master gear case, and a 21in Mercury Rev 4 propeller. Specifically, Twisted Marine have invested in researching and producing their own jack plate, which sits the engine 6.5in further aft, and has a height range of 4in. In the tested set-up, the engine was set at half height for a combination of top speed and low-speed pickup. Locating the engine further aft has raised the bow a touch, improving the otherwise slightly nose-heavy attitude of a standard Axopar 25, and reducing the wetted surface in the process.
Off the mark, the Twisted hits 40 knots in 11 seconds, which is not terribly quick, but to be expected with a relatively high engine setting. However, you quickly feel the bonus of having less outboard leg in the water. Past 30 knots you can trim the engine out and the boat starts to pile on the knots. With around 30% trim she pushes on past 40 knots relentlessly – a speed at which you would normally expect the numbers on the GPS to be slowing down. A stock Axopar 25 with 300hp, two crew and a full tank of fuel would normally hit around 45 knots, but the Twisted was intent on bettering 50, and in a composed manner. The hull naturally runs level, and if you overtrim the engine the only noticeable effect is an impressive rooster tail.
In the turns, the boat's level-headed attitude pays dividends. She just hangs on with absolutely zero hull slide, producing fantastic lean angles. One thing Axopar's twin-stepped hulls are known for is their sure-footed stability, and the Twisted 300S is no exception. The super-tight doughnut turns this boat is capable of make you feel you are in a 20-footer while rapidly churning up a confused spiral wake. We had a pretty calm day, so putting the boat through the sort of weather to which it is suited was sadly not an option. However, in the Solent you can generally find a bit of wake when you need it, not least the trail of the photo boat. Hitting sharp ridges of water with such a sharp hull entry is easy work for this boat. You get a bit of bow lift and then she comes down with a soft landing. Apart from the suspension seats doing their job, the boat's composure is such that 'spirited driving' becomes a near-casual 'point and shoot experience'.
Verdict
This boat has been carefully crafted from a practical perspective, particularly the helmsman's dimension. This is reflected in the fact that you can specify your performance requirements, and Twisted can then set the engine height and propeller to suit. Many, I suspect, would like the engine to be set lower to provide better hole shot performance for water sports, while still enjoying a relatively high top speed and good fuel efficiency. This can then be 'redialled' quite easily should you later want more knots. Twisted subscribe to the concept that the devil is in the detail, which in an offshore adventure craft makes good sense. Finally, and most unusually, there is virtually no extras list to speak of, which runs with this company's ethos, because if it really needs it, Twisted are going to fit it.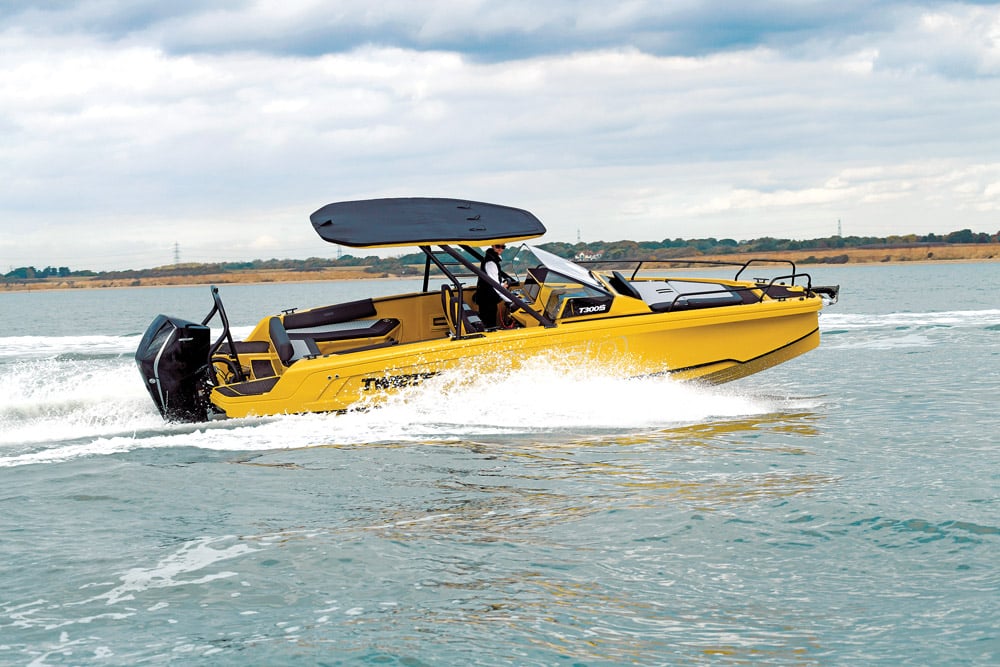 What we thought
For
Exceedingly sure-footed
Soft-riding hull

 

Great performance
Fuel efficiency
Practicality

 
Against
Could do with rubber edging around the windscreen

 
Specifications
LOA: 8m
Beam: 2.23m
Transom deadrise angle: 20 degrees
Displacement: 1750kg (dry excluding engine)
Power options: 300hp Mercury Racing
Fuel capacity: 230L
Water capacity: 25L
RCD category: C
Test engines: 300hp Mercury Racing
Performance
52.1 knots (2-way average), sea conditions F3, crew 2, fuel 70%
Contact
Twisted Marine, Brewery Quay, Island Street, Salcombe TQ8 8DP