Peter and Debbie Dennis talk to Alex Whittaker about boating life with their new Finnmaster …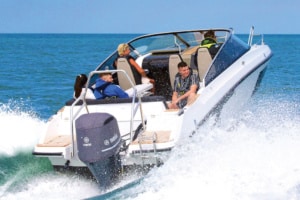 Peter Dennis has been boating since he was a child. His father was into boats, and Peter caught the bug. Peter owned a variety of jet skis for many years – four in all – which he used both on the sea and at Kingsbury Water Park in Warwickshire. For a while, Peter and Debbie then sailed a catamaran out of La Rochelle in France, which fine-tuned their navigational and boat-handling skills. However, with Peter there was always the need for speed!
Fletcher 21 GTS
Ten years ago, Peter and Debbie graduated to a nifty Fletcher 21 GTS, a fine cuddy cabin inboard boat with good top end. As well as being quick and having basic accommodation, it proved to be a good sea boat. This increased Peter's confidence further and led to extended fast day cruises. Peter then tried longer trips, some of which included night passages. He recalls that he really got a great buzz from picking his way back to the marina in the dark. Learning to live with the boat also made him become interested in learning the ropes (and knots) – literally. Peter now finds that he takes pride in selecting and tying the right knot for the job. Peter also stressed to me the importance of being safely equipped for such passages. He never leaves the marina without wearing his life jacket with his personal VHF marine band radio clipped to his person. His basic boating philosophy can be summarised this way: 'Don't put yourself in a situation where you have to rely on someone else for your safety.' Good advice.
Finnmaster 8
In 2018, Peter and Debbie started looking around for a bigger boat. They bought a second-hand Finnmaster 8, which was in excellent condition. They loved that boat. They looked after it and added a few upgrades, including a new canvas camper top, but they soon decided on a change. They appreciated the Finnmaster T8 design, so they decided they wanted a brand-new upgraded 2022 Finnmaster T8. They traded up via idealboat.com at Pwllheli. They liked the style of the 2022 Finnmaster T8, not least the fact that it had four berths in two cabins, while still retaining those low, racy powerboat looks. The new boat was delivered with a bow thruster, something new to Peter. He describes it as a good, practical feature, but he believes that it is better to rely on your traditional berthing skills of throttle and wheel! Peter feels that the Finnmaster T8 is a high-quality boat at a premium price, and he appreciates the good fit and finish. The design delivers a large and sociable deck layout with all the features they need when Debbie entertains her female friends while Peter drives. Apparently these are epic occasions!
Accommodation
The Finnmaster T8 looks sleek and low to the water. This is largely due to good design because, in fact, this is a voluminous hull with a decent freeboard. Overall, she follows the design philosophy of a sports cuddy. Down below, there is necessarily restricted headroom, but the execution puts the interior in the luxury class. Great colourways, clever design features and interesting choices of materials mark the Finmmaster T8 as something special. Although there is no galley below, there is a large offset berth in the forecabin and – somewhat surprisingly – a second bunk under the back deck. Unusually, this lies fore and aft, and not athwartships. Peter prefers this berth if he is sleeping over alone, though his pet name for the bunk is 'the coffin berth'. I suspect it's cosier than a coffin, though, and he says it is a fun and comfy place to sleep. Peter has started leaving the boat in the water all year round. He tries to sleep aboard for a few days in every month of the year. He does have a trailer should he and Debbie wish to change their cruising ground, but for the moment, that is kept in storage. Peter and Debbie like coastal cruising, island hopping and generally just being out on the water. 
The cockpit layout is very comfortable, with versatile lounging arrangements, and of course there is a heads below. There is even a further sun pad on the foredeck. Peter and Debbie are into water sports and are now a 'two-boat family'. When they needed a change of pace, they bought a rather quick Pirelli 90hp RIB. Their boating pals Steve and Cara McMullin, who are in some of the photos, also own a Williams jet RIB. Although the McMullins have their own cruiser, both families often use the Finnmaster 8 as the mother ship. Friendly rivalry ensues. When faced with Steve's fast new jet RIB, Peter had a turbo fitted to his Pirelli RIB!
Performance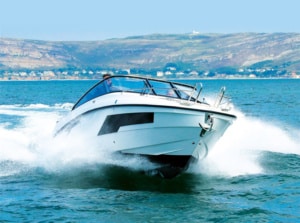 Peter says, first and foremost, the Finnmaster T8 is fast. In addition, she handles very well in all appropriate weather. He says she is perfectly safe hammering into steep full-throttle/full-lock turns. She powers through without spinning out or bogging down. Peter says she is great for fast figures of eight, and carving out tight, steep 'donuts'. He says the bold handling brings out the hooligan in you. He also reckons that the 300hp Yamaha outboard is the ideal power unit for this hull. He further reports that no matter how many people you have on board, the boat performance hardly seems affected. As you can see from the photos, Debbie and Peter like entertaining friends aboard. They also like using their Finnmaster as a floating mother ship for other boating toys, such as their fast Pirelli tender and friends' jet skis and wakeboards.
Upgrades
Peter and Debbie like their boat just as she is and have made only two upgrades. They specified a Fusion stereo since they both like their tunes aboard, and they also bought a Garmin camera. This plays back through the helm's Garmin multifunction display. It delivers an unobstructed view of the rear of the boat, which is ideal when people are on wakeboards, waterskiing or even jumping the wake on jet skis. 'A very useful safety upgrade,' says Peter. Overall, their new Finnmaster T8 has suffered no issues since they bought it from idealboat.com.
Some costs
Peter reckons that keeping his Finnmaster T8 on her annual marina berth, and taking into account antifouling, pulling her out for her annual engine and outdrive servicing and fitting new anodes, the total cost is around £5K per annum, plus fuel and insurance, etc. As Peter puts it, boating is good for your well-being, and 'your wealth is your health'. He is therefore a great believer in using his boating assets. He will often snatch a single night sleepover from his busy working life just to look after his boat. He likes keeping the fridge stocked with vodka and tonic, and he has a compact carry-aboard microwave for simple snacking. He loves keeping her immaculate. 
Trading up
Having owned two examples, Peter and Debbie really do like their Finnmaster 8s! However, their next boat might indicate a new departure. Peter and Debbie don't think that endless 'going bigger' is necessarily a good idea. Gin palaces do not appeal to them, whereas a boat that has sensible annual costs and is easy for Peter to occasionally operate single-handed is a true priority. The family are enjoying their new Finnmaster T8 to the full, and have found it to be a wonderful means of sharing quality time together. 
Specifications
2022 Finnmaster 8
Length: 8.10m

 

Beam: 2.72m
Weight: 2200kg
Engine: Yamaha 300hp outboard
Berths: 4
Category: C
Deadrise: 21 degrees