The Lamb family tell Alex Whittaker why they chose their boat and how they use 'Stress Pancake'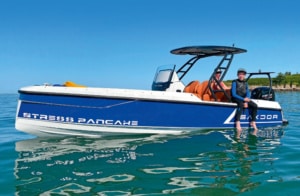 Alex, Clare and young Hudson Lamb are definitely a modern outdoor adventure family. They are always blasting about on powerboats and exploring remote bays on stand-up paddleboards. They think nothing of taking their boat to a tiny cove, anchoring off and having a family picnic on the beach. Their current boat is Stress Pancake, a Saxdor 200 that they bought new from Neville Williams at idealboat.com. They have owned the boat for two years.
Previous boats
Alex has been boating since his mum and dad took him sailing on the family yacht at six months of age. Besides sailing, he has tried smaller boats over the years, and he has a good grounding in cruising, boat handling and navigation. He has owned four powerboats, the last being a Brig 5m RIB with a Suzuki 60 on the transom. It was great fun, but once son Hudson came along, the family preferred a boat with a deeper freeboard. 
Axopar vs Saxdor
The Lambs looked long and hard at other boats before deciding on the winner. It came down to a shoot-out between an Axopar 22 and the Saxdor 200. They examined both boats carefully, and after much deliberation, they felt that the Axopar did not have the layout and hull design they were seeking. They felt that the Saxdor 200 had a choice of seating patterns that better suited their needs for a good sociable seating area, plus good sunlounging abilities. They also wanted plenty of easily accessible storage for their inflatable equipment, wetsuits and SUPs.
Adventure day boat
Essentially they wanted a no-nonsense, versatile, go-anywhere day boat. They were not fussed about sleeping accommodation, but they wanted a good turn of speed and stylish up-to-the-minute looks. They have been boating for years and are familiar with fast cruising, running boats onto deserted beaches and playing with all manner of water sports toys. They are also proud wetsuit owners. They had previously decided that they did not want another RIB. On balance, the family felt the features of the Saxdor 200 suited their requirements better. They also got the brand-new boat for a very keen price. Alex said he needed to add very few options, but he did select a Fusion stereo. He particularly liked the Saxdor's tough targa-top helm, with its strong powdercoated metalwork. He appreciated the versatility of the adjustable windscreen too. Their boat also has four poles to hold up a sun hood.
In use, the whole family crew have come to appreciate the value of the Saxdor's versatile seating, sunbathing and lounging arrangements. The Lambs like to do as much family boating as possible, but occasionally Alex goes out in much rougher weather alone, or with his 'outward bound' friends. So there is a contrast between family adventure boating and fast edgy fun with the 'mad lads'.
Repairs or additions?
Alex reported that absolutely nothing has gone wrong over the last two years. He also mentioned that Clare and he had designed orange rear cushions to cover the rear gunwale tops. This adds seating around the rear conversation/eating area. It's a simple but clever idea. They had these items made up by a local company. They blend in so well you have no idea they are an aftermarket 'user addition'! When I asked if they were considering any other additions to their boat, they told me they might add forward-facing spotlights to the targa top.
Aftersales
When I asked about aftersales service, Alex replied in one word: 'Fantastic.' Alex had previously told me that when the family was evaluating alternative jockey seat arrangements on both the Axopar 22 and the Saxdor 200, idealboat.com took the family out on a test cruise on a brand-new jockey seat 200. They went for the separate seats and bench option.
Galley
The boat has no galley as such, so they use a carry-aboard cooler and a backpacker's Jetboil stove. The latter is tiny but will boil water in about two minutes – a nifty solution, and easy to carry from the boat to the beach in a backpack as you paddle in on your SUP.
Daily checks
The conversation turned to the outboard engine, a Mercury 115. The family report that it is reliable, easy-starting and powerful – and not too noisy either. Alex told me that you can pop the hood off in seconds for daily checks. He also noted that the hull has a small hatch to access the bilges.
Build quality
Inevitably, as keen boat owners, Alex and I discussed build quality. Alex volunteered:
'Quality is outstanding. We're really pleased with the quality of the whole mould. It never gives or yields underfoot, wherever you step, and nothing attached to the hull ever breaks or falls off.' 
To back this up, Alex recounted being caught out in bad weather on the 200: 'Alone and caught in a 28-knot wind-against-tide situation, and in a deep chop, she handled really well. Now and then I had to throttle back, as there was a bit of a battering, but in full oilies I got through. I knew I was going to get back and had every faith in the machine.'
Overall, it was the quality of the deep-V (22 degrees) hull that sold the Saxdor to Alex.
Day boating
Living so close to their local marina, the family can be at the boat about an hour after Hudson has finished school! On a sunny weekend with the right tides, they can get out on Friday, Saturday and Sunday. The longest cruise so far has been around Anglesey in a single day. This requires careful use of tides, but the Saxdor ate up the sea miles. Alex particularly likes the deep-V hull, which he says cuts through the chop really well. The boat has a 110L fuel tank, and Alex always takes more petrol in carry-board tanks. The boat's most economic cruise speed is about 25 knots. Mind you, driven 'barebones' with two up, she has hit 40 knots in sheltered coastal waters.
MFD
The boat has a Simrad multifunction display, and Alex has fitted a Scanstrut iPhone holder. He views his engine data on the phone while underway, leaving the Simrad big screen for navigation. The Simrad system seamlessly integrates with Alex's smartphone and can send him remote alerts of, say, the bilge pump running or a low battery voltage reading.
Next boat?
In summary, the Lambs are well pleased with their Saxdor 200. Words like 'versatile', 'capable' and 'comfortable' kept on coming up, as did phrases like 'adventure boating', 'a family fun boat' and 'a good base for family weekends'. They reckoned that without spending too much, they have a boat that really suits their active boating lifestyle. They both told me independently that the Saxdor 200 did everything they asked of her. She was great for 'getting the SUPs out, anchoring off in little bays, then paddling in to picnic on the beach'. 
Alex said she was a good expedition and adventure boat. Alex and Clare also had a good feeling from their dealings with Neville and his team at idealboat.com. When I asked about the family's next boat, on which they fancy a bit of accommodation, they mentioned the XO 9.