The Saxdor 400 line
Underpinned by an elongated version of the twin-stepped 320 hull and designed for a twin-outboard rig, the new Saxdor 400 is set to be an outstanding offshore performer, blending performance, seakeeping and efficiency at mid-range cruising speed.
By employing vacuum infusion techniques in the construction process, the Saxdor 400 is approximately 200kg lighter than a standard hand-laminated boat. This not only improves efficiency, but even with a standard twin 300hp Mercury V8 outboard installation, a top speed of 40 knots is achievable, and with the optional twin Mercury 450hp racing motors, a top speed of over 50 knots can be expected.
The Saxdor 400 comes as standard with balconies in the cockpit that increase the usable deck space of the boat at rest. It's a boat designed for socialising and for living aboard in comfort, with all the amenities one would expect to find aboard a true weekender/cruising vessel. The cabin is modern and airy and benefits from the use of contemporary materials and tasteful colour selections, which combine to enhance the cabin's internal ambience. Connection with the water is further emphasised by Saxdor's glass transom design. This provides both the necessary on-board security and increased visibility astern. 
The first boats are planned to enter the market during the summer of 2023.
Saxdor 200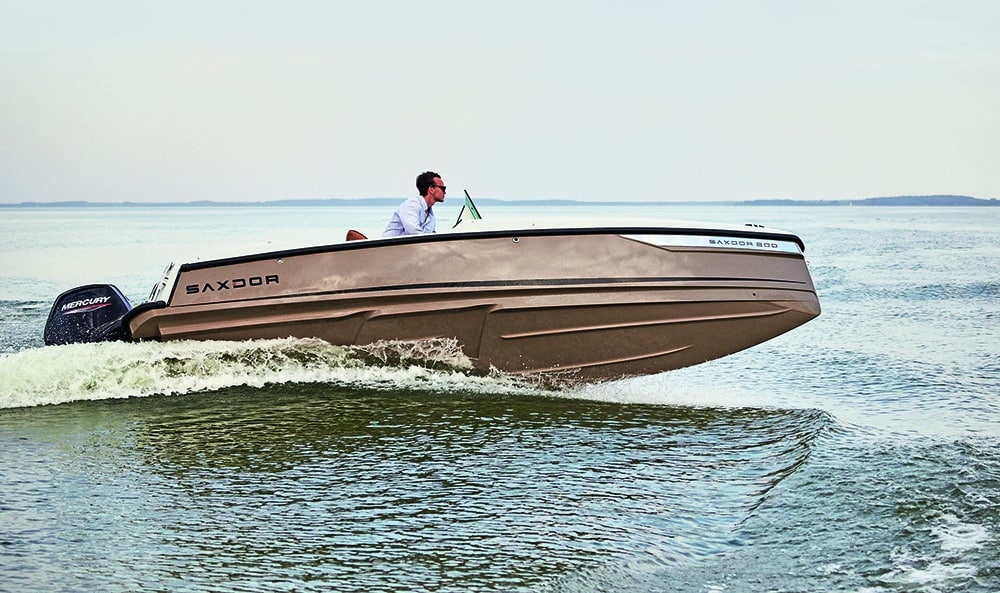 The Saxdor 200 is a sporty and agile little craft made for an active lifestyle. It's a versatile boat, designed with affordability in mind, as well as a satisfying degree of performance and water sports ability. The hull is sea-kindly and predictable in its behaviour and can be paired to a selection of single Mercury outboard engines. These can range from the entry-level 100hp, with a top speed of 34 knots, to a very respectable 45 knots when rigged to a 175hp V6 engine.
 One of the key characteristics of the Saxdor 200 is its weight. At just 780kg, excluding engine (or approximately 1000kg with engine and a full tank of fuel), its power-to-weight ratio not only aids top-end performance but also fuel economy. Weight savings also translate to the boat being easy to launch and recover and suited to being towed by an ordinary family car.
The Saxdor 200 is fun to drive and in many ways more practical than a Jet Ski. Its self-draining deck offers benefits for water sports use and it will even make a very convincing yacht tender as well as a mini adventure craft for island hopping and accessing hard-to-reach destinations. It's a product designed to appeal to the PWC enthusiast as well as families seeking an easy-to-manage fun sports craft. 
Saxdor 205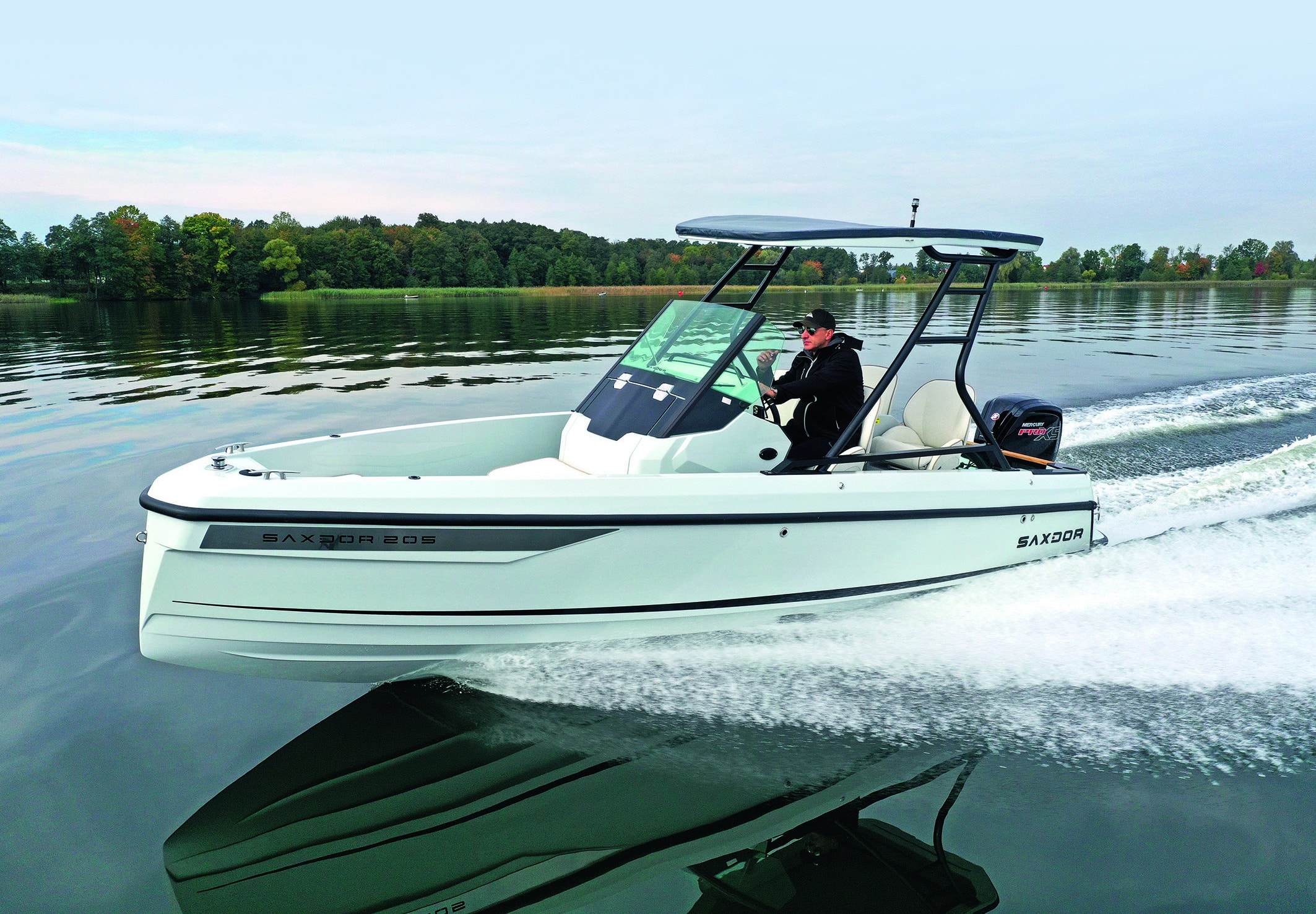 The Saxdor 205 is an all new model. Playful, like its older sibling, the 205 is also suited to family use thanks to its imaginative layout and internal options. It's a safe yet fun mini day cruiser for those seeking a little more in the way of all-round versatility. 
The Saxdor 205 is offered with a choice of several creative layout solutions and features something of a new approach toward on-board space. Key features include a one-level deck, foldable windshield and optional transom gates. Extra storage space, offered by the compartment under the 205's console, can also be fitted with an optional toilet.
Engine options mirror those of the 200, as does the 205's performance. The helm console on this craft boasts a futuristic look and includes a backlit stainless steel switch panel and the option of a single or dual 9in Simrad touch screen MFD. Thanks to Simrad's state-of-the-art user interface technology, the user can access navigation, audio equipment and/or engine information in one place.
Saxdor 270 GTO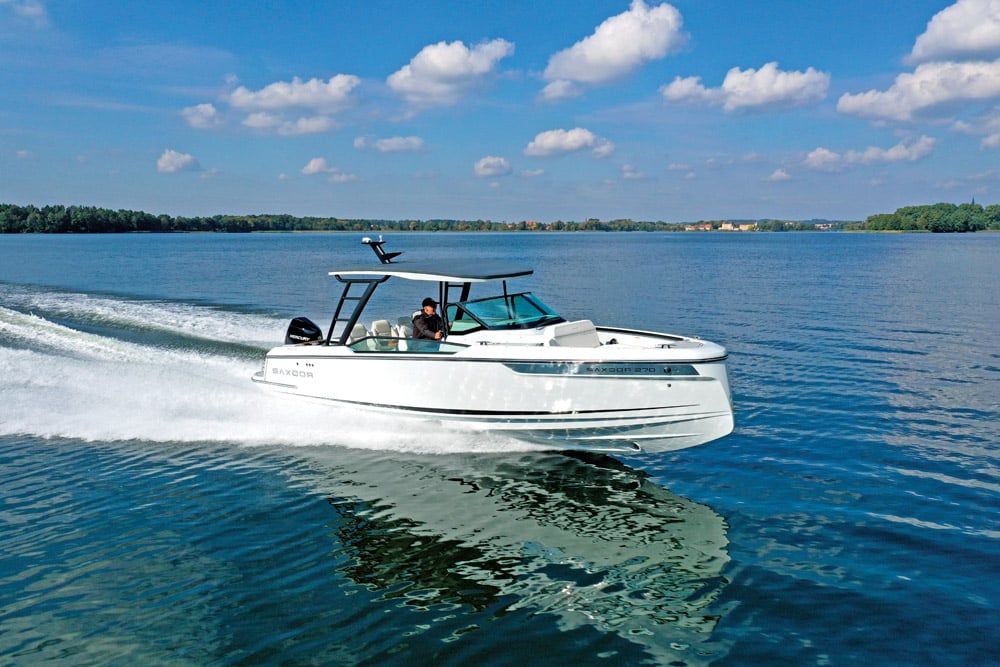 The 270 GTO was designed employing the Saxdor signature twin-stepped hull. It's a craft that its makers claim delivers both impressive performance and fuel efficiency. The hull's deep-vee entry of its inverted/rearward raked bow reduces wave impact and seeks to also improve directional stability and the driving experience. Of light and strong construction, the 270 GT0 is built using a vacuum infusion technique that contributes toward the boat being less heavy to tow/trailer and slip. 
Fitted with a single outboard, ranging from 225hp to 300hp in power, this model's hydrodynamic design has also been produced with fuel economy in mind. The sandwich construction of a two-stepped hull reduces weight and ensures constructional stability. This stiff and strong hull form in turn enhances the boat's seakeeping abilities.
Much thought has been given to the 270 GTO's deck space. This is evident in the vessel's symmetrical cockpit, positioned to ensure that the balance of the 270 is not interfered with. COG has also been reduced by means of the T-top's low profile and this further contributes towards the boat's overall lateral stability. The depth of the port-side sidewalk allows children and adults to move about the boat with confidence. Anti-slip protection, afforded by the deck's soft surfacing, is another bonus.
Saxdor 320 GTC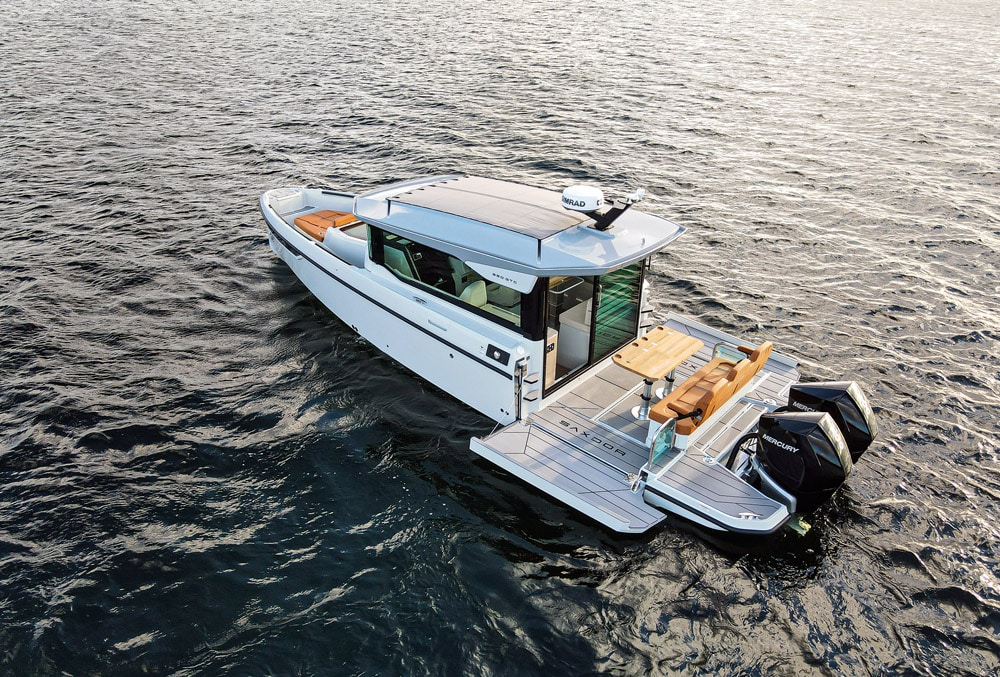 The Saxdor 320 GTC is designed to be even more of a driver's craft. In this respect, it features a refined, performance-oriented, twin-stepped hull design that benefits from a low centre of gravity, lightweight construction and a sharp entry. The 320 GTC is well suited to offshore use and a variety of sea states and weather conditions. 
This vessel comes with a choice of three Mercury engine options, ranging from 300hp to 600hp. Prospective owners can either choose a single-engine option or a twin rig if so wished. This latter, more expensive option offers the choice of either 2 x 225hps or 2 x 300hps, depending on your performance preference. Marketed as a Gran Turismo, the Saxdor 320 GTC offers the added benefit of a full-width, spacious and well-appointed wheelhouse designed to provide easy access to the vessel's walk-around bow. 
Saxdor 320 GTO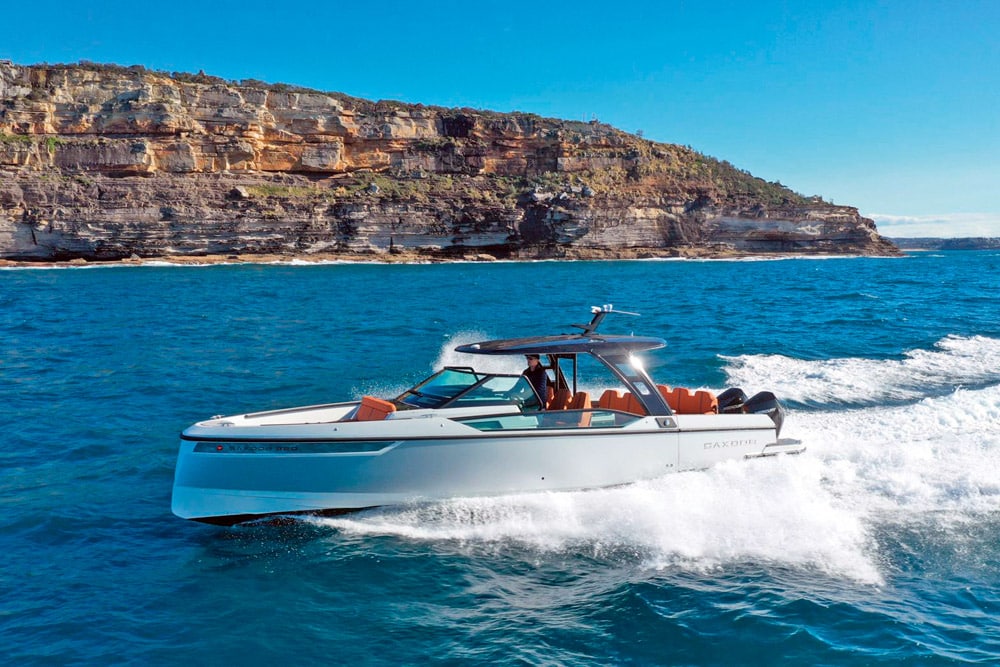 Saxdor designer and founder Sakari Mattila has confirmed that his love of Italian design, American functionality, German quality and French pricing greatly influenced the design of this 40-knot, twin-engine option, Saxdor model. But the result is an award winning performance craft that boasts a high degree of space coupled to the attributes of a very versatile Scandinavian-styled sports boat.
With an extended sun pad on the foredeck and a dinette that converts into a sunbathing space, the lounging and socialising options are plentiful aboard the 320 GTO. In addition, at the flip of a backrest, the cockpit seats can become forward-facing benches for guests to use when underway. 
With its aerodynamically designed T-top, high screen and wrap-around cockpit, occupants are well protected and secure. Plus, thanks to its forward cabin, the 320 GTO convincingly fulfils the role of both a modern, purposeful dayboat and a genuine weekender.
The Saxdor 320 GTO is offered with the same engine selection as the 320 GTC.
HMS interviews Erna Rusi, CEO of Saxdor Yachts, one of the key people at the helm of what many are hailing as the fastest-growing leisure boat brand in Europe today. So what's behind a name? We're about to find out …
Please, Erna, tell us, how was Saxdor born and what were the essential principles that drove the creation of the brand and its model range?
The founder and creator of Saxdor Yachts is Sakari Mattila, a man who benefits from having a long and successful career in both the automotive industry and the marine business. His particular passion has always been related to design and innovation – skills he undoubtedly has a unique flair for. But coupled to this, as can be seen in his work with Saxdor, he benefits from having a genuine understanding of boats and boating in general. This practical application of knowledge makes a big difference to the functionality and performance of the products he designs. 
While the Saxdor team has much history in the boatbuilding industry, launching an unknown brand can't be without its challenges, can it?
In terms of timing, in truth, it couldn't have been a worse time for us to launch the brand. We launched our first model, the Saxdor 200, in March 2020, on the very day Finland went into lockdown and COVID officially began a terrible pandemic. With no opportunities to travel anywhere, we really had to think hard and act without delay. Despite this massive hurdle, the launch proved an incredible success and the market loved both the concept and the boat. What a relief! 
Going forward, though, the biggest challenge for us has been capacity. The demand and interest in our boats has, I'm happy to say, been huge. But the lack of components, and especially the lack of engines generally, has been incredibly challenging. The war in Ukraine, of course, has exacerbated the situation too. 
Sakari's history in the automotive industry, however, has proved very valuable throughout this time in terms of our strategic marketing and related design initiatives. Building brands is an area of business he knows well. So developing concepts from prototype to reality, and then consolidating these into a strong brand identity, is all part of his accumulated skill set. 
Other key members of our team include Pawel Blaszak and Michal Bendig. Michal has worked with Sakari since 2013 and was responsible in 2019 for the founding of the Saxdor Shipyard, the daughter company of Saxdor Yachts in Poland. At this present time, we employ over 300 workers in the shipyard and have built over 1,000 boats. Quite an accomplishment under the circumstances, really. 
Can you tell us about how Saxdor's distinctive look and styling came into being?
The concept behind Saxdor is based upon the utilisation of cutting-edge technology, with the specific aim of providing the end-user with a first-class driving experience. Our design team's aim, in association with VOM Creations, is to maintain an advantage by staying 'ahead of the game' in terms of bringing fresh ideas, new models and design formulas to the fore, which then relate to more efficient manufacturing processes that directly benefit the customer in terms of pricing and product desirability. 
Manufacturing is a complex business, so can you provide some insight into how the more difficult aspects of turning an idea into a reality are overcome?
Good point. Well, the production team are heavily involved from the get-go, even when a concept is at its most basic planning stage. This is because, in order to avoid making costly mistakes, we have to decide very early on what is genuinely possible and what is not. Creative ideas are always welcomed, but we consider each proposal carefully and whittle these down to what we feel we can realistically deliver on. This process requires a high level of cooperation and communication between all the teams involved. But the more experience and understanding you have regarding this critical phase, the easier the production process becomes. 
Working alongside Michal Bendig, our Head of R&D, and Pawel Blaszak, Head of New Business Initiatives, is our new COO, Thomas Cedro. Together, they plan and implement the new models being brought into production. Pawel is also busy at this time helping to prepare to run our new in-house tooling shop. I'm personally really excited about this development. But in the meantime, our new modern shipyard allows us to grow very efficiently as a company and provide our staff with really super working conditions too, something that is particularly close to my heart. 
Am I correct in thinking that Saxdor are a family business? If so, in your opinion, how does this make the company different from some of its peers?
Yes and no. We remain a family-owned business at heart, but in 2020, the company acquired new joint owners in the form of the investor group United Bankers. But growing as rapidly as we have, we recognised the need to restructure and refinance to ensure our team had the environment in which to flourish unhindered. But in answer to your question, we are essentially a family business built on the ethos of maintaining a low hierarchy atmosphere.  
What is your view of the current appetite seen among boat buyers for adventure-orientated boating?
We don't actually see ourselves specifically in this category. We simply want to make great boats that enable people to do whatever they desire to do. But I'm deeply humbled by the amazing interest shown in our brand by the public and the demand this is generating among people with a whole variety of boating interests.   
I'm interested to know where you see Saxdor in, say, five years' time. What is your long-term vision for the company?
Well, we'll keep stretching our creativity as far as we possibly can with a view to bringing new and imaginative concepts to the international market. Our aim is to make boating accessible for as many people as we can and at a price point that's as affordable as the processes allow. 
What model in the range are you personally most proud of and why?
It has to be the 270. It was the first model I witnessed being created from scratch after joining the company in October 2021. From this, I've seen the growth and the commitment on the part of the team to fulfil the goals we've set along the way. It's been extraordinary to observe. 
Is Saxdor a company that has a sustainable approach to boatbuilding? What green initiatives do you have in place at this present time?
The new shipyard is planned in every aspect of its function to support sustainability. Each production line is designed to take environmental impact into consideration, be it in the economical use of materials, waste management or energy saving. Of course, we all hope to see breakthroughs made in the area of more sustainable propulsion and engine technology. Here at Saxdor, we shall embrace these technologies at every opportunity at the point any such system offers a genuine solution. 
What marine technologies do you see evolving and becoming more prevalent within the market? Are there any emerging advancements in particular that you can foresee your company embracing? 
User-friendly devices, gadgets and electronic systems that make boating easier and more accessible, and maybe even cheaper too. Consumer behaviour carries over into boating from every aspect of modern living. The younger generation require everything to be intuitive, digital and much of the time app based. We aim to keep pace with these advancements wherever possible in order to offer relevance to our future customer base.  
You are clearly very proud of Saxdor's rapid rise to prominence, but what is your greatest ambition for the brand in terms of its future prospects?
My personal desire is to make Saxdor the most loved boating brand, as well as helping to make boating accessible to a wider audience. It's all about customers, about people. Let's face it, while boats are our business, people are even more so. Getting the public's feedback is particularly gratifying, though, even if that feedback might reveal something we could do better. We still value this, as it helps us grow. After all, isn't life, in general, all about learning? 
Model pricings
Factory starting prices complete with single-engine installations (Factory prices excl. VAT, shipping, PDI etc)
200: €26,570 (1 x Mercury 100hp engine)
205: €27,800 (1 x Mercury 100hp engine)
270: €77,500 (1 x Mercury 225hp engine)
320 GTO: €111,050 (1 x Mercury 300hp engine)
320 GTC: €123,080 (1 x Mercury 300hp engine)
400: TBC
For international enquires see www.saxdoryachts.com 
UK & Ireland enquiries see www.idealboat.com