Fast, seaworthy and seriously tough, the Viggo C8 is Sweden's
 

best-kept boating secret. Greg Copp takes a close look …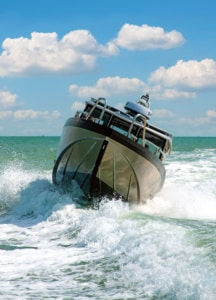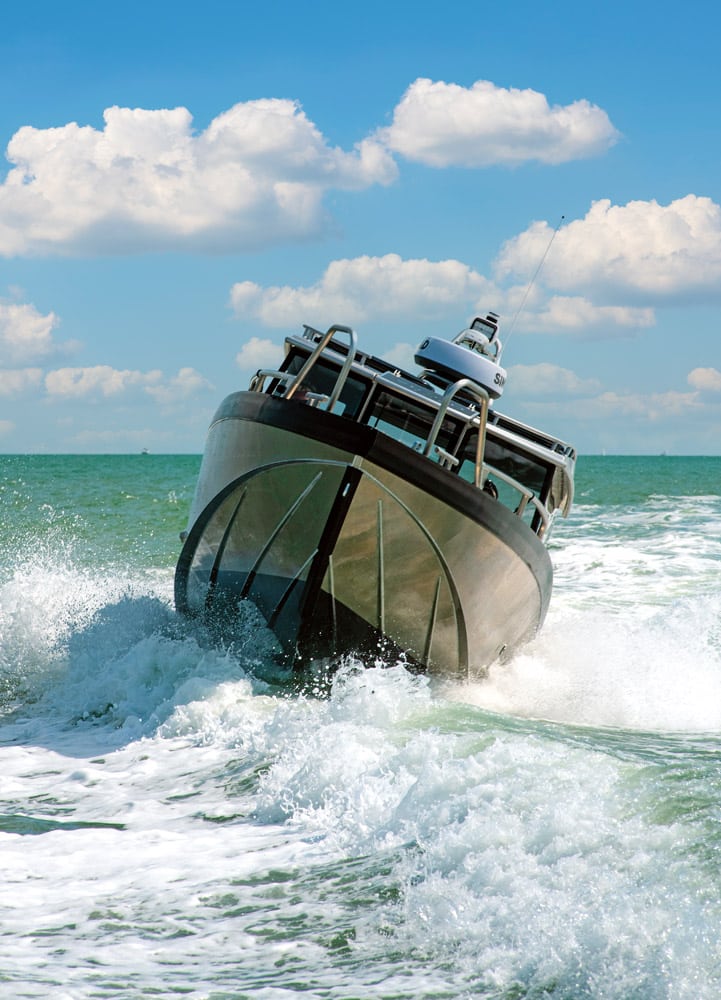 Rarely do we test boats without a UK dealership, however the Swedish Viggo C8 is an exception. We had good reasons: firstly, the Viggo is a serious offshore boat; secondly, PRR reader Simon Lunt, the owner of the only Viggo C8 in the UK, told us in no uncertain terms that we were missing something if we did not spend time in his boat. He was not wrong.
On discovering Viggo Boats some 70 miles north of Stockholm, Simon liked what he saw. This small company, which builds just 30 boats a year by hand, has a traditional purist Swedish approach to aluminium boatbuilding. Though keen to sell to the UK market, they have a different and personal way of going about things. If, like Simon, you are genuinely interested, they will host you at a local hotel, give you a tour of their construction facilities and, like the owner of a Bordeaux vineyard, insist you substantially sample their produce. Once his boat was built, Simon's plan was to skipper it back from the Baltic on its keel. However, COVID made that impossible, so when restrictions were lifted, Viggo organised transport, and shortly afterwards the C8 arrived.
Coming face to face with the C8 for the first time brought back memories of the Swedish Anytec 747 I tested back in 2016. These aluminium boats are very similar in concept and looks, and both provide a similar ride. However, the Viggo is slightly longer, by about 12cm, and she is 24cm slimmer in the beam. There are many more bells and whistles with the Viggo, which is evident just by looking at the coachroof. On top sit two substantial roof hatches, while directly behind are located two solar panels, one for each battery. There are also two circular roof vents, which, housing extractor fans with mini-solar panels, are completely autonomous. When the cabin temperature reaches a certain level, they switch on, so your boat does not overcook whether you are on board or not. For the colder Baltic climate that this boat has been built for, there is on-board diesel heating, which provides a direct outlet below the windows, keeping them clear on cold days.
A particularly interesting feature, not yet marketed in the UK, is SmartBoat One by Sensar Marine. Made in Norway, this is more than just a remote security system, as the cockpit-mounted black box has a wealth of tricks up its sleeve. With the Sensar Marine app installed on your phone, it will keep you abreast of various crucial aspects while either away or on board. You can geofence your boat – alerting you if it moves outside defined parameters, as well as informing you of bilge levels and bilge pump activity.
Battery levels are kept tabs on, and the system itself either runs from DC power, shore power or its own internal battery, with a 40-hour stand-alone facility. On top of these features, it has the capacity to display engine and electronic system data while underway. This includes speed, position and trip log for the last 30 days, which can be shown on an aerial map overlay. If you undertake any heavy-weather passages, its inbuilt accelerometer has the unique ability to record G-forces from 0g to 8g, something you might want to keep tabs on considering this boat's offshore abilities.
The deep and encased forward deck area provides safe and secure access for anyone going forward, even underway. The insides of the bulwarks house open storage cavities, which are ideal for stowing fenders and warps, while the forepeak anchor locker doubles as a step to the open pulpit – a feature many Scandinavian mariners favour in order to provide high dockside access. Bench seats flank the foredeck, with self-draining lockers beneath. Just to make sure unwanted deck water does not find its way back into the wheelhouse, there is a scupper beneath the diesel heater fuel tank, forward of the wheelhouse door. This door is a feat of engineering in itself, as the substantial assembly hinges upwards, providing unfettered access for the tallest of crewmembers. Sealed by a generous rubber gasket, it is secured shut by twin locks, mounts a large double-arm windscreen wiper and is held up by a no-nonsense gas strut. Though its battleship-like qualities are impressive, I would advise that anybody wanting to open this top-opening door on a rough day becomes 'comfortably acquainted' with it first. 
The short cockpit has several non-slip deck sections spread across the stern quarter. The central section in front of the engine over the splash well folds up and is held vertical by a gas strut, providing extra clearance for the engine to trim out at wide open throttle. The idea is great, however the C8 does not need a great deal of leg trim when running at, or towards, its top speed, as she naturally runs very level. During the day we consequently left this central section down. Under each stern quarter is a discreet storage locker – just what you need for warps – and a characteristically sturdy bathing ladder sits on the port quarter. All guard rails and cleats are typically hard-core. 
For an aluminium boat, the wheelhouse feels quite plush internally. The soft spongy lining does a good job of preventing those hard jolts that can be experienced at speed in a metal boat, as well as keeping sound levels down. Anti-glare 3M panels cover what would be an expanse of shiny metal in most of the wheelhouse, and the deck sections under the helm seats, like the foredeck, are heavily texturised. The central walkway, as with the aft deck sections of the wheelhouse, is covered in charcoal synthetic teak. Sitting 5in below the rest of the cabin floor, this walkway is ideal for taller crewmembers. The helm, split by the forward door, works well for both the navigator and the helmsman. Both positions are served by sumptuous shock-mitigating seats, which hold you firmly in place. The navigator gets a stylish chart table with a lockable perspex top, and the helmsman gets perfect ergonomics. The wheel sits where you need it, and the throttle is just where your hand wants to naturally rest, with your forearm resting on the seat arm. The dark-grey anti-glare dash with its big Simrad MFD actually wraps around at the sides, which apart from looking functional brings the various ancillary switches and bow thruster control within closer reach.
Driving the C8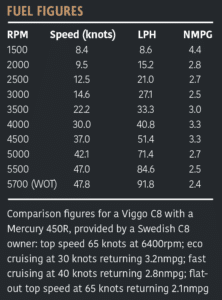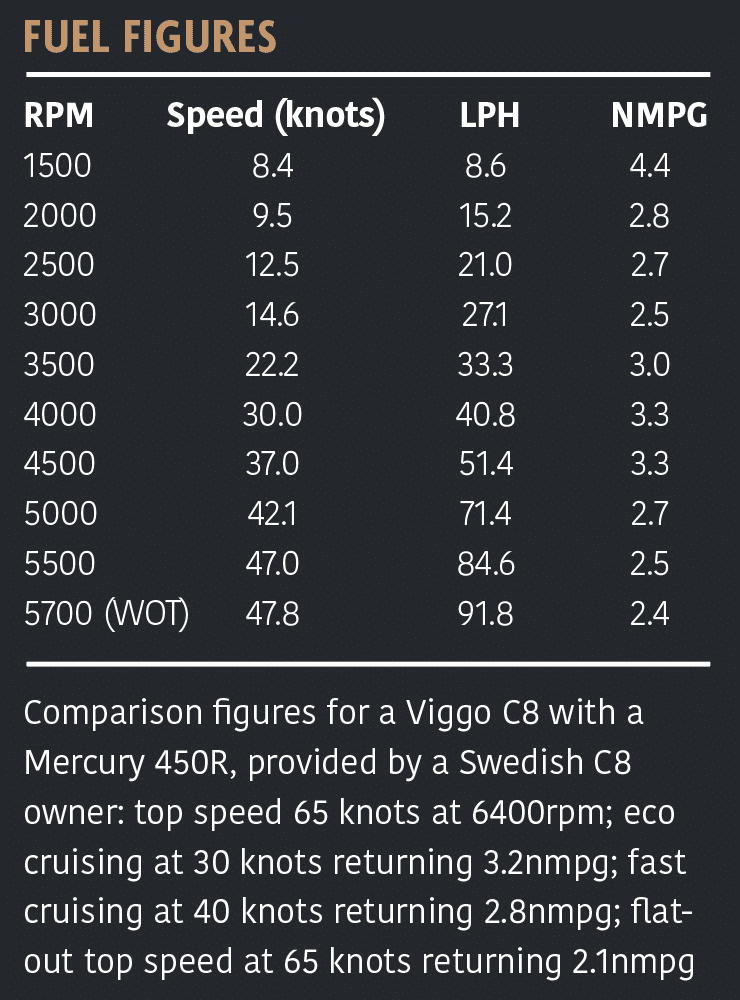 Having photographed the C8 being driven to its limits by Simon, I got a good idea as to what to expect when I got behind the wheel. What did surprise me, though, is just how good the driving position is. I prefer to stand, but with the C8, apart from berthing with your head out of the roof hatch, standing is not an option. The seat holds you very firmly in place, with the shock mitigation seat base doing a first-rate job of softening those high-speed jolts. The view over the bow is spot on as the seat height is just right, and this boat has very little bow-up attitude, even when climbing onto the plane. She will plane at 12 knots, and you really have to watch the bow carefully to notice the transition from displacement to planing. Not surprisingly, her natural fore and aft trim is perfect, requiring little trim out to reach her top speed of 48 knots. She is blindingly quick in the process, as she is past 30 knots in 8 seconds from a standing start. This was with the 'sensible' 300hp Mercury Verado option – you can opt for the 65-knot Viggo C8 with a Mercury 450R. The sweet spot for this boat is around 37 to 40 knots. At this speed, the C8 is actually more efficient than at 22 knots – testament to her efficient hull design and lack of surplus weight.  
She is very much a point-and-shoot boat, turning quickly from turn to turn with remarkable precision, no matter how hard you push her. The hull is rakishly sharp in the forward section, and aft she sports a 24-degree transom deadrise angle. Consequently she ran through the confused waters off Calshot with reassuring indifference. This is aided by the tough aluminium construction, which has little concept of being overabused. With some 'spirited use', a GRP boat may well let slip the odd groan, but the C8 never has a word to say. I make this specific reference as having had a fairly moderate day in weather terms, we were presented with two ferries crossing in opposite directions. For my colleague Tom, who was at the wheel at this point, having helmed a video camera for much of the day, the temptation was too much. Running at wide open throttle into the immediate wake of the first ferry, the C8 slightly lifted her nose before she landed with unusual level-headed composure. Cranking the boat through a tight turn, Tom repeated this with the second ferry with the same result. There are quite a few GRP boats capable of this, but you get the distinct impression that this sort of behaviour is water off a duck's back for a Viggo.
Verdict
The C8 is a rare bird even in Swedish waters, and on the face of it, not a cheap one. Nevertheless, this is not a boat that can be reasonably valued in terms of length and price. Like many hand-built limited production run boats, there are numerous behind-the-scenes subtle details that make this boat what it is. The long and short of it is that the C8 is reassuring and riveting to drive, and in conditions that many bigger boats would shy away from. 
What we thought
For
Great seakeeping and handling
Rapid performance
Great helm set-up
Very solid build quality – virtually impossible to abuse
Practicality/safety
Very efficient
200-mile range with a 20% reserve at 37–40 knots
Against
Fairly pricey, and no UK dealership
For some it may appear too spartan, with very limited overnighting facilities.
Specifications
LOA: 8.20m
Beam: 2.30m
Draught: Max. 1m
Transom deadrise angle: 24 degrees
Displacement: 1900kg (with 300hp Mercury Verado V8)
Power options: 300–450 hp
Fuel capacity: 350L
RCD category: C for 6
Test engine: 300hp Mercury Verado V8

 
Price
As tested: £140,000 (inc. VAT) approx.
Performance
47.8 knots (2-way average), sea conditions moderate, wind F3, with 50% fuel, 4 crew

 
Contact
Viggo Boats, Sweden