PBR's Malcolm Thomas heads for Switzerland's beautiful Lake Lucerne to take advantage of being the first UK journalist to test Windy Boats' latest and much-anticipated offering.
When PBR were invited by Windy Boats to be the first UK magazine to test the first ever twin Volvo Penta D6-powered Alizé 34, we didn't hesitate to book the flight to Zurich in readiness for a full-blown test on Lake Lucerne. Sporting a brand-new hull design, coupled to a pair of Volvo D6 440 engines set to DPI drives, the most powerful option for this boat, we couldn't wait to get aboard her.
From Zurich Airport we took a train to the town of Stanstaad on the south-eastern shore of Lake Lucerne. Here we were met by Michael Odermatt, Sales and Customer Service Manager at Windy dealership Hochmuth Bootsbau AG. Without delay, Michael took us to an impressive undercover dry storage facility located right on the lake itself. We found the Alizé stored high and dry on one of a line of individual user-operated lift cradles, each designed to gently raise and hold a boat out of the water at her berth.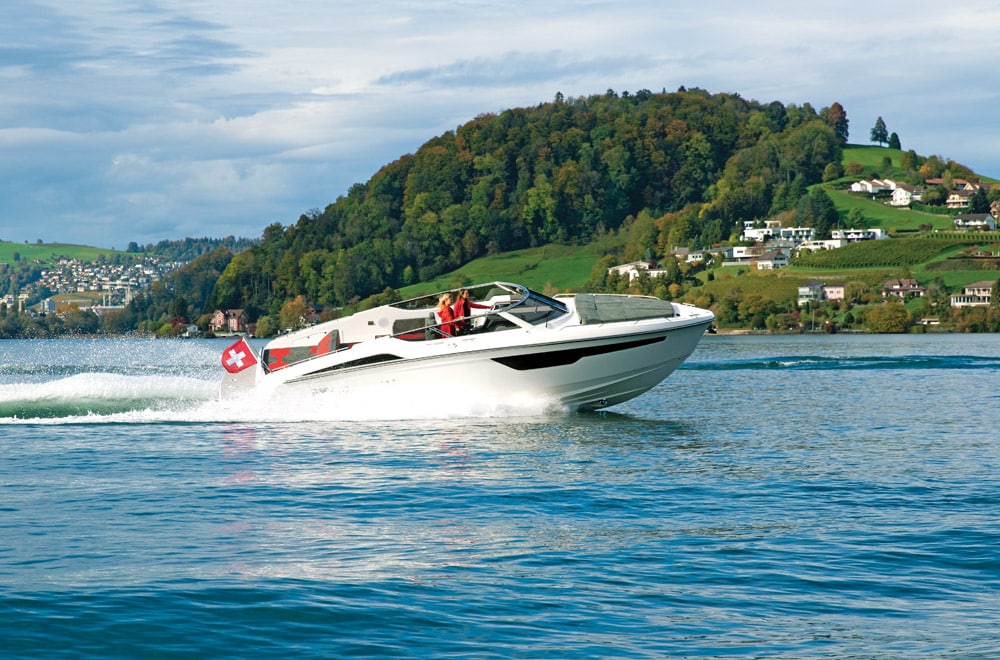 The Alizé is the long-awaited sibling of the W37 Shamal, which was launched at Düsseldorf's boot 2020. Being held well clear of the water courtesy of the cradle, the impressive nature of the Alizé's deep-vee hull immediately became apparent, as did the custom-designed and polished stainless steel anchor assembly to the vessel's 'snub' bow. The flawless, gleaming white GRP hull stood out in contrast to its dark, tinted-glass side windows. From this angle, she looked striking.
Michael pushed the button to lower the boat into the water and we got our first glimpse of the Alizé's foredeck with its handsome deep-filled sunbed, as well as a first look at the cockpit with its full-width, wrap-around, rearward-raked windscreen. This latter element has been designed with a central window panel that opens to allow for forward access and is completed by a polished stainless steel surround and built-in handrail.
Cockpit furnishings
Stepping onto the foredeck and then on through the windscreen access point, we negotiated our way down the dashboard steps and into the open cockpit itself. This area features a double helm seat to starboard and a single back-to-back seat to port. The rear-facing port seat can be replaced by an optional wet bar if so wished, and each helm seat features a lift-up seat bolster that provides lateral support while standing or seated. The cockpit's stylish, predominantly grey upholstery throughout is fashioned in a soft faux suede-like fabric with red diamond stitched contrasting inserts (the Alizé's fabrics and finishes having been sourced from the likes of Sunbrella, Spradling and NIROxx). Offsetting this attractive colour scheme, the entire dashboard and corresponding bulkheads have been finished in a dark matt NEXTEL grey coating, which is both non-slip and anti-glare.
Behind the helm seat is a rearward-facing sofa and an exquisitely made dining table, complete with fold-out wood surfaces that feature built-in cup holders. The table can be adjusted in height electronically, and when folded out, with the rear sunbed providing forward-facing guest seating, it creates a dining area for at least four adults. Complementing this arrangement, a large backrest can be slid fore or aft on runners built into the sunbed and locked into position for either seating or sunbathing.
Screens and controls
Front and centre of the helm, behind a sculpted polished stainless steering wheel, is a large Raymarine Axiom Glass touch screen. This comprehensive, top-of-the-range unit provides all the engine instrumentation required, as well as the colour chartplotter, GPS navigation and depth sounder functionality. A Volvo Penta EPS (Electronic Positioning System) joystick is located on the starboard side, along with a set of combined dual throttle and gear levers, behind which are the Humphree interceptor advanced trim controls. Echoing something of an aircraft-style layout, the 'flight deck's' switchgear is positioned to the left of the helm and features a row of traditionally styled stainless illuminated switches set in protective dividers.
Heading out
With these first impressions now gained, it was definitely time to head out and put the new model through her paces. Michael duly fired up the engines and put her gently astern, reversing out of the boathouse and out onto the deep, dark water of Lake Lucerne.
Once out in open water, it was my turn to take the helm. 'As long as we remain 150 metres from shore and keep a good lookout, there's no speed limit on the lake,' Michael reassured me. So, upon familiarising myself with the controls, I gradually opened the throttles to bring the Alizé up onto the plane.
She quickly settled into an effortless 20-knot cruise at minimal throttle, hardly hinting at the boat's full capabilities. Getting used to my surroundings from a driver's perspective, the ergonomics were good, with the wheel and throttles all falling nicely to hand.
Then came the business of establishing her performance, and in conjunction with the Raymarine Axiom, I proceeded to record the rate of speed and fuel burn, all the while gradually increasing speed through to 45 knots, with the Alizé responding with ease, and the windscreen doing a great job of insulating us from the slipstream.
I next brought her to a gradual stop, turned off the auto trim, brought the two DPI drives in tight to the transom and checked that the Humphree tabs were also fully elevated. With all personnel safely seated, I made a check for other water users and then opened the throttles wide. The initial bite from the duo props was instant. In fact, the Alizé fairly leapt onto the plane! With the revs rising fast and the boat still accelerating, I backed off a little to maintain 45 knots at round 3400rpm. Reviewing a video taken during the test of the 0–45 knots acceleration, she achieved this run in under 30 seconds. Later, with Michael at the helm, we reached an all-out top speed of 51.7 knots. This, therefore, confirms Windy's 50-knots-plus claim conclusively.
I also tested the hull through hard-lock left- and right-hand turns at around 30 knots. At a constant throttle setting, the overall speed hardly dropped when the boat was put into a full 360-degree turn, with the deep-vee hull slicing its way smoothly back through its own wake. Nevertheless, I have to say that her lock wasn't as tight as I might have expected from a performance boat such as this, a point I discussed later with Hochmuth's dealer principal Hugo Scherer. He admitted to also having noticed this handling trait and surmised it was likely related to the ECU-controlled hydraulic steering. A finding such as this is just the type of thing manufacturers and their technicians adjust and correct in the pre-production phase of product testing.
Following a fabulous all-out run across the lake to Lucerne town's quayside where we witnessed the lake's vintage steam paddle-powered tourist boats plying their trade, it was impossible not to be awed by the vista before us. The town's historic waterfront with its period architecture, framed so magnificently by the grandeur of the Swiss mountain backdrop, was a sight to behold from the water. But with the light now fading, we came about and pointed our bows in the direction of the boathouse located on the far side of the lake. It was time to return the Alizé to her berth for the night.
A second look
The following morning, I took up the opportunity to return to the boathouse to have another detailed look around the boat before making a visit to the Hochmuth Windy dealership in Stanstaad, where my lakeside hotel was situated (a very attractive town, surrounded by mountain views, with its own town quay and moorings – certainly worthy of a visit if the idea of visiting appeals).
This second look was even more beneficial, especially having already familiarised myself with the craft the day before. Starting at the stern this time, I noted that the grey decking throughout the Alizé's cockpit and swim platform is of a durable, synthetic type, thus marking a departure from the traditional teak decking previously favoured by Windy. As regards her swim platform, this features a purpose-made locker that opens to reveal a stainless steel fold-out swim ladder. There is also a towing eye for toys and skiing with flush cleat and tie-down points.
The vessel's cockpit sides taper steeply downwards toward the stern. Handrails and gunwales are therefore particularly low on entry to the walkway at the swim platform.
The expansive upholstered sun deck area atop the engine housing, which forms a major feature on this particular craft, is accessed from the side at this point. While there is a rail at the aft end of the sunbed, on-board security could be a concern for passengers getting on and off the side of the sunbed. This, of course, would be even more of an issue with children and no closable gate.
Moving forward, lockers in the port sides provide access to the battery isolators and shore power panel. There is a further small step down into the cockpit once forward of the engine hatch. This is actually a lift-up shallow locker giving access to the manual bilge pumps, and it also conceals part of the bimini frame and lightweight cover. This is completely hidden from view when collapsed, running, as it does, under the engine hatch and discreetly along the sides of the cockpit seating. Raising the bimini is easy, as once accessed by raising the engine hatch and locker it can be simply folded up into place; a rocker switch then activates an innovative electronic frame tensioning system. No straps or buckles are therefore needed in order to ensure that the bimini stays firmly taut even at high speed!
With the electronic engine hatch raised, access to the impressively large D6 twin-engine installation is excellent. All engine filters and strainers are easily accessible, and the engines' ancillary gear is likewise neatly installed and logically arranged, with fire-retardant sound insulation fitted throughout the engine bay.
Down below
Moving forward between the seats through the sliding tinted Perspex door, a polished stainless steel and wood tread stair leads down into the cabin below. Cupboards and overhead cabinets are finished in a matt 'American Walnut' finish, but a lighter, 'Ice Cool' oak finish is also available. The complementary wood laminate floor to the cabin sole has lift-out panels that provide access to the water pumps, shower sump and stainless steel freshwater tank. The main electrical switch and breaker panel is located conveniently on the bulkhead to port. The galley worktop features an electric hob and sink and comes complete with a fridge and storage cupboards below. I confirm, without hesitation, that the fit and finish throughout is of the high quality one would expect from a Windy.
To starboard there is a good-sized bathroom with a sink and an electric heads. A separate full-height shower with a seat is enclosed behind a glass door. Again, high-quality fittings are used throughout, and a switch panel shows water and holding tank levels. Aft of the bathroom is a three-quarter-height hanging locker. Here, you'll find the cabin-wide access to the under-cockpit sole rear cabin, the centre of which flows seamlessly through from the galley. Two single beds convert to a large double with an infill cushion. Grey woven fabric is used throughout for cushions, while light cream-coloured vinyl is used to cover the side and head linings. Reading lights above the beds and LED soft lighting are a feature throughout the cabin and deck. The rear bed, together with the forward V-berth, provides ample overnight accommodation for a family of four adults or two couples.
Rounding up
The Alizé is a beautifully built, exceptionally fast overnighter/weekender. She is stylish yet discreet, a sports craft that by anyone's standards is hugely capable too – one that trades off her pedigree to a very convincing degree. Undoubtedly, this new 34ft Windy will have the ability to cover long distances within her stride, at speed and in comfort, while offering a comfortable overnighting experience too.
Though the Alizé is also available with a single-engine installation, our first-choice recommendation would be for the twin-engine options. When initially trialling the new model upon the occasion of its launch at the 2022 Cannes Boat Show back in September, we found the single-engine Alizé to be a little too sedate for our liking. It just seemed somewhat lacklustre. However, the twin Volvo Penta D6 engine configuration we tested on Lake Lucerne unquestionably allowed the hull's hydrodynamics to shine, and the difference this made to the overall driving experience was, in our view, profound.
Specifications
Architect:

Espen Øino Design

LOA:

10.3m

BOA:

3.15m

Overall height from keel:

2.7m

Dry weight with twin engines as tested:

6200kg (approx.)

Dry weight with single engine:

5700kg

Draught:

0.65m (outdrives fully raised)

NB:

Hardtop version is scheduled for 2023.

Performance DATA

1100rpm, 8 knots

at 13 litres per hour, 1.1km/litre

2000rpm, 21 knots

at 50 litres per hour, 0.9km/litre

2500rpm, 31 knots

at 70 litres per hour, 0.8km/litre

3700rpm, 51 knots

at 175 litres per hour, 0.5km/litre

NB:

At around 2000rpm, the Alizé levels off and settles effortlessly into an economic cruising 'sweet spot' at 21/22 knots.
Engine options
Twin Volvo Penta D4-320 DPI, 44 knots

Twin Volvo Penta V8-430, 45–47 knots

Twin Volvo Penta D6-400 DPI, 47–49 knots

Single Volvo Penta D6-440 DPI, 36–37 knots

Twin Volvo Penta D6-440 DPI, 50 knots
Price
Contact
Lakeside representation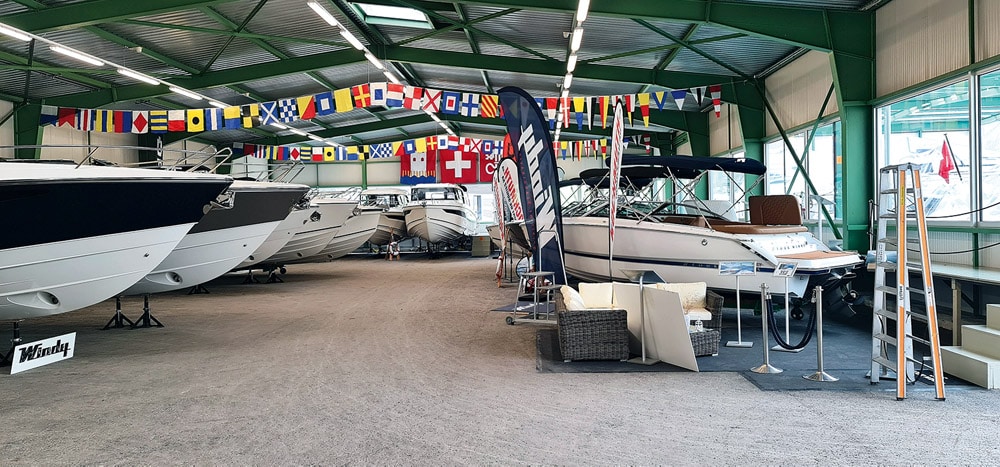 Hochmuth Bootsbau AG, located in the town of Stanstaad, is a full-service dealership with extensive workshops and indoor sales and storage space. The company is a main dealer for Windy Boats and other major brands. As well as new boat sales, older Windy models are displayed on the premises. All in pristine condition, these used craft are testimony to Windy's build quality and the meticulous preparation given to each boat prior to sale. It's also an indication of the benefits associated with freshwater boating, and undercover storage! Prior to my departure for Blighty, the staff were putting the finishing touches to an indoor 'boat show'-styled event that Hochmuth Bootsbau AG stage for prospective buyers and members of the public. It reflects the popularity of boating on the region's spectacular interconnecting Swiss lakes.