TMS travels to Florida to gain first-hand insight into the iconic site that is Lake X and its extraordinary history.
Among the many outstanding locations synonymous with the development and testing of the motor car, the Bonneville Salt Flats, Brands Hatch and Germany's Nürburgring are three of the best known. What, though, of the marine world?
While the likes of Coniston Water, Rouen and the Florida Keys are inextricably linked to some of powerboating's greatest racing and record-breaking achievements, is there any single location that could rightly claim to be a waterborne equivalent to the greats of the automotive world? Well, in fact there is: a place called Lake X.
Lake X could arguably be considered the greatest single location in terms of its influence upon the development of the outboard engine. The secrecy surrounding its location and the covert testing of engines undertaken here over the years has merely added to the intrigue and reputation of the place. So, what is its history, and what makes Lake X so special?
As you may have read in Issue 180, PBR recently had the privilege of being invited by Mercury Marine to test the all-new V10 additions to their existing Verado range. Being the only UK media to receive the call, we of course leapt at the chance to fly out to Florida to join the global launch of these much-anticipated 5.7L 350hp and 400hp engines. But in addition to the time spent testing these motors on a multitude of transoms, we were also given a rare and exclusive tour of the Lake X site, and even free rein to power about its waters at will – something that few people outside Mercury Marine have ever been allowed, let alone invited, to do.
A sense of history
The sense of history synonymous with this location is tangible. For petrolheads and out-and-out lovers of all things outboard, Lake X is legendary. Its tree-fringed shores, like the stadia sides of a racetrack, help to guard its tantalisingly unruffled waters – as do the snake- and alligator-filled swamps that form the surrounding neighbourhood. The lake doesn't only speak 'speed' as it should be remembered that it was here, upon the brackish water of this very lake, that many of Mercury's most famous creations were trialled for the very first time. Engines like the classic 'Mark series', later versions of the famous 'Thunderbolt' and the industry trendsetter the 'Black Max' all cut their teeth on this Florida inland waterway. In addition, Lake X became a temporary home to race teams and boatbuilders from all over the United States seeking to improve the performance of their craft and related propulsion systems.
A pivotal year
It was in 1957 that the founder of Mercury, Elmer Carl Kiekhaefer, began testing his products at what was then the secret location he dubbed 'Lake X'. Later that year, the Kiekhaefer Mercury company designed a new inline 6-cylinder, 60 cu. in., 60hp (45kW) engine named 'Mark 75'. Like its 2- and 4-cylinder brethren, the Mark 75 featured internal reed valves. The reed valve blocks served as intermediate main bearings. Because the valves occupied space already necessary for the main bearings instead of mounting to an extension of the crankcase, the crankcase volume was minimised, resulting in a higher crankcase compression ratio, and more power in proportion to displacement than the competition.
Mercury's first 6-cylinder engines featured 'direct reversing'. Instead of a lower unit with forward, neutral and reverse gears, its lower units were more compact, with only drive and driven gears, and no submerged shift mechanism was required. Reverse was selected by turning off the engine and restarting it in opposite rotation, and neutral by simply switching off. Mark 75s, like many of their smaller cousins, were available in an 'H' (high-speed) version. Many of these large 'H' engines sported open headers for competition and produced 90hp from 60 cu. in. Two totally stock Mark 75s set a world endurance record on Lake X, running 50,000 miles at an average of 30.3mph, while being refuelled on the fly. The boats were stopped only for driver changes and standard maintenance. After the record-setting run was completed, the motors were torn down and inspected for wear. Even so, despite their gruelling experience on Lake X, their function was still found to be well within factory tolerances.
Further advances
In 1958, an enlarged version of this engine was introduced. The new 'Mark 78' had 70hp with 66 cu. in. of displacement. No 'H' version was offered. Also in 1958, a stock Mark 75H set a new world speed record for outboard motors of 107mph, which, by anyone's standards, was absolutely remarkable for the time.
When Kiekhaefer Mercury's top-of-the-line 80hp (74 cu. in.) model, the Merc 800, was introduced to the market in 1960, direct reversing as standard equipment was optionally replaced by full forward, neutral and reverse gear shifting, as on Mercury's 2- and 4-cylinder models. These outboards also featured 'thru-hub' exhaust technology. Prior to this, as with other outboard brands and Mercury's smaller models, exhaust fumes exited from a chute at the rear of the cavitation plate above the propeller. But a 'thru-hub' exhaust design benefited from being more efficient by omitting the added drag of an exhaust chute, while at the same time utilising the low-pressure area created by the gear housing and propeller to assist with exhaust evacuation. Over the next several years, 'thru-hub' exhaust became a standard feature of all Mercury models, and it was later adopted nearly industry-wide for both outboards and sterndrives.
In 1961, the company merged with the Brunswick Corporation. That same year, the company introduced the MerCruiser sterndrive line at the Chicago Boat Show. The line would later take over 80% of the world market. The following year, the inline 6 Merc 1000 became the new flagship of the series, offering a full 100hp. It was a sensation and gave way to the launch of the 'Phantom Black' paint livery, which in turn was adopted by the entire model range. The swinging sixties continued with the emergence of Mercury's 6-cylinder models employing the benefits of electronic ignition. This was another first that became an industry standard.
As I said, the waters of Lake X saw pretty much all of Mercury Marine's formative journey. To not only stand upon its shores but actually take to its 1,400 acres of water was, as you can imagine, an unforgettable experience – one that I shall remember always as being a highlight of my boating career thus far.
The man behind the name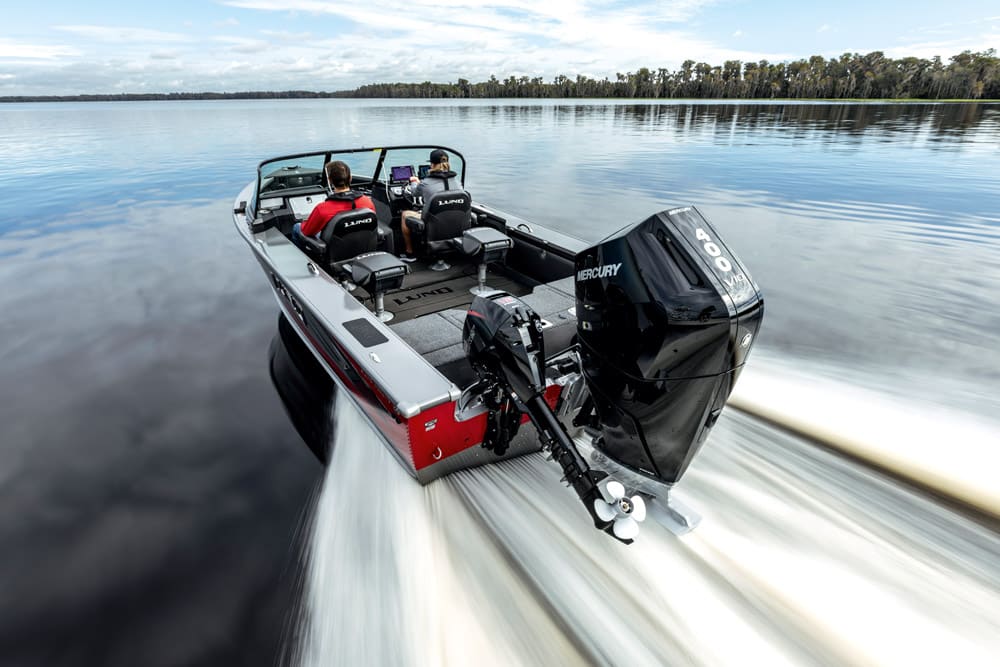 Elmer Carl Kiekhaefer was a uniquely successful individual. He was born in 1906 in Mequon, Wisconsin, graduated from Cedarburg High School, attended the Milwaukee School of Engineering for one year, took extension courses in electrical engineering from the University of Wisconsin, was hired in 1927 by Evinrude Motors, was soon fired by Evinrude for alleged 'frequent, disquieting and brazenly insubordinate arguments concerning design and product development', received 200 patents, won 52 NASCAR races that resulted in championship wins in 1955 and 1956, and founded Kiekhaefer Marine – the company that would become Mercury Marine.
Additionally, Kiekhaefer was extremely innovative. The Kiekhaefer Corporation manufactured small 'drone' motors for 'target aircraft' and developed two-man chainsaws for the US military during World War II. Just as Kiekhaefer set standards in outboard manufacturing and performance, he also introduced the concept of 'professional teams' to auto racing.
Kiekhaefer died in 1983 and is buried in St Charles Cemetery, Fond du Lac.
The famed location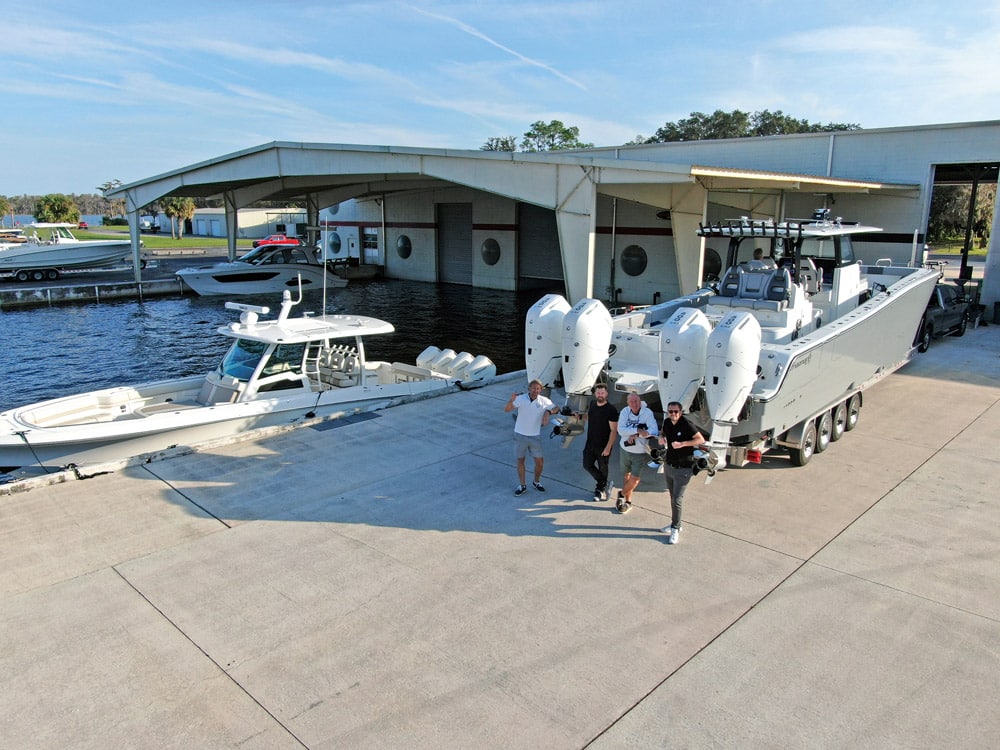 In 1957, Mercury Marine founder Carl Kiekhaefer bought a 1,440-acre body of water that he named 'Lake X'. It was perfect for covert testing – close enough to his Orlando headquarters to be convenient, but far enough away to ensure that nobody outside the company would end up there by mistake.
In 1984, Mercury sold the property to the Kirchman Foundation, a non-profit conservation group, ostensibly because Mercury's racing programme outgrew the confines of the 3-mile lake. Now, Mercury is back at the compound, leasing the property from Kirchman to test production engines. Three miles worth of water is still plenty, it would appear, as long as you keep your speed to around 100mph or so!
The lake is surrounded by 10,000 acres of forest and swamp. There's a guard at a gatehouse, the sole access point, located at the terminus of a dead-end road. But in addition to the latter, site security is further strengthened by an army of alligators, some of whom occasionally wander out of the lake to lounge in the sun. The original boathouse and shoreline observation tower are still standing, their stark metal structures being dominated by large, convex round windows, designed to evoke the appearance of a boat's portholes. Once neglected for decades, the buildings have an eerie abandoned-compound feel about them. The rusted observation tower looks as though it's been created for the stage set of a post-war spy thriller.
Operation Atlas
Arguably the most legendary project held at Lake X was 'Operation Atlas'. To disprove any criticism levelled at his products over their longevity or mechanical prowess, in 1957, Kiekhaefer conceived a non-stop 'around the world' endurance run employing a pair of boats powered by Mercury Mark 75 outboards. After a staggering 34 days, 11 hours, 47 minutes and 5.4 seconds, the lead boat completed its 4,526th lap of Lake X, having covered a total distance of 25,003 miles! It was followed only minutes later by the second boat, ever enshrining Operation Atlas as the most extraordinary and testing mechanical endurance procedure ever staged in maritime history.