Showcasing an extensive line up of Yamaha outboards and marine products, Yamaha boat partners are all set for the South Coast & Green Tech Boat Show, 21-23 April.
Benefitting from over six decades of experience, Yamaha's design innovation and engineering excellence means many boating brands, both motor and sail, have chosen Yamaha outboards to power their craft.
Complementing a boat's design and capability, Yamaha has the best outboard engines and technology to empower a wide range of vessels from RIBs to cabin cruisers. A selection of these will be on display with Yamaha boat partners during the three-day show at MDL's Ocean Village Marina in the centre of Southampton.
Quarken Boats – marina berth 62
Winner of Motorboat of the Year Award in the Sportsboats & RIBs category and the latest iteration in the Quarken 27 fleet, the Quarken 27 T Top V2 Onyx will be making its UK debut in the show's marina. Powered by a Yamaha 300hp V6 outboard, this elegant little cruiser will be presented by exclusive UK dealer, boatpoint, alongside the versatile Quarken 27 Cabin.
"The award-winning Quarken 27 range has been designed from the hull up around the Yamaha 300hp outboard," says Andy Hyland, Group Operations Manager at boatpoint.
"This has allowed the multi-purpose allrounder Quarken 27 fleet to have more considered layouts, from how you step onto the boat to ensuring there's nothing in the way when bringing the engine up using Yamaha's TotalTilt™ function.
"The twin-stepped hull has also been crafted to give immediate lift off with the torque range of the Yamaha 300hp engine, maximising performance and fuel efficiency."
Yamarin – marine berth 63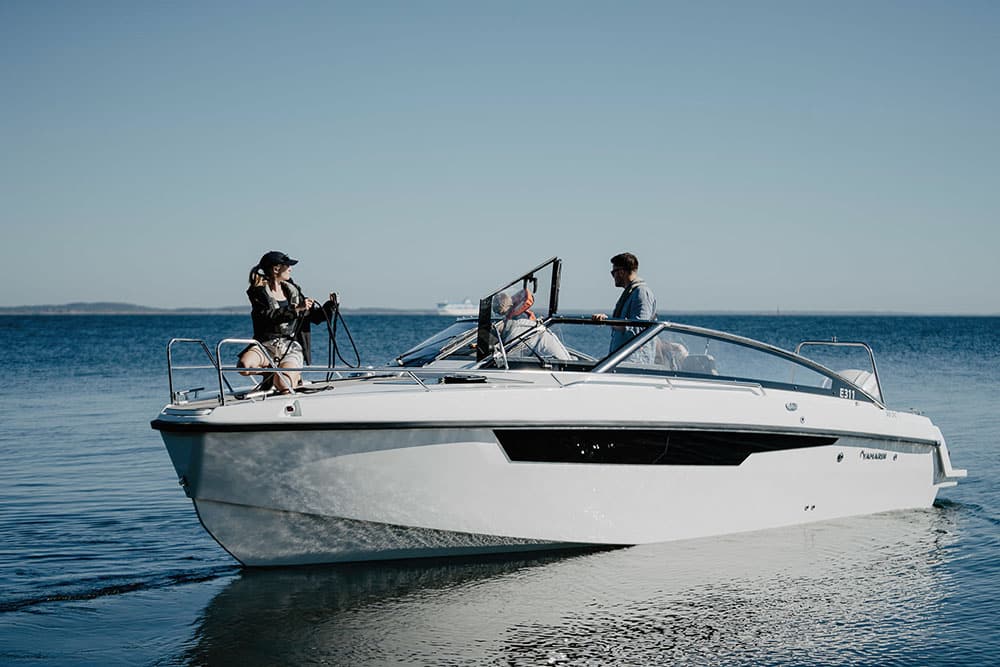 The team at boatpoint will also be showcasing the Yamarin 88 DC Premium from the Yamaha-owned brand. The flagship from the Finnish boat builder, this stylish day cruiser comes with comprehensive standard equipment, including the Yamarin Q+ entertainment package with speakers.
Rigged with a 300hp V6 Yamaha outboard, the Yamarin 88 DC Premium is also rated for the new Yamaha XTO 425hp V8 engine for anyone looking to maximise speed and performance on the water.
Wellcraft – marina berth 55
A new generation of performance cruiser, the Wellcraft 355 is designed to push the limits out on the water, reaching speeds of over 50 knots. With 900hp on the back provided by a trio of Yamaha 300hp V6 outboards, the Wellcraft 355 allows boaters to combine the thrill of piloting at high speed with the ability to explore in comfort.
Once back in the marina, confident close quarters manoeuvring is afforded by Yamaha's Helm Master EX integrated boat control system, with joystick steering, smoother shifting and single function buttons for ease of operation.
On show with Sea Ventures, the Wellcraft 355 will be displayed with the smaller Wellcraft 262 Fisherman, designed by fisherman for fisherman and powered by twin Yamaha 200hp outboard engines.
AB Inflatables – landside stand 20
The robust and versatile aluminium RIBs and tenders from AB Inflatables will be on show with BHG Marine in the shoreside area of the event. Visitors will have the opportunity to compare and contrast four inflatable tenders of varying sizes, all paired with an appropriately sized Yamaha outboard.
"BHG Marine has chosen to partner AB Inflatables with Yamaha outboards as they complement each other," says Craig Neilson, General Manager at BHG Marine Ltd.
"Both Yamaha and AB are globally recognised premium quality brands designed for use in the most arduous environments. The pairing allows us to deliver premium quality dinghy, RIB and tender packages to meet the requirements of our user base."
On the stand will be the ultra-light Lammina 7.5 UL with a Yamaha 4hp, Lammina 10 AL with a Yamaha 9.9hp and the Lammina 10 AL fitted with a Jockey Console and a Yamaha 20hp outboard. These hand-crafted, hard-wearing and innovatively designed tenders will be joined by the Alumina 9.5 ALX from AB's console RIB range, also sporting a Yamaha 20hp engine.
Finnmaster – marina berth 22
Idealboat will be presenting a selection of sporty cruisers from Finnmaster. Powered by Yamaha outboards ranging from 150hp to the 250hp V6, the models on display come from the Finnish manufacturer's T-series which combines a sporty look and feel with comfortable cruising – ideal for a weekend away.
To find out more about Yamaha's full range of outboards visit: https://www.yamaha-motor.eu/gb/en/products/marine-engines/
The South Coast & Green Tech Boat Show runs from 21-23 April at MDL's Ocean Village Marina in Southampton. For more information, tickets and to book appointments to see specific boats visit https://www.mdlmarinas.co.uk/events/south-coast-boat-show/