Taking up the opportunity for a UK exclusive for PBR, HMS undertakes the first sea trials conducted in Europe of Yamaha's latest XTO technology.
Utilising the same 5.6L big-block displacement and multifaceted features as the original XTO 425, Japanese manufacturing giant Yamaha are now building yet again on their engineering and technical prowess with the launch of a brand-new flagship model, the XTO Offshore 450hp outboard motor.
PBR was pleased to be the only UK magazine to be invited to the first official sea trial event, held by Yamaha Europe in Port Camargue, in the South of France, this June. Here, we had the opportunity to trial not only the new 450hp V8 but also its close cousin and technical counterpart, the 400 XTO. And it didn't stop there, as we were also given free rein to put a selection of these big engines through their paces, including those that represent substantial upgrades to Yamaha's 200hp category power offerings.
More than just looks
With new raised chrome graphics to their flanks, a restyled panel at the back, a new flush-mounted manual flush connection up front and hidden external wiring near the bracket, whether one opts for that classy, staple Yamaha grey or chooses the special pearlescent white livery option, these new motors look the business.
No doubt you won't be surprised to learn either that these outboards firmly lived up to our expectations in terms of their handling and functionality. Delivering a veritable 'body blow' worth of torque coupled to a breathtaking 'slam' of raw power, the XTO's 5.6 litres of V8 displacement really does perform. You can't help but smile when stood behind the wheel – and believe me, with each additional motor rigged to the transom, the smile only gets bigger! That said, the beauty of Yamaha's latest XTO technology is the nature of its 'split personality'. By this I mean that while it can be overtly demonstrative, it can also be curiously contrite. This is because, while being 'all-powerful' when called upon to be so, it's capable of displaying a wholesome subservience and quiet respect for the lower rev ranges. This is enhanced too by means of the motor's silky-smooth digital electric steering, its Thrust Enhancing Reverse Exhaust and its almost unobservable level of noise output.
A host of choice
The Port Camargue event allowed for the trialling of a whole range of horsepower options and alternatives/combinations of rigging. In the main, the boats on offer, all being Yamaha partnered brands, allowed the engines to shine. Only three out of the 12 host craft suffered issues that, for me at least, proved detrimental to the process. These related to fit-out/internal design shortcomings, cockpit ergonomics or, in one case, a tendency for the craft in question to 'porpoise', likely due to a weight imbalance issue. But among those that really shone were the Yamarin 67DC coupled to a single 200hp; the Capoforte with the twin 200hp installation and the Cap Camarat 12.5 with a twin 450hp installation. All of these were fantastic craft to drive and represented their own distinct market categories admirably, benefiting from high-quality, functional fit-outs/deck plans and exceptional seakeeping. (If you want to learn more about the test craft sea-trialled along with our top-line commentary on them, check out the PBR Instagram page. You'll see all the videos we made of this event there.)
Biggest and best
For me, though, it was the Capelli Tempest 44 married to the biggest rig of the day, a triple installation, with no fewer than three 450hp Yamaha V8 XTOs on its tail, that proved to be the standout craft of the day. This 'super-RIB' – a full-blown offshore cabin craft designed for extended passage making and of very sound construction – benefited from a design that was not only highly functional but comfortable too. Significantly, its makers displayed a laudable understanding of the importance of helm/cockpit ergonomics, which sadly the Capelli's closest counterpart on the day, a Lomac 1250 Gran Turismo powered by twin XTO V8 engines, failed to do. The driving experience aboard the Lomac was seriously marred by the height and design of its forward cabin, which prevented anyone under around 5ft 10in from being able to see forward, particularly when the boat was at low speed or rising onto the plane. It was certainly not a craft designed for all the members of the family to drive. Such a shame about this fundamental and very obvious flaw, as everything else about this luxurious, capable craft was nothing short of impressive.
In terms of the Capelli Tempest, however, and in contrast to the former, thanks to its sound seagoing design and absolutely first-class performance hull, the triple 450hp installation was encouraged to truly shine. You could say that this boat and engine combination 'stole the show', not simply because it was the biggest, most powerful rig on display, but because the entire set-up, from wheel through to prop, was 'sweet', and as a result, the vessel was a joy to both drive and be a passenger aboard.
Noteworthy in particular was the fact that the Capelli Tempest's triple 450 XTO installation, while capable of propelling this hefty 44ft 'super-RIB' of several tons in weight at speeds in excess of 50 knots, saw its rate of fuel burn drop by virtually 50% when driven at a cruising speed of 25 knots. This equated to a total consumption of 100 litres per hour. In other words, throttle back, halve the RPM and you pretty much halve the fuel consumption! But it became apparent that right across the selection of test craft, whether they featured single, twin or triple installations, in nearly every case, a reoccurring formula determining fuel economy was 'power to weight'. In other words, the less hard the engines were expected to work, the less fuel they burned. That's why, when we compared the fuel consumption/rate of fuel burn to, say, that of a twin-engine craft against the triple rig, the total fuel burn remained almost exactly the same. That's right, even when taking an entire engine right out of the equation! Of course, much depends upon 'how' you drive and trim a vessel and to what degree you 'plant' the throttle.
Associated technologies
In my view, what really brings Yamaha's 2023 engine mastery to life is the supporting technologies they have invested in. The fact is, for all these engine companies, it's no longer just about the propulsion unit. In Yamaha's case, the integration of their multi-tasking, multifaceted Helm Master EX joystick and throttle system adds a whole new level of control, safety and user-friendly advantages. The great advantage of the Helm Master is that its software is capable of receiving upgrades, so new features can be added, effectively, ad infinitum. But for the meantime, its lateral docking capabilities, its ability to hold the boat 'on station', its speed-maintaining option, its autopilot function in unison with the vessel's navigation system and its fine-tuned helming capability, along with its other attributes, represent genuinely worthwhile additions to any skipper's armoury – whatever level of experience or boat-handling competency they may possess. (Check out our PBR YouTube channel for a full demonstration of the Helm Mater product filmed at this year's Port Camargue event.)
More charging power
To help meet the big electrical demands of today's larger boats, the Yamaha XTO Offshore 450 features a three-phase simultaneous charging system that delivers an impressive 96 amps of net charging power at lower RPM, where of course it's needed most. Using Phase Angle Control (PAC) componentry and a super-strong magnetic field, XTO Offshore 450 models produce up to 96 net amps per engine in neutral. That's plenty of power for today's popular high-demand devices like gyro stabilisers, air conditioning, sound systems and more. In fact, the Phase Angle Control charging system on the new XTO Offshore 450 is so powerful that it can even eliminate the need for an on-board generator in many applications. The system also prioritises charging the starting batteries, keeping them charged and ready for action at all times. Net output is per outboard too and is stackable, multiplying amperage output by the number of outboards. This equates to 480 net amps in QUINT configuration at idle.
Ease of use
In addition to the foregoing, every XTO Offshore 450 is now equipped with Yamaha's exclusive TotalTilt feature for faster, easier engine tilting. When enabled, it allows complete tilt up from any position with a simple double push of the 'UP' trim/tilt button, or full tilt down (until trim ram contact) with the same double push of the 'DOWN' trim/tilt button. A warning horn will sound just before and during these operations. Movement and the horn can be stopped anywhere in between by pressing the tilt button again. (It's worth noting too that TotalTilt comes with the factory default set to 'OFF'. So if you do wish to employ this function, be mindful to first use the Yamaha CL5 or MFDI-equipped display to change the default setting.) There's also an optional built-in propeller light (rather than transom mount) that illuminates when using Helm Master EX SetPoint features.
In conclusion
Lastly, Yamaha have brought out a new line of XTO EC propellers, which have been specifically created for applications where propeller ventilation may be an issue due to the power and torque of XTO Offshore outboards. Additionally, Yamaha have added a 27in pitch to their XTO OS line of propellers for those lighter-weight XTO applications that have the available wide-open throttle RPM to potentially drive more top speed.
It's clear that Yamaha are taking a comprehensive approach to the delivering of power. This is the way of the future after all. Yamaha's latest XTO and its associated technologies, plus the commendable upgrades made to the rest of the model line-up, will undoubtedly be welcomed by the market, including those new to the Yamaha fold.
Power /performance
5.6L, naturally

 

aspirated, V8

Direct injection

Yamaha state their engineering achieves the highest compression ratio of any naturally aspirated petrol outboard (12.3:1)

Unique fuel system with five pumps and up to 2900PSI of fuel pressure

In-bank exhaust

Dedicated large-diameter XTO propellers

Iridium spark plugs

Endurance-driven camshafts

DLC (diamond-like carbon) coated lifters

Dual chamber oil pump

Two-stage water pump

Quad thermostats

Plasma-fused sleeveless cylinders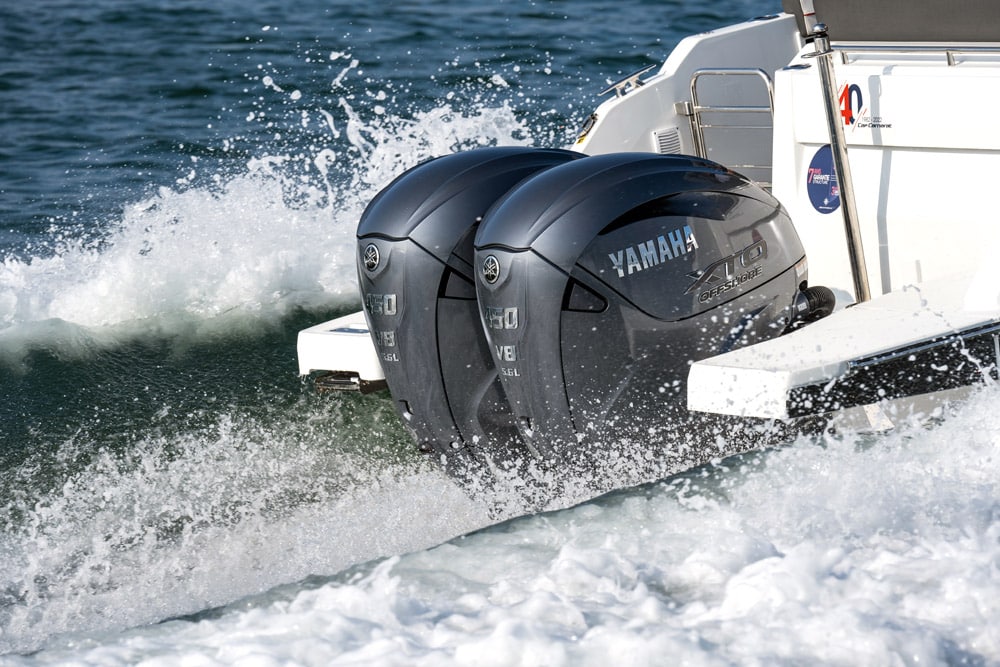 450 XTO Specification
Engine
Type: 4-stroke, DOHC,

 

V8 – 32 valves
Displacement:

5559cm3

Bore x stroke:

96.0 x 96.0mm

Full throttle RPM range:

5000–6000

Variable trolling RPM range:

From 600 to 1000

Compression ratio:

12.3:1

Fuel induction/scavenging DOHC, DI, 4 valves per cylinder alternator output –

Gross:

102A max.

Net:

96A max.

Starter:

Electric w/PTT

Ignition:

TCI microcomputer

Lubrication:

Wet sump

Degree of trim:

-4° to +16°

Degree of tilt:

-4° to +77°

Exhaust:

Through propeller (except in reverse under 2500rpm)

Cooling:

Water, thermostatic control

Steering:

Integrated, electric actuation
Drive
Gear shift:

F-N-R

Gear ratio:

(25/14) 1.79

Control method:

Digital electronic control
Shaft length
See model code:

X = 25", U = 30", E = 35"
Fuel and lubrication
Recommended fuel:

Minimum pump octane 89

Engine oil capacity:

7.8L / 8.2 US quarts (with filter); 7.5L / 7.9 US quarts (without filter)
Limited warranty
Pleasure:

5 years

Government:

3 years

Commercial:

1 year
Weight range
Weight is measured without motor oil, gearcase oil and propeller.
XF450XSA = 437kg / 963lb

LXF450XSA = 437kg / 963lb

XF450USA = 448kg / 988lb

LXF450USA = 448 kg / 988lb

XF450ESA = 458kg / 1010lb

LXF450ESA = 458kg / 1010lb

XF450XSA2 = 437kg / 963lb

LXF450XSA2 = 437kg / 963lb

XF450USA2 = 448kg / 988lb

LXF450USA2 = 448kg / 988lb

XF450ESA2 = 458kg / 1010lb

LXF450ESA2 = 458kg / 1010lb
Convenience /control
In-water gear lube change

Thrust Enhancing Reverse Exhaust

Multi-part cowling

Pump stop power tilt limit

TotalTilt system

Semi-conductor power trim and tilt relay

Wider tilt range

Dual flush system with

     

in-boat flush

Wide-span powerhead mounting

High-output net charging amps

Improved rigging tube and grommet

Two colour choices