Alex Whittaker tests a versatile, family-friendly 'Scandi' boat with the promise of 40 knots …
We have all got the message. New boat sales are booming, the supply of second-hand boats is outstripping demand and 'staycationing' looks to be the new normal. What many newcomers need is a safe family boat, with basic accommodation, pitched at an attractive price. Enter the Finnish Yamarin 60 DC, a smart outboard-powered two-berth cuddy with a cracking turn of speed. Hmmm … Let's investigate …
Stern to stem
The Yamarin 60 DC is a neat 6.06m cuddy designed in Finland. The overall design is tidy, modern and minimal. She is handsome and practical, rather than fussy or sporty. The hull is a moderate V-shape, with a deadrise at the transom of 20 degrees. Boarding at the stern is straightforward, and there is a foldaway reboarding/swim ladder tucked under the starboard bathing platform. There is also a handy stainless steel handle to pull oneself out of the water. Great for family water sports, a sturdy, well-designed waterski arch provides safe handholds in the whole transom area. Stepping forward, on either side of the transom are faux-teak-faced steps, which have convenient lockers beneath. The lockers are a handy size and could hold a kedge anchor. In the absence of a fridge aboard, we would certainly use one as an ice chest. Usefully large cleats are set immediately outboard of the two lockers, neatly avoiding any trip hazard. 
Next up, there is a full-width transom step-cum-platform, which greatly aids access to the cockpit. You have to step over from the safe full-width transom platform down into the cockpit. This means you must step over the full-beam seat back. However, you can avoid landing on the seat cushion because there is a long, narrow step either side. Under this full-beam seat is a large lazarette-style locker providing welcome storage space. In typical Scandi style, it holds the slant cover plus the full camper hood top and side screens conveniently out of the way. (The canvas is an option.) Nevertheless, the stainless tubes for the camper hood protrude a short way along the cockpit sides, slightly defeating the sleek Scandi design ethic. We reckoned that this huge lazarette would easily swallow all our bulky day-boating needs. It also has a gas strut to pop it open. Access to the manual bilge pump is via this lazarette, but it was not particularly easy. The 12V electrics panel and 12V boat battery are housed down there too. There is a 12V outlet on the panel and there is also a +5V DC / 2.1A USB outlet. 
Cockpit
The pleasant cockpit displays a number of Scandinavian design cues. It is minimalist, uncluttered and easy to keep clean. However, fine teak decking brings real warmth to what would otherwise be a neatly gelcoated rectangle. Teak is an option, and the cockpit bulwarks are reassuringly deep for family boating. Since the two front pedestal seats swivel to face inwards, this compact cockpit becomes a truly sociable space. A table and mount are on the options list. Yamarin have clearly tried to keep the price point attractive to first-time buyers, but this has meant some basic items reside on the options list. 
Since the navigator/observer seat can swivel to face aft, it is also very handy for safely observing waterskiers. This seat gets a convenient stainless handle on the cockpit wall to brace against the movement of the boat. There is room on the moulding below the cuddy doors for observers to brace their feet.
Helm
The driver's seat, like the observer's, may be swivelled, slid backwards or forwards, and may be locked in positions at 90-degree stations. Both seats may also be locked with a handle at any intermediate radial position. There is no height adjustment, but the bolster on both seats does flip up to allow standing.
With the relative position of the dashboard and throttle, and the adjustments available for the skipper's seat, it was easy to feel both comfortable and safe at the helm, either seated or standing. We were pleased to note the driver's moulded-in footrest at the helm position. Overall driving ergonomics were very good. The single multifunction display could handle all our engine monitoring and navigational needs in a single package. We felt the single multifunction display really did streamline the dash. In fact, the Yamarin screen has a lot more technology built into it than meets the eye (see Yamarin Q System boxout). However, the Yamarin 60 DC does not come with a factory-fitted stereo system to access some of Yamarin's 'infotainment' capability. A stereo system is on the options list for £400. In keeping with the minimalist code, there are only three ready-use toggle switches on this ruthlessly uncluttered dash. These are for the factory-fitted navigation lights, the usual Scandi windscreen wiper and a manual bilge pump.
Cuddy
Access to the cuddy is via two smoked acrylic doors. These admit light to the cuddy (more than you might think) but do preserve privacy below. There is also a lock on the cuddy doors. Below is a simple V-berth. On test this was wide enough for two adults. There are two opening hull-side port lights, but no central translucent escape hatch. The V-berth cushions suit the cheerful 'camping' ethic of this Scandinavian cuddy well. However, we would buy a cheap mattress topper. Due to the neat, low, flush foredeck design, height in the cuddy is restricted. There is no possibility of sitting at a table for a snack in dodgy weather. If you remove the central V-cushion and its practical plastic support plate, your feet dangle into the deep well of a capacious forward bilge. There are no lockers or floor down here, so you are looking directly into the hull interior. You could store a lot of gear down there! However, since there is a limber hole back to the rest of the bilges, anything stored here would have to be kept in watertight bags, in case any bilge water found its way in. Of course, with no cuddy floor, there is no provision for a pull-out Porta Potti – an odd omission on a vessel that is targeted as a first-time family boat.
Foredeck
The wide, centrally placed, moulded-in steps up through the split screen onto the usefully flat foredeck are well thought out. In true Scandi style, the pulpit is split at the bow to allow forward boarding. The stainless side rails are low, so we would not wish to traverse the foredeck in anything less than settled conditions. 
On test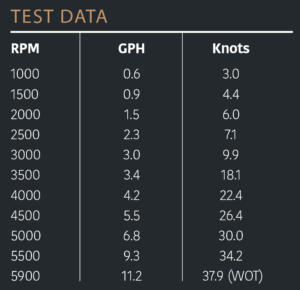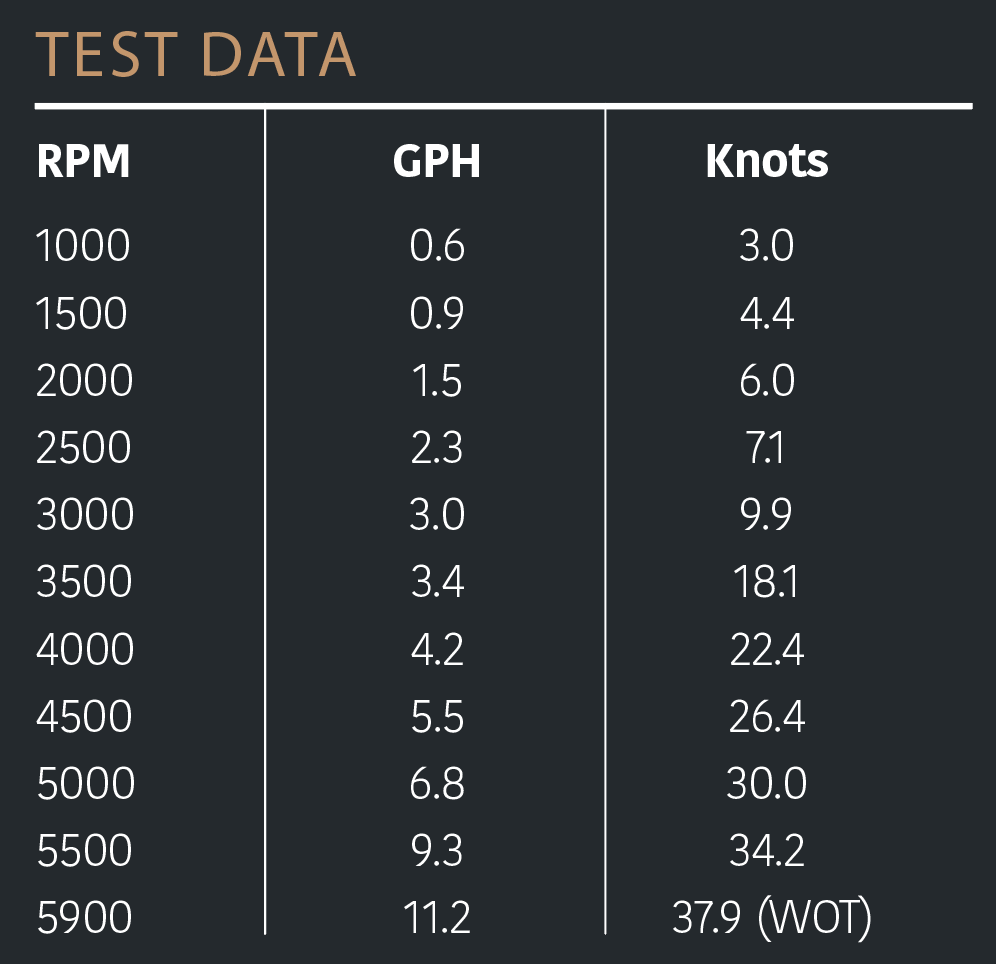 When seated at the helm, we could not hear this sewing machine of an outboard motor on tickover. The motor was perfectly matched to the hull, which needed no trim tabs, though these are an option. This Yamaha 115 outboard's power delivery is in a class of its own – exquisitely smooth, with no straining, no flat spots and no trace of coarseness. This is a truly cracking outboard motor. This Yamarin hull delivers a composed, safe and utterly assured ride. She was not oversensitive to the engine trim – a great trait for a first family boat. We noted that the wrap-around design of the forward mono-chine kept the cockpit dry when punching through spray.
Verdict
This is a great family starter boat. She is a safe, sure-footed and fast cuddy. If you buy the basic boat, just add life jackets and off you go. You will be ready to camp on the water next weekend. However, if you want just a little more weekender comfort and practicality, then specify a table and maybe a stereo. Fill up the rear lockers with ice, and buy yourself a Bluetooth portable speaker, plus a budget  hand-held VHF radio. Sorted!
What we thought
Pros
 

Keenly priced

 

Dry-riding hull

 

Safe family boat

 

Q MFD is smarter than you think

 

40-knot boat with a few tweaks
Cons
 

Keen price means options can add up

 

Table is an option

 

Stereo is an option

 

No sitting height in cuddy

 

 

No provision for a Porta Potti
Specifications
Yamarin 60 DC / Yamaha F115 BETX outboard

 

LOA: 6.06m (19.88ft)
Beam: 2.22m (7.28ft)
Motor: 80-115 hp outboard
Weight: 890kg
Fuel tank: 105L
Price
As tested: £43,035.56
Estimated total on a UK trailer: £46,730.56
Contact Yamaha Marine Europe, www.yamaha-motor.eu/
Yamarin Q System and app
The 60 DC's large and easy-to-use Yamarin touch screen is Q System-capable. It brings together electronic charts, an on-board computer and an 'infotainment' system as part of the boat's basic equipment. For example, FM broadcast radio plus DAB radio capability are built in, but they do need a stereo system to play out. Q System employs an integral SIM card at a current monthly cost of £9.99. There are also integral Bluetooth, Wi-Fi hot spot and 3.5G connections. This means that you can remotely monitor things such as your boat's position, bilge pump operation and power usage from home with a simple app on your smartphone.