A sunbather's delight or a petrolhead's paradise? Greg Copp discusses the identity of the ZAR 95 Sport Luxury.
Few boats have such a distinctive appearance, and once you know it, you will easily recognise a ZAR. However, its tall blunt bow is deceiving, as the design is an efficient rakish hull capable of running through some tough head seas. Due to the raised and flared bow, this section of the boat enjoys a good degree of forward buoyancy, coupled with a sharp forefoot, in keeping with a deep-vee hull design.
ZAR's patented hull is loosely similar to a cathedral hull, insomuch as it has downturned external chines – for want of a better description – that in sitting on the extremities of the beam produce a slight tri-hull effect. This creates tunnels between the downturned chines and the keel, which I have found in the past to be pretty effective in terms of low- to mid-range efficiency. All the boats in this range have a hull length that extends from the ends of the aft sponson cones to close to the tip of the bow, thanks to a steep stem. This provides a longer waterline and hence a slightly higher displacement speed, more buoyancy at the stern, producing more dynamic lift, and also a less discernible transition to planing.
The ZAR range is in many ways ostentatiously un-RIB-like. Once aboard this boat, you forget you are sitting inside a rigid inflatable, which arguably it is not. Internal space is barely compromised by the sponsons, as its design pushes the beam out to the maximum – made possible by the stability provided by its hull design. The 95 SL packs in two large sunbeds, with the forward one, notably, being an impressive 1.8m x 2.7m when the optional forward dining table is lowered to serve as an infill. When this area is not used for sunbathing, the table can seat eight at a squeeze. However, the better dining location is aft, which when not converted to a 2m x 1.3m sunbed can seat six – well protected from any wind thanks to the tall helm console. This area also has the bonus of a canvas T-top extension, which is easily pulled out from the back of the T-top, providing plenty of shade. The galley is well equipped in standard form, with two hobs, a sink, storage and a 64L fridge. The latter can be upgraded to a 90L drawer fridge, as fitted to our test boat – a storage increase that I would recommend. The galley sink, like the standard-fitment shower/heads compartment, is supplied by a 37-gallon pressurised water system. The T-top, as so often, is an extra – in this case, a £20,000 one. But unless you crave that open-boat look, it is something you will want in UK waters or under a hot sun. What is 'generously priced' is the manual pull-out canvas T-top extension at £9,755, while the electric T-top extension at £17,565, I suspect, will have few fans.
Movement around the boat is all the easier thanks to the asymmetrical deck design, providing wide deck access on the port side. In the forepeak, which houses the optional windlass, there is plenty of room for a large anchor locker; however, I was surprised to find no hatch support/restraint on the anchor locker hatch, which otherwise opens fully flat. Underfoot you have the option of synthetic teak, both below and on deck, and the upholstery is typically ZAR – of high quality and neatly detailed. Storage is vast: forward, there is a large void under the seating, made all the bigger by the absence of forward tubes, and aft, there is a massive locker under the aft bench seat. This storage area goes back to the fuel tank and the system electrics, and as a result would benefit from some storage division to segregate these components from the water toys this compartment attracts.
Below decks, there is a credible double cabin, which as it sits low in what is a tall boat has plenty of headroom at the foot of the bed – as well as in the heads compartment on the port side. The heads is fairly compact, but it has a toilet, a sink and a shower, so this is not a boat that needs a marina if you want to overnight. The helm works well from a driver's perspective. Ergonomics are generally good, though the throttles are a bit of a stretch when not standing. The seated position with the fold-out footboard is fine for longer cruises, but standing is ideal for the sort of spirited driving of which this boat is capable. The navigator does have the threat of being plunged down the companionway into the cabin on a rough day if the door is not shut, however, so this is something to consider when casting off.
Engine options
These are all Suzuki, either in single 350hp DF350 twin-prop form, twin 250hp DF250s or twin 350hp DF350 twin-prop engines. The single-engine version is good for 37 knots, but it will always be working hard. Choosing twin DF350s over twin DF250s makes good sense, as relatively the cost increase is small, and the more leisurely power delivery of the bigger engines at cruising speeds will not result in higher fuel costs.
Driving the ZAR
For a distinctly family, socially orientated boat, the ZAR 95 SL is deceiving. Hitting the throttles from rest will have you running past 40 knots in 7 seconds. The twin-prop Suzuki DF350 has a dogged grip on the water, and with 700hp pushing around 3.5 tonnes of boat (fuelled and crewed with three), the 95 SL has a healthy power-to-weight ratio. You never get the feeling that the boat is working hard. Firstly, you are cut off from the wind, and secondly, this boat slips along in the low-20s at 3000rpm, returning close to 2nmpg in a serene manner. Even in the mid-30s, there is little impression of speed, and the fuel burn rate is still pretty respectable for a 700hp petrol boat. My fuel figures also confirmed what I suspected – that this boat planes at as low as 11 knots, which you can only discern by watching the wake trail, as there is barely any telltale bow lift. Past 40 knots she is rock-steady and has no problem running up to her top speed just shy of 50 knots, even with a touch of hull growth. As is to be expected with a boat rigged with twin DF350s, she has Suzuki's auto-trim system, which trims the outboards in accordance with engine speed. Beyond 4000rpm, this system will trim the engines out to a level calibrated by the installing Suzuki dealer, and it will revert to manual control if you trim the engines via the button on the throttle lever. Our test boat had not yet had this calibrated, which with the ZAR was no hardship, as she only wanted a relatively small amount of trim out past 40 knots. In tight turns she is predictably steady, reacting well to hard-lock turns with no overreaction, and her hull leaves you in no doubt that you will not be able to overcook it. Running through steep ferry wake and some of the confused waters near Calshot posed no problems. The sharp bow cuts through easily, and the raised flared bow throws off any spray that might otherwise find its way on board.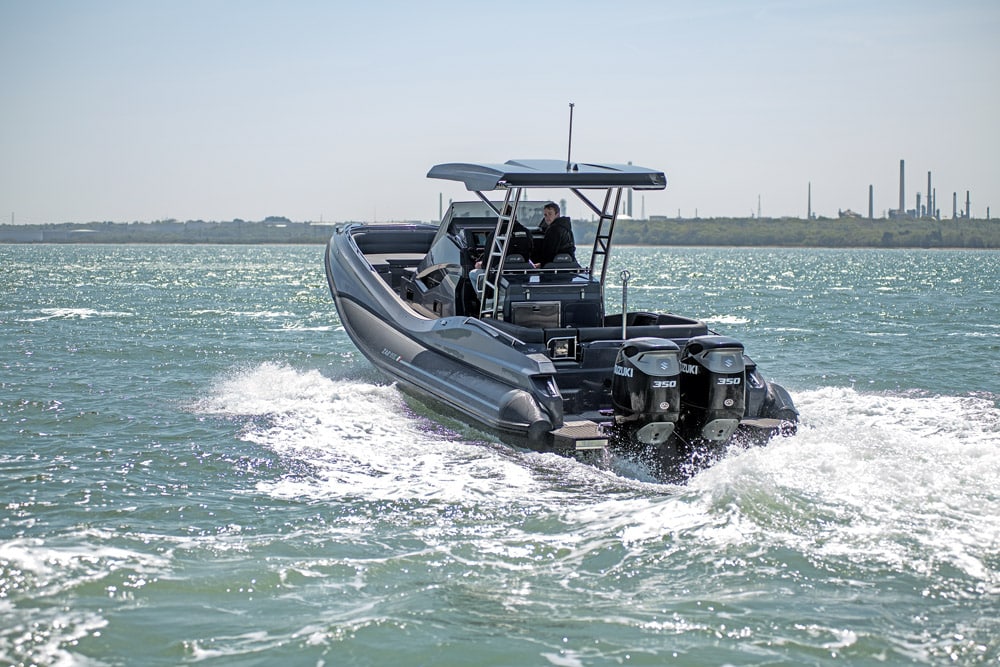 Verdict
The ZAR is a solidly built boat that comes from an Italian company with over 30 years of boatbuilding experience. This is evident not only when running through choppy seas but in the high-quality gelcoat and upholstery, which comes in various colour schemes. You get a distinct feeling of security from the enclosure provided by the console and T-top, so it scores well as a practical family boat, yet it still has the ability to bare its teeth when needed. On-board storage is excellent, so catering for large groups or water sports, or stretching your cruising legs for several days, is well within its capabilities. You can specify this boat to a lower price, but as is often the case, the test boat level of specification is the most realistic.
What we thought
 

For
Efficient hull

Good performance

Solid construction

Nicely finished upholstery

Good gelcoat finish

Abundance of storage

Heads compartment
 

Against
Some of the extras need to be standard fitment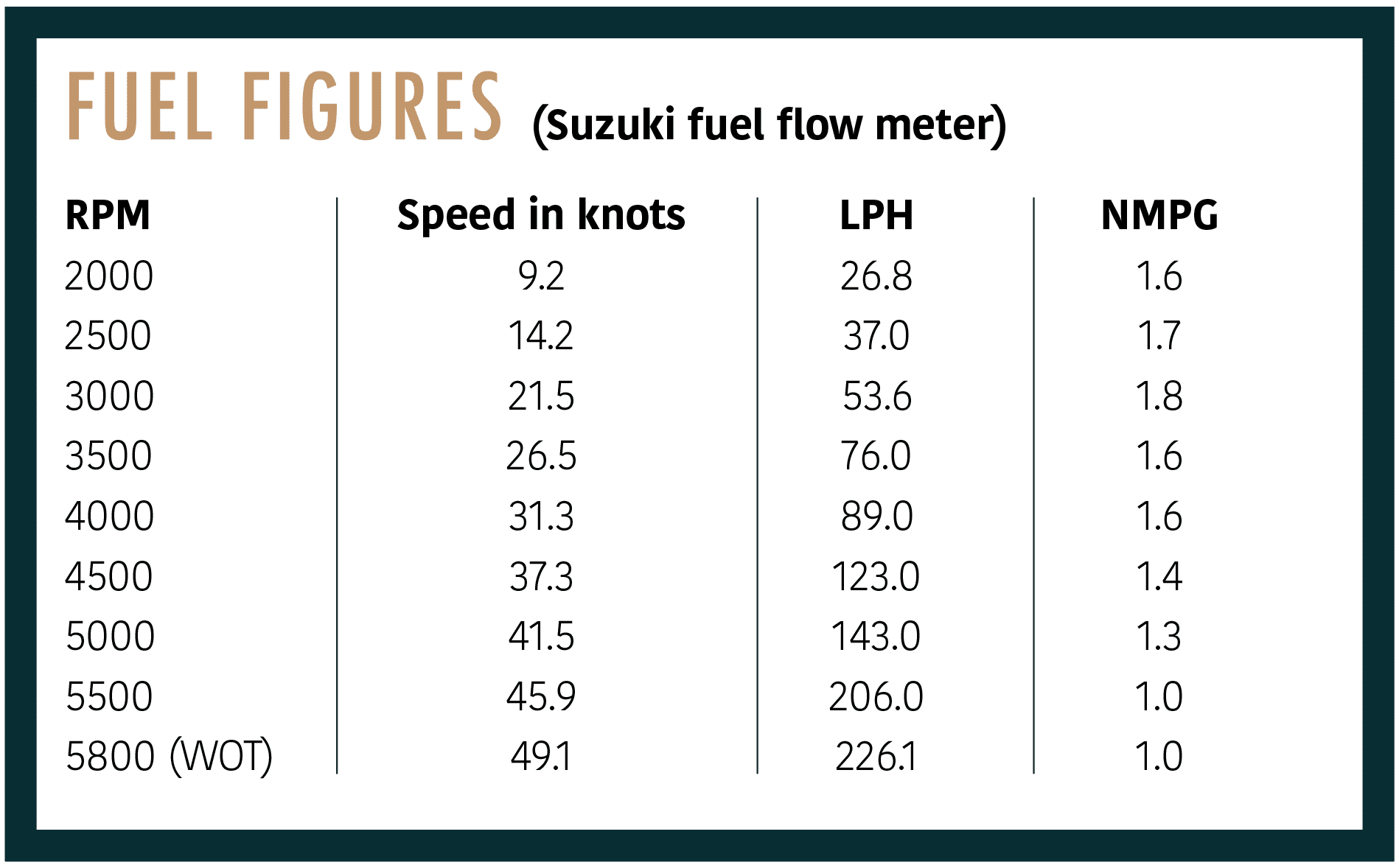 Specifications
LOA:

9.60m

Beam:

3.30m

Displacement:

2500kg (bare boat, no engines)

Power options:

Single 350hp DF350 Suzuki, twin 350hp DF350 Suzukis

Fuel capacity:

600L (160 gal)

Water capacity:

140L (37 gal)

RCD category:

C for 14

Test engines:

Twin 350hp DF350s
Performance
49.0 knots (2-way average), sea conditions F3 to F4, crew 3, fuel 40%:

0 – 40 knots:

7 seconds
Price
Contact
Boat Smart