The clothing company Zhik describe themselves as a 'dynamic Australian-based apparel brand, at the forefront of innovation, pushing the boundaries in design and fabric technology for all sailors'.
Founded in 2003, Zhik's range of wetsuits and dinghy gear changed much of the design approach to performance clothing, and as a result, the brand has continued to grow in popularity with boaters across the globe.
Zhik's new Broadside Coat, longer than most shore jackets, is a refined hooded coat that will take you from wet days along the marina boardwalk to urban living and commuting. It's a garment that was sent to PBR for our evaluation a couple of months back. So what did we make of it? And is it a product you should perhaps consider when next in the market for some outdoor apparel?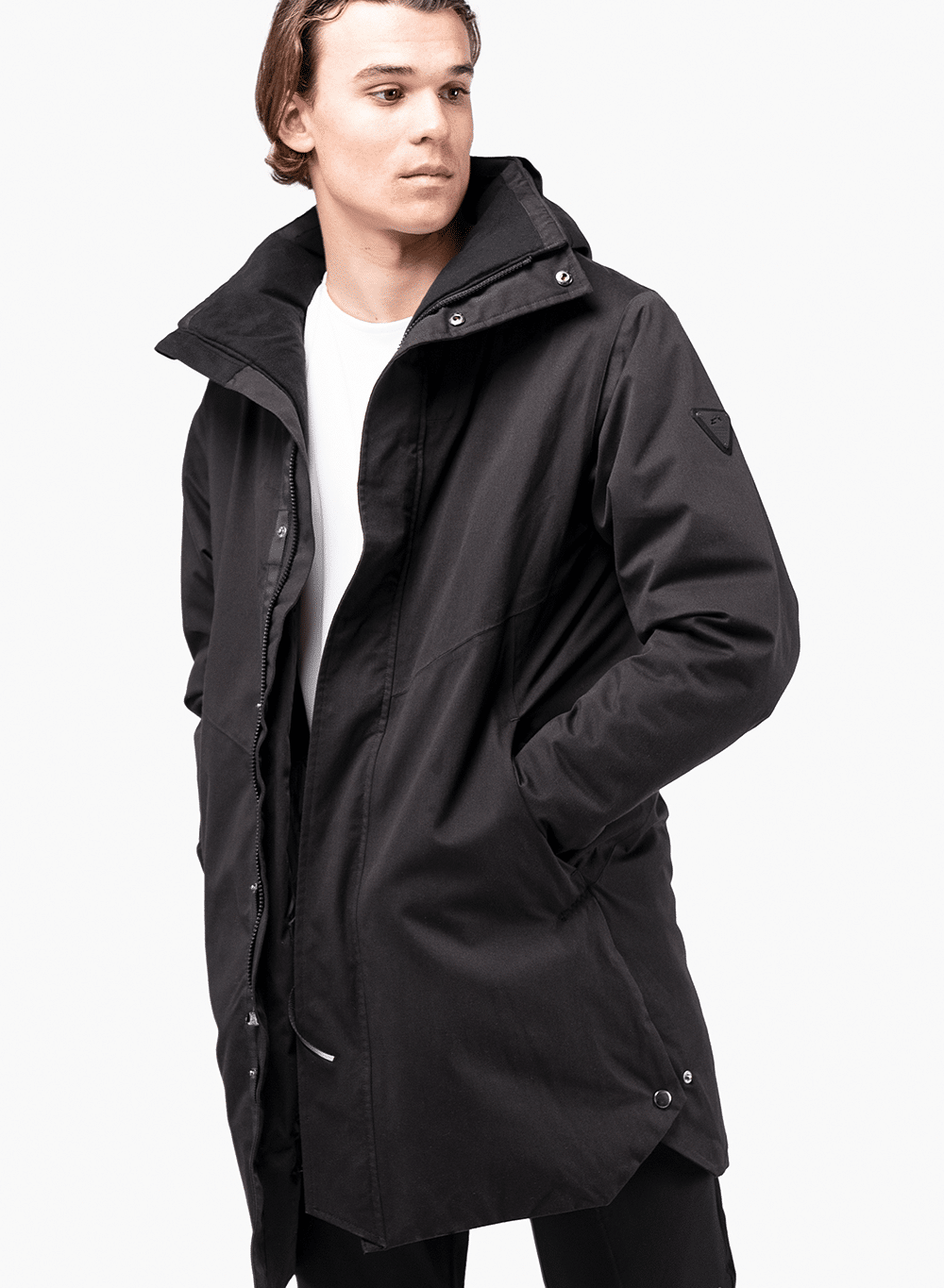 Well, firstly, the Broadside is both fully waterproof and windproof. Its breathable outer Vecta fabric uses HeiQ XReflex – an innovative radiant barrier technology added to the fabric that reflects body heat inwards. The outer fabric also repels rain and spray with Zhik's XWR fluorocarbon-free water-shedding coating. Its makers tell us that by increasing the garment's heat retention properties with the XReflex radiant barrier technology, the Broadside Coat uses 50% less insulation fabric, which in turn reduces the garment's overall bulk and uses fewer resources overall.
Inside the coat itself, REPREVE recycled insulation fabric adds a low-profile, warm and cosy lining. A leader in the utilisation of recycled performance fibres, REPREVE is made from 100% recycled materials, including post-consumer plastic bottles and pre-consumer waste.
The Broadside's likeable features, especially from the standpoint of a mariner, include its insulated waterproof hood, deep handwarmer pockets and side vent openings, which make it easy to reach trouser pockets and to sit down. Magnetic MagZips make for simple locating and fastening of the front zip, which is also protected from the elements by an adjustable outer placket. Gusseted wrist seals likewise retain body heat very effectively while keeping the weather out.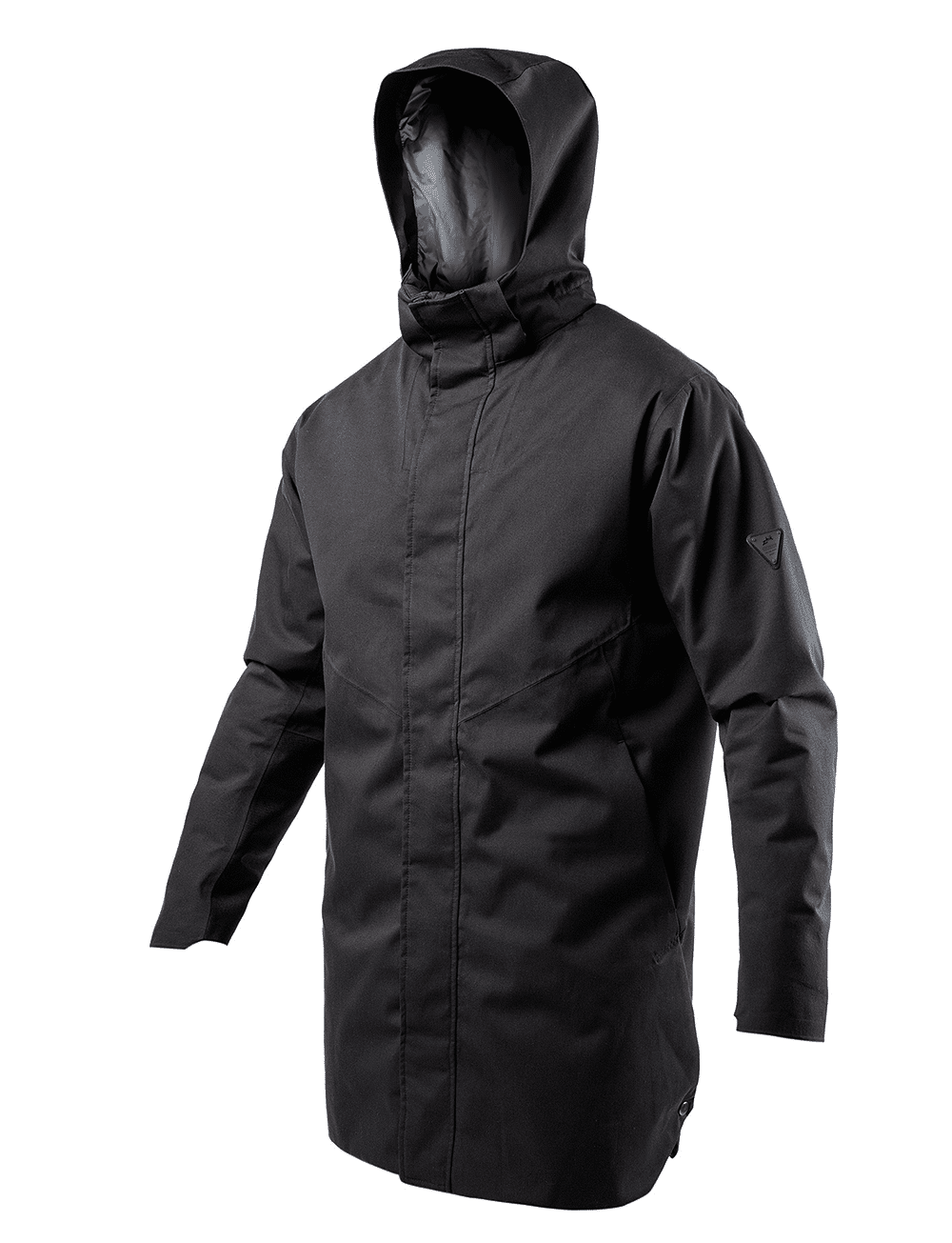 That said, the Broadside is not designed as a full-blown 'storm jacket' or for use in serious offshore weather. But in our view, it is a very functional and practical garment, and one that displays insightful design. Its outer layer is tough and gives every impression of being hard-wearing. It's also tailored well, and as a result, the coat is flattering in its shape and cut. (Speaking personally, a lot of 'similar' products can make one look rather dumpy!)
The fact that much of the garment utilises recycled materials is clearly laudable and very much in its favour. The only negative, I would say, is the fact that the Broadside, being primarily aimed at men, is only available in dark-grey anthracite. Sadly, I feel its colour will limit its appeal, and particularly so for marine leisure enthusiasts, as anthracite is probably the least marine-orientated colour one could choose.
As already mentioned, the Broadside is most certainly a high-quality item, though it does come at a price. Perhaps its price tag could be rationalised to some extent by the fact that, while being a smart on-deck waterproof garment, its not-so-'boaty' appearance makes it equally suitable for wearing ashore. In this sense, I would describe this latest garment from Zhik as being a genuinely versatile 'all-rounder'.
Broadside essentials
RRP: £349.95; €399.95
Available in anthracite in a selection of men's sizes.