Alex Whittaker tests a high-speed adventure vessel with a refined interior …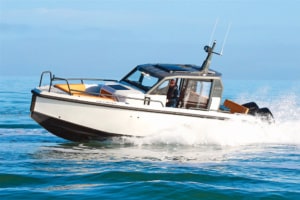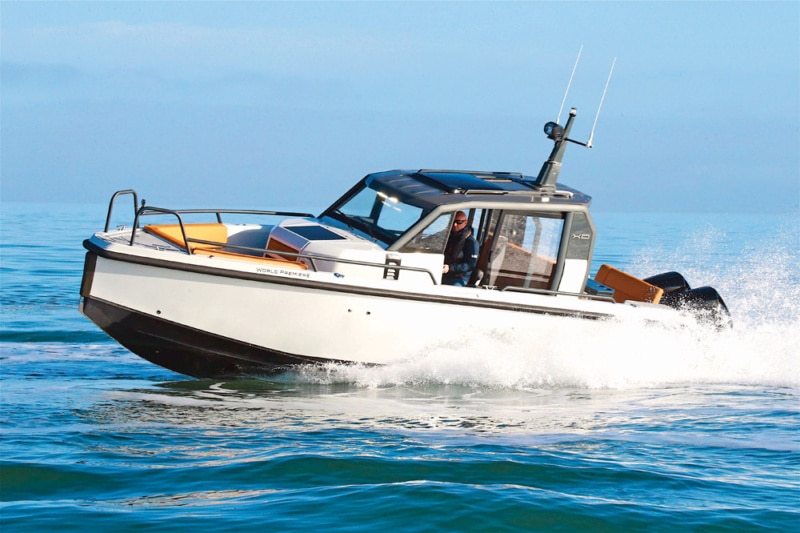 This boat is a paradox. With the right engine package, she can top 50 knots, punch waves and corner like Luke Skywalker's landspeeder. This wheelhouse adventure vessel looks military, mega-tough and yet accomplished – a go-anywhere craft that is Category B certified for force 8 offshore navigation. Her aluminium hull screams Special Forces, and yet there are family sunbathing options arranged over two cockpits. What's more, down below there is a surprisingly smart cabin and a large V-berth where two adults may sleep in comfort. Then comes the clincher: she has a neatly enclosed wet room, complete with sink, shower and toilet.
The hull
Her length overall is 8.75m (28ft 9in), her beam is 2.6m (8ft 7in) and she draws just 0.9m (3ft). Essentially this boat is a hybrid: a metal deep-V hull fitted with a stylish fibreglass superstructure. I reckon that XO have triumphed with their sleek alloy construction. There is nothing ungainly about this military-grade aluminium hull – she has a fine entry at her fashionably upright stem, and the deadrise at the transom is 22 degrees. 
Stepping aboard
Boarding is easy on either side with the twin bathing platforms. One is fitted with a reboarding ladder, plus a very convenient handrail. There is also a small central step in the outboard well to traverse from one platform to the other. One can walk through the transom on either side. Mind you, there is also a tiny and very low acrylic transom door, which I almost tripped over (I'd leave it locked open). In the rear cockpit, the gunwales are deep. The tops are wide enough for deep lockers for fenders and ropes. There is further storage under the deck too. I found the rubber cockpit flooring comfortable to walk upon barefoot. Of course, this is also low maintenance and highly practical. There is a comfortable three-person sofa-style bench at the transom, which faces a large fold-out table. The thing that strikes you immediately from the rear cockpit is the versatile design of the wheelhouse, and its clever relationship with the rear cockpit. The rear of the wheelhouse is open (but has a roll-down fabric cover) and contains a second sofa-type bench. Normally this faces the helm, but niftily this can be reconfigured to face aft towards the table and transom bench. This instantly creates a convivial social and dining area for six crew. Cushion infills can create a large sun pad here too. At this point the magic continues when you notice that the wheelhouse also has large sliding doors on each side. When slid fully aft, these cleverly add shelter to this rear dining area. There was no galley in the boat tested, but a carry-board picnic stove would suit the outward-bound vibe.
Wheelhouse
The innovative long-travel sliding doors to the wheelhouse have the effect of bringing the outside in on warm days. These can also shut out inclement weather on inhospitable days. There is even an optional fitted heater to add to this year-round comfort – a true four-season boat. The wheelhouse is tall and airy with 360-degree vision and superb handholds. When the aforementioned bench seat faces the twin helm seats, everyone in the wheelhouse can be in on the navigational action. Swivel the two helm seats to face the rear bench and you have a sociable conversation zone within the wheelhouse.
The helm
The view from the helm is commanding and, on the example tested, wonderfully technical. This was because the test boat was fully optioned out in terms of Navionics, bow thrusters, trim tabs and multifunctional display. In addition, there were windscreen wipers and washers, deck lights and high-power spotlights, all of which only added to the DFNDR 9's functional charm. The driver's wheel is adjustable, as are the twin helm seats. I also appreciated the helm footrest that helped me brace in tight turns. Ergonomics were good, and nothing was a stretch. Immediately to starboard of the helm there was an unusual and well-sited handhold for the navigator. This also gave support when going below to the cabin. The entrance to the cabin is very well executed. It looks like another high-gloss multifunctional display on the dash but is actually the cabin door. Incidentally, the useful optional hardtop has a large opening sunroof.
Suspension seats
Substantial suspension seats are fitted for hard charging into rough seas. I was pleased that they offered a degree of 'tuning' for bad conditions, and they grip very well indeed. Naturally they have flip-up bolsters, making standing while you drive as secure as sitting – a great comfort when you are banking the vessel hard with an open door! The only downside for me was that the knurled wheel for the seat adjuster gently rubbed my leg while standing at the helm. 
Cabin
Here the DFNDR 9 diverges somewhat from the traditional Scandi 'adventure boat' minimalist formula by having a comfortably appointed and classy cabin down below. This is no mere cuddy afterthought. There is standing headroom in front of the berth, and most significantly there is also a compact but private bathroom behind neat folding doors, with a shower, sink and electric toilet. There are classy storage lockers and good natural and artificial lighting. The V-berth can sleep two, plus maybe a small child, and there is a large step-through (not climb-through) hatch onto the front cockpit. A substantially engineered hydraulic step makes forward egress easy. A deep cushion covers the step when retraced.
Forward cockpit
On the test boat this area formed a large (reconfigurable) optional sunlounger. This was a happy place to be when the boat was at rest. Also, the sturdy rails along the gunwales felt very secure. The normal Scandi split bow rail, decent-sized cleats and anchor locker were present – practical and convenient, with no trip hazards. The only issue I observed was when moving aft. The clever moulded-in wheelhouse roof handhold by the windscreen worked well for me when moving forward, because my weight was naturally pulling against the channel. When returning aft, I did not feel quite so secure. I would have preferred a traditional handle at that position. 
Driving the beast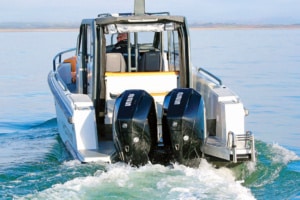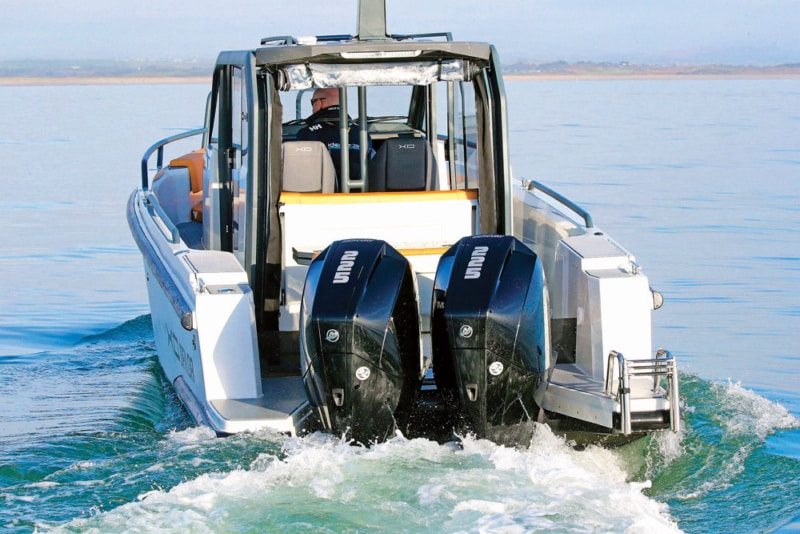 The pickup from the twin Mercury fly-by-wire 225 outboards was immediate. I have only driven this engine combo once before, and the refinement is remarkable. Two up, in good conditions, and with about half a tank of fuel, she was on the plane at around 3000revs/16 knots. From then on, I opened the throttle and we maxed out at 48.3 knots, with no tinkering with the trim. A 50-knot top end is clearly no fantasy. You feel the deep-V hull cutting effortlessly through the water, and cornering is a delight. Flat out, she points in and banks through the high-g turns like a motorbike – no fuss, just carving out tight, accurate turns. At all throttle settings, the ride was always composed – no rattles, buzzes or vibrations. All very confidence inspiring. This capable craft will devour the sea miles in all feasible conditions.
The verdict
This is a serious offshore vessel with surprisingly good creature comforts. Family crews will appreciate the private toilet and shower, the many sunbathing options and the sheer versatility of the design. Add to this her all-season capability, full camper cover and optional heater and she is a very tempting proposition. 
What we thought
Pros
Category B Offshore certification
Functional walk-around design
Wheelhouse versatility
Airy two-berth cabin
Wet room includes shower and toilet
Year-round practicality
Cons
Integrated handhold works better going forward than aft
Mini transom door can be a trip hazard
No galley as tested
Specification
Hull: Aluminium
LOA: 8.75m (28ft 9in)
Beam: 2.6m (8ft 7in)
Draught: 0.9m (3ft)
Engines: 2 x Mercury 225 outboards
Category: B Offshore
Cabin: 1
Crew: 8
Berths: 2
Fuel: 450L
Deadrise: 22 degrees
Performance
Two up, half tank of fuel, good conditions, no wind
Price
As tested with twin Mercury 225s and options featured: £198,485 (inc. VAT)
Contact
Pwllheli, The Powerboat Centre, Pwllheli Marina LL53 5YT
Southampton, Southampton Dry Stack, Drivers Wharf, 146 Millbank Street, Southampton SO14 5QN
Tel.: 01758 703 013
email: sales@idealboat.com