A driver's delight, this top-tier Scandinavian proves that size is not everything, as Greg Copp reports …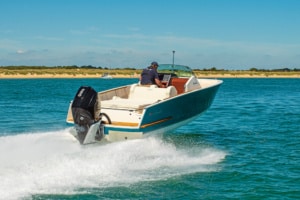 Few boats are perfect, but some come close, and the U23 is one of them. This is a bold claim for a 23ft boat with just a cuddy cabin, but what this boat has been designed to do it does superbly, and few will be impervious to its minimalistic retro styling. It just oozes quality at every glance, which, hailing from a Norwegian yard with a zero-compromise approach to building drop-dead high-performance craft, is not that surprising. 
The Utility 23 Pro, to use its full title, is built with a design ethos that wastes not a single scrap of space or gram of weight to something that is not realistically functional. It has the character of a British sports car, which is clearly evident when you sink into the helm position. From the stern to the console, the deck line sits low, only rising in the foredeck section to accommodate the forecabin. This cockpit security is further enhanced by a teak handrail that runs amidships just inside the tall bulwarks. There is a noticeable absence of any handrail running around the chunky windscreen, however. Instead, inset stainless steel handholds can be found either side of the windscreen. This not only looks good but cuts down on weight. In the same vein, the all-round white navigation light sits on a windscreen-reinforcing pole rather than a weighty A-frame appendage.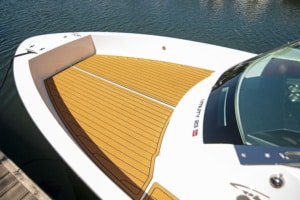 The Utility 23 has a sunbathing area in the bow, which due to its height can also be used for stepping ashore onto high docksides. It has a bow cushion that comes in two parts, enabling it to be folded in half when there is a need to walk forward. There is what is termed a 'rear activity platform' that can be used as an aft-facing back seat, with a rear bench facing it – creating a sociable seating set-up for four. Alternatively, the rear bench can be easily transformed to a large sunbed that stretches up to the back of the helm seats. All this is achieved by unlocking and rotating the aft bench seat backrest forward, while also sliding the bench seat base forward. If you need to, you can instead lock the seat backrest of the aft seating into a forward position, providing a seat overlooking the transom – ideal for watching skiers. 
The boat has several cockpit and deck lockers. In the bow there is an anchor locker with space for ropes and bow anchor (bow windlass is optional). Aft on either quarter sit small deck lockers; on the starboard side, this provides access to the manual bilge pump, and on the port side, an easy-to-reach row of three fenders comes to hand from their bespoke hiding place. Being located in the two 'step-through' access points to the bathing platform, both lockers have 'stub-free' catches. In the helm seat module there is a storage compartment providing space for the covers, and the optional integrated 35L stainless steel compressor cooler. There is also an optional mahogany table with pedestal, which is permanently stored in the underside of the seat base, and a mini propane gas grill can be placed in the centre of the table for barbecue cooking. Beneath the aft sun pad sits a huge storage area, into which you can easily stash the biggest of inflatable water toys and more. This is provided you do not have a stern-driven U23, in which case you lose this space to the engine.  
There is a small below-decks dimension to this boat in the form of a small cuddy cabin with a V-berth, and two storage lockers. Though this may not get used for sleeping in, and is more likely to be utilised for storing wetsuits and the like, it has one sensible option that should not be ignored. It has a proper toilet with holding tank, which slides out from under the helm, so when not in use you have maximum space in the cabin. Portable toilets are the norm for this size of boat, so having a heads facility that somebody will actually use gives the U23 a genuine family dimension. 
Engine options
There is an unusually wide range of Mercury engines available. The outboard options range from the 175hp V6, which will provide a responsive 46-knot boat, up to the all-out 300hp Verado, which will get the U23 close to 60 knots. If you want a sterndrive, then there is the choice of the 4.5L V6 250hp, the 6.2L V8 350hp, the 8.2L V8 420hp and the 3.0TDI V6 260hp diesel, all on Bravo X drives. 
Driving the U23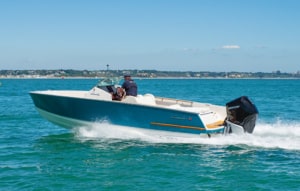 Settling in behind the helm, you really get that sports car feeling. You are securely locked in by the super-comfy leather-effect bolster seats, which unless you turn this boat upside down you are not going to fall out of. You can fold the bolsters back and stand if sea conditions are such that you need that extra view over the bow, but the sitting position is great, with no wind blast. The single race throttle is perfectly located, and the wheel comes easily to hand. Our test boat had the 250hp V8 Verado option, which unless you really need the extra performance of the 300hp Verado is the ideal match for the boat.
The low-down power delivery of the Verado is truly outstanding, as the U23 accelerates to 40 knots in just 7 seconds. It simply grips the water and goes, without the slightest hint of cavitation. What makes it all the more addictive is the super-soft ride, and the signature V8 howl of the Verado in sports mode. It is hard to resist the tune this boat sings, especially as the ride softens further once past 35 knots. Pushed into ever tighter turns, this boat heels superbly thanks to its 24.5-degree transom deadrise angle and responsive steering system. It powers out of every turn without the slightest hint of cavitation, and Cormate's 'Ventilated Monostep Hull' hangs onto the water with dogged determination.
This boat has a noticeably rakish bow section, which, combined with a good degree of flair, made running into the weather near Old Harry a pleasure. It just cuts through chop with impunity, while its tough resin-infused hull utters not a single complaint. The ride is pretty dry, and sitting in, rather than on, this boat, you tend not to realise how fast you are going. It certainly punches above its weight as it is easy to imagine you are driving something bigger. Flat out at 52 knots, the U23 remains composed, needing just over 30% trim out to reach her best. 
Verdict
This boat does not have a modest price tag for a 23ft boat, but you get the feeling that you are getting more for your money than you would normally expect from such a craft. This is because it is so good at what it does, and every small detail has been carefully thought through, with no compromise in quality. Not many boats this size inspire so much confidence in terms of offshore seakeeping, so stretching the horizon is not out of the question. It is, not surprisingly, a serious competitor for the ever-popular RIB, many of which cost more than the U23, while offering fewer facilities and less deck space. Though it can be specified with a sterndrive, unless you really want a diesel, I would not recommend it. Apart from the weight saving and lower running costs of an outboard to be considered, the U23 would lose some of its persona without its distinct Verado V8 cackle.
Specifications
LOA: 7.15m
Beam: 2.35m
Transom deadrise angle: 24.5 degrees
Displacement: From 750kg (dry, no engine)
CE rating: C for 8
Outboard power options: From Mercury 175hp V6 to 300hp Mercury Verado
Petrol sterndrive power options: From Mercury 250hp to 350hp Mercury
Diesel sterndrive option: 260hp 3.0 TDI Mercury

 

Fuel capacity: 150L
Test engine: 250hp Mercury V8 Verado

 
Performance
52.2 knots (2-way average), sea conditions F3, crew 2, fuel 50%
Top speed: 52.2 knots

 

0–40 knots: 7 seconds
Price
From: £83,000 (inc. VAT) with 175hp Mercury V6
As tested: £105,000 (inc. VAT) delivered to UK
Contact
Fine Design Marine, Cobbs Quay Marina, Poole Harbour, Dorset. BH15 4EL