Industry leaders and eco experts will come together at this year's South Coast & Green Tech Boat Show to discuss the future of boating in the show's first panel discussion.
Hosted by technology presenter Nikki Dean in the event's Innovation Hub, the Future of Boating Panel Discussion will tackle topics including the challenges related to the mass adoption of electric boats and how can boaters practically get involved with sustainability initiatives.
"Exhibitors and members of the public have expressed an interest in hearing insights from industry experts in the field of sustainable boating," says Tim Mayer, Founder of the Green Tech Boat Show and Sales Director at MDL Marinas.
"There are always varied points of view and ideas on how to achieve very similar outcomes and, for the industry to work together and make positive change, these ideas must be shared and developed.
"I felt an open panel discussion was the best way of sharing the information, research, and personal experiences of some of the most knowledgeable people in the leisure marine sector. Pivotal questions will be posed to members of the panel by our moderator Nikki, with the audience also able to take part and ask questions throughout this hour-long exchange of views."
On the panel and weighing in with insight in this Q&A style debate will be:
Sarah Fear
A Project Manager from the University of Plymouth with a specific lead on Clean Maritime and Environmental Intelligence, Sarah has worked across pivotal activities in the southwest including the UK's first electric sea going passenger ferry, a full electric 365 day a year water taxi and the MeLL Project, the UK's first charging network for electric maritime vessels.
Sarah works primarily with industry collaborators to bring research to real world application.
Jon Partridge
Joint CEO of RS Electric Boats, Jon has been involved with the research and development of electric boats since 2020, gaining a very good understanding of what's achievable for each boat type in the different markets.
Jon has been working closely with SailGP on its transition from combustion engines to cleaner alternatives, and in 2023, RS Electric Boats will deliver electric RIBs and small ferries across Europe to multiple organisations making the transition to zero emissions.
Rory Trahair
CEO at VITA, Rory started his career in the marine industry as a boat builder, before moving to superyacht brokerage firm, Edmiston. In 2017, Rory co-founded FOIL, a specialist consultancy that supports organisations to understand and access the superyacht sector. Since joining VITA in 2020, Rory has established the high-performance electric boat manufacturer as one of the key players in this growing market sector.
Jamie Marley
A marine electrician with 20 years working internationally in the marine industry, Jamie has over 100 electric vessel projects completed to date. An enthusiastic futurist and passionate environmentalist, he now runs an independent consultancy, working with businesses and organisations to support them in their journey to understanding, integrating, and benefitting from electric and hybrid marine propulsion.
Wayne Peters
Founder of the not-for-profit environmental research organisation, North Devon Marine Project, Wayne has over 15 years' experience of clean energy development around the globe, both on land and at sea.
Kate Fortnum
Campaigns Manager for The Green Blue, the RYA and British Marine's joint environmental programme, Kate has several years' experience in environmental education, sustainability, and communications, with eight years' working specifically on this within the recreational boating sector.
As part of her role, Kate oversees the programme's main campaign and project work including identifying more sustainable boating products and services, developing best practice guidance, resources and accreditations to inform and enable the recreational boating community to make more sustainable choices.
Tim Mayer
Bringing a wealth of experience and best practice from across the wider leisure industry, Tim has been championing sustainability in the marine industry since arriving at MDL in 2019.
Driving forward MDL's green initiatives, in addition to founding the Green Tech Boat Show, Tim has successfully launched MDL's green fitness brand, MDL Fitness, opening the group's first eco-gym at Queen Anne's Battery in Plymouth, as well as playing a pivotal role in establishing a fast-charging network for electric boats in the UK.
The Future of Boating Panel Discussion will take place at 14.30 in the show's Innovation Hub on Friday 21 April, everyone is welcome.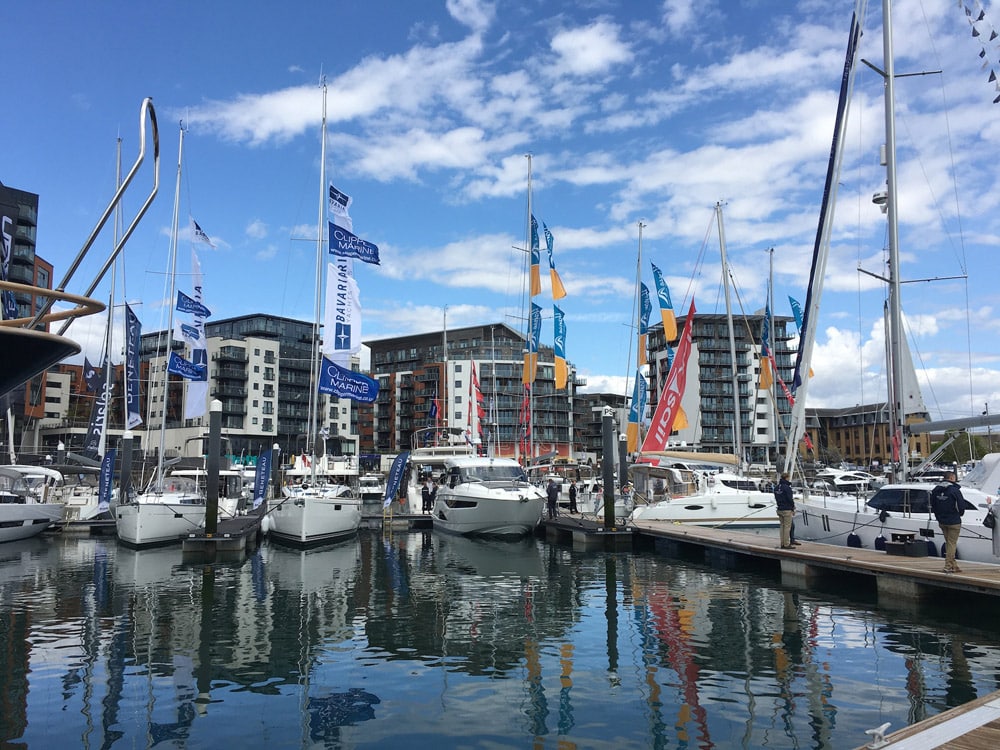 Press and Preview Day
Sponsored by ePropulsion, a Press and Preview Day is being held on Friday 21 April with a dedicated media centre in The Needles events room of the 5* Southampton Harbour Hotel.
The hotel is adjacent to South Coast & Green Tech Boat Show's two exhibition areas, making it an ideal focal point for the media. Bookings for the media centre are not essential, but prior arrangements can be made via Maxine Lane at m.lane@mdlmarinas.co.uk.
The Show is open to the public on Press and Preview Day.
Steve Bruce from ePropulsion UK will be taking to the Innovation Hub stage on the Saturday of the show.
Reviewing ePropulsion's latest technology for cruising yachts and motorboats, along with battery capability, Steve will also be looking at developments in technology and how ePropulsion is working closely with the industry to make the post installation process of converting to electric easier for private owners and OEMs.
"With marine electrification coming more and more to the fore, it's increasingly important that we make it easy for everyone to understand the options available to them," says Steve. "Now having the Green Tech Boat Show as part of the main conversation within the South Coast Boat Show in Southampton, it's the perfect opportunity to reach many more boaters and boat builders and it demonstrates how rapidly the industry is changing.
"ePropulsion is delighted to be sponsoring the media centre and Green Innovator Awards; we see it as a key role, as one of the leading pioneers in the sector, to help promote the various ways to make the transition to electric propulsion."
The Green Innovator Award is voted for by the public. To nominate a business or cast a vote, visit https://www.mdlmarinas.co.uk/green-award/. Voting closes on Friday 21 April 2023 and the winner will be announced on Saturday 22 April in the Innovation Hub at the South Coast & Green Tech Boat Show.
Tickets to the South Coast & Green Tech Boat Show are free and can be booked via https://www.mdlmarinas.co.uk/events/boat-show-tickets/. Appointments to view specific boats or meet with the individual exhibitors can also be arranged via a booking portal on the website.
For a full list of confirmed exhibitors to the South Coast & Green Tech Boat Show 2023 visit: www.mdlboatshow.co.uk