Laser Tools have added to their product line a new range of heavy-duty pliers that feature a double high-leverage design that reduces effort by up to 60%. There are three different pairs in the range: side cutters (part number 8325), long-nose pliers (8326) and combination pliers (8327). Manufactured from chrome molybdenum steel for strength and durability, the pliers are sprung-loaded for one-handed operation and have an integral thumb lock for safety when not in use.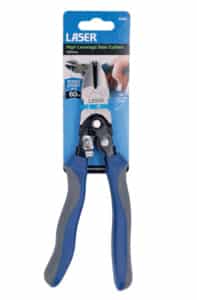 The side cutters are 190mm in length and feature induction-hardened cutting blades that stay sharp for longer. The long-nose pliers are 230mm long and also feature induction-hardened cutting blades on the integral wire cutter. The combination pliers are 225mm in length and the integral wire cutter again has induction-hardened blades.
More details are available at www.lasertools.co.uk.