Never a 'shrinking violet' when given the chance to get behind a wheel, be it on land or at sea, we sent PBR's TMS on a quest to choose an ultimate 4×4 performance combo. As you will see, this matchmaking mission delivered some interesting results!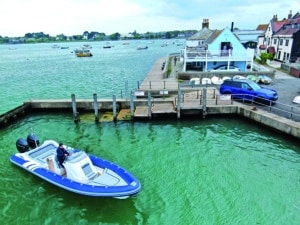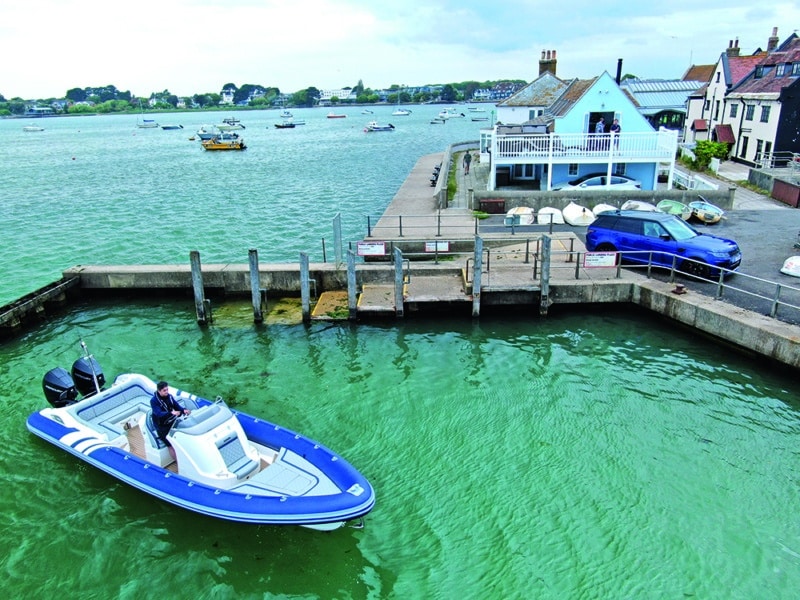 Brought together in mechanical matrimony, some might consider them to be, by land and by sea, a marriage made in heaven! 
Over the last year, we have reviewed some amazing boats, and with the influx of so many new boaters, it got me thinking: if you were in the market for the ultimate performance, family package, what might you go for? I'm not just talking about the boat either, because for those who have just entered the pastime, a good number will be seeking to buy a 4×4 or perhaps upgrade their current vehicle to something more powerful, suited to the business of towing. With this in mind, I therefore set out on a mission in search of an outstanding combo. No harm in aiming high, I thought, so I set the bar to include great engineering, awesome performance and, in terms of the vehicle, for it to be a 'Grand Tourer', well suited to eating the miles and delivering comfort, each in full measure. 
Setting out on my quest, two brands came to mind that not only tick these boxes but also share similar brand values. First stop was to put a call into Land Rover, who hooked me up with what they position as the 'ultimate performance SUV': the Range Rover Sport SVR, powered by a V8 engine of just under 600hp and capable of accelerating to a striking 60mph in under 4.5 seconds! Perhaps not what one might think of as being a typical towing vehicle, but then, how could I refuse?  
Next call was to Josh Arkell and his team at Cobra RIBs, who agreed to provide two of their latest-generation Nautique RIBs, a model range that's not only stood the test of time but is also known for its performance and offshore deep-vee handling. Alongside Humber RIBs, Cobra are one of the longest-serving RIB brands in the UK, their pedigree being evident in the product's engineering and detailing. It occurred to me that this was a brand sharing a good number of synergies with a company like Land Rover – the combination of a strong '4×4' ethic and a devotion to luxury.  
Estoril Blue P575 SVR 
A couple of days after the calls were made, my expectations were satisfied when I became the lucky recipient of a stunning Estoril Blue P575 SVR. My press loan car had a retail price tag, as tested, of £104,570 and included extras such as 22in five-split-spoke gloss black alloys, a Cirrus/Ebony interior, black contrasting roof and an Active Exhaust system with quad pipes. (The latter turns the vehicle from a quiet and well-mannered 4×4 into an ungodly monster – one capable of giving those of a nervous disposition veritable heart tremors!) So, with a brand-new 2021 SVR delivered to PBR HQ, I put the car in Dynamic mode and hit the road to Cobra HQ in Christchurch to check out how this moto and subsequent combo stacks up.
On my journey east to Christchurch, it was abundantly clear I was driving something very special. In the past year, in America alone, there have been over half a million new millionaires, and strangely, despite COVID, there appears to be an ever-growing clientele of customers who not only can afford, but indeed desire, a high-performance SUV just like the SVR. 
It's easy to see why it's such a great car to drive, as it's benefited from all the creative expertise Jaguar Land Rover's Special Vehicle Operations Division have thrown at it. Likewise, this 5L V8 engineering wonder represents the most powerful Land Rover in the company's history. Switch the machine into Dynamic mode and this capable, luxury armchair ride transforms into that more akin to a savage, rabid animal – one whose bark can be heard down the highway with every blistering gear change! Furthermore, the ability to 'shape-shift' from luxury GT to high-performance thoroughbred is unleashed simply upon the mere flicking of a switch. OK, the SVR may not be a 'track king' – after all, it's easy to forget what a mighty big truck this actually is – but the skill of the engineering team to mask this vehicle's true size and substance is more than convincing. Land Rover Jaguar's appliance of science, the vehicle's agility and voluminous power, not to mention its unshakable road holding, as my trip up the A35 confirmed, is truly jaw-dropping. 
In terms of the vehicle's electronic brilliance, the locking diff on the front axle and Land Rover's clutch-based centre diff, which nominally splits power 50/50 front to rear, can, in the case of the SVR, be directed 100 per cent to either set of wheels. Plus, the car continues to benefit from Range Rover Sport's low-range transfer case and Terrain Response 2 traction control system, so the compromises to Land Rover's traditional rough-stuff capability are almost non-existent. This is important from a towing/launch and recovery point of view. 
Besides the SVR badging, the styling identifiers consist of enlarged front air intakes on a revised front bumper, new black grilles on the nose, bonnet and front wings, a new roof spoiler, and a rear valance that includes a rear diffuser and those awesome quad tailpipes. No single design revision looks over the top in isolation, but on a performance car the sheer size of the SVR, they combine to create an impression of genuine menace rather than looking like a Halfords bling! Each element of the SVR's antimony is there for a purpose and, as a consequence, contributes to the driving experience as a whole. 
Nautique 8.7m & 9.2m 
So, having sorted the wheels, it was onto the all-important matter of the seagoing element of this double act. For those seeking a high-quality performance RIB, the Nautique hull design, paired with Mercury's outstanding outboard technology, is undoubtedly a worthy contender on any sports RIB shortlist. To their credit, Cobra have achieved combining the DNA of a hard-core RIB and desirable-looking sports boat in very convincing style, with the result that they've established a name synonymous with offshore deep-vee performance and open-boat luxury. In fact, the moment you step aboard one of these boats, the internal quality of build is tangible and manifested in the boat's rigging, detailing, internal layout and, importantly, the choice of materials used. Simple but clever design elements are also evident, honed from years of specialist boatbuilding and design – bow cushions, for example, formed to fit the forepeak to perfection, that lock snuggly and securely into place utilising the under curve of the tube. Little things like this end up making a big difference. 
Josh provided me with the keys to two new craft – an 8.7m Nautique, powered by twin Mercury V6 225hp outboards, and a 9.2m version of the same model, rigged with a pair of Mercury 300hp V8 Verados. These GT-style RIBs, carrying price tags of 170K and 200K, respectively, have a level of luxury normally reserved for the superyacht tender brigade, but nevertheless, they still retain that purist sports boat feel with a good delivery of agile handling and performance. Make no mistake, though, these Cobras must be respected in terms of the way they're driven. Both models nudge 60 knots, with the 9.2 being capable of 63 knots. At that speed, you need to know exactly what you're doing, have your wits about you and be wholly mindful of your occupants. This is a beast of a boat that, unlike the car, has no automotive-style 'get out of jail' safety features. Neither does it have ECUs to correct overzealous driving. Hence, the experience is driver led and adrenaline enhancing, but get it wrong and the consequences will be serious. Driving at these speeds should be the prerogative of those with high-performance helming experience. 
With the latter in mind, and by way of comparison, it is worth mentioning that PBR ran a Tornado 8.5m rigged with a 275 L6 Verado 12 or so years ago. The engine back then was considered to be a 'big' outboard motor for its day. But now, roll on to the present and we regularly see twin 300hps being fitted to craft of similar sizes and weights. This can create an incredible tourer with real punch when you need it, but the issue is that this degree of power also requires the owner/operator to hone his/her knowledge and skills to a credible degree before glibly crossing the 50mph threshold. However, just as in the case of the high-performance SVR, once such skills are gained, in the right hands, the rewards can be great indeed. In the light of this appraisal, if you're in any doubt, my advice would be to go for the single-engined 8.7 Nautique option, which I have to say should in no way be viewed as a second-class substitute for the twin-rig alternative.
Both the 8.7m and 9.2m models follow the same winning formula that's kept Cobra at the forefront of the luxury RIB market for three-plus decades. Both models share the same offshore pedigree and essential Nautique features – attributes that include a great helm console designed to offer good protection from the elements as well as the option of a heads inside, and a well-appointed helm station and deck fit-out that boasts laudable ergonomics that enhance driveability as well as passenger comfort. Good seating is key on a performance thoroughbred and Cobra win again here, showcasing their design skills and insight in this all-important department. In fact, these particular seats have their inbuilt suspension/shock mitigation system hidden away within the actual seat moulding. This mechanism may only travel a couple of inches, but that's evidently all that's needed to break the impact of a hard landing. It's a neat install too, because the fibreglass mouldings also house a fridge plus handy dry storage compartments, including two smaller lockers for phones, etc. Forward, the console's front face features an inset passenger seat, then, ahead of this, a V-shaped cushioned area that can either be used for picnic entertaining or, when the optional infill is deployed, as a sun pad. 
Moving aft, both craft benefit from easy-boarding transoms plus a large wrap-around rear bench seating unit, where the boat's batteries and related isolators, along with a stern picnic table, can be accessed. This unit is comfortable and functional, but one observation I will make is that I would like to see additional grab rails/handholds for the crew and passengers. This is especially important on vessels capable of achieving the types of speeds these craft are rigged for. 
In conclusion
Both boats are supplied ready for the road courtesy of SBS road trailers. These are bespoke-made in the Midlands and are a popular choice of mid-range trailer with many boat manufacturers and suppliers here in the UK. 
So there you have it – my chosen 4×4 sports RIB combo. Both are British engineered and leaders in their respective markets, and though perhaps not as a result of intentional design, they both share similar ethics in terms of their go-anywhere, outward-bound, luxury approach to performance. Brought together in mechanical matrimony, some might consider them to be, by land and by sea, a marriage made in heaven! 
But what about your ultimate pairing? What would your choice be? Do write in and tell us – we would love to know. Oh, I nearly forgot. Does this SVR/Nautique combo tow well? Does it low ratio perform on the slipway? You bet it does! 
Specifications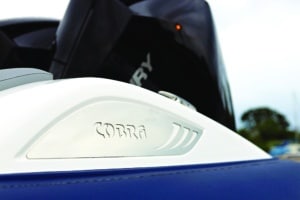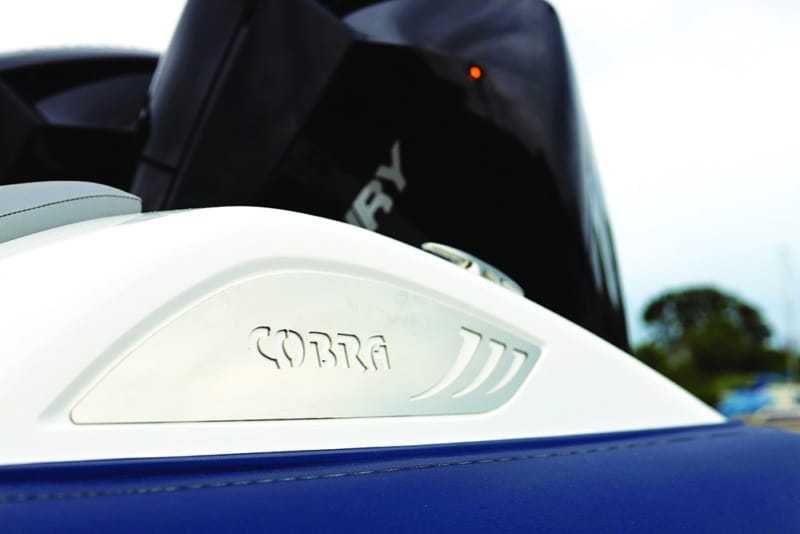 8.7 NAUTIQUE
LOA: 8.7m
Beam: 2.55m
Max HP: 500
Max Persons: 12
Fuel Tank Size: 400L
CE Category:  B
Price 
As tested: £147,078 + VAT
(2 x Merc 225hp V6)
9.2 NAUTIQUE
LOA: 9.2m
Beam: 2.55m Max HP: 600
Max Persons: 13
Fuel Tank Size: 500L
CE Category:  B
Price 
As tested: £169,317 + vat
(2 x Merc 300hp V8 Verado)
RANGE ROVER SPORT P575 SVR
Engine: 5.0L V8 S/C 575HP Petrol AWD Auto
Power (HP/kW/rpm): 575 (423)/6000 – 6500 
Max torque: 700/3500-5000
Capacity (cc): 5000
Fuel economy – WLTP – mpg:
Low – 12.3
Medium – 18.9
High – 22.2
Combined – 18.9
CO2 emissions (g/km): 331
Acceleration (seconds) 0-60mph 4.3
Max speed (mph): 176
Price: From: £101,850 (on the road)
Price as tested: £104,570 with extra options included