Alex Whittaker explores a neat seaside town with a comfortable marina set in gorgeous West Wales …
Tucked away halfway up Cardigan Bay, Aberystwyth is wonderfully off the beaten track. You really can get away from things there. It comprises its own little world, and is remote, but not isolated. True, by road it is quite a long way from just about anywhere – Shrewsbury, in Shropshire, England to the east is 75 miles away; Wrexham in Wales, to the north-east, is approximately 80 miles away; the Welsh capital, Cardiff, is over 100 miles away; and London is 210 miles distant. However, these numbers belie the sheer summer delight of being so far from the madding crowd. 'Aber', as the locals call it, is a surprisingly cosmopolitan place. It is a university town with all the youthful exuberance – and sensible prices – that such status brings. It is also a lovely little traditional seaside resort, complete with prom, and with all the fun one expects. It is set in such an area of outstanding natural beauty that it is an absolute delight to cruise there. And finally, for we rufty-tufty ribsters and powerboaters, it has a proper modern marina!
Coastal passages
We have boated in these waters for many years, and the wildlife you observe on passage from your own back deck is astounding. We have seen puffins, cormorants, seals, kittiwakes, porpoises and dolphins, all on a single morning passage down from Pwllheli in the north. As you come south past the astoundingly beautiful Mawddach Estuary at Barmouth, and on past pretty Aberdyfi, the low-lying land and extensive beaches give way to more rugged cliffs. Coastal settlements become fewer as you pass secluded beaches set in the sort of scenic grandeur one expects from Wales. From the south one cruises north from Fishguard to Cardigan, Aberporth to New Quay, on to Aberaeron and thence to Aberystwyth.
Approach from sea
We have only ever approached Aberystwyth Harbour in settled conditions, and only then within two hours either side of high tide. We always approach directly from sea from the west, rather than following the coast, since there is a bar, along with rocky ledges, to consider. The harbour entrance lies at 52° 24.43'N, 04° 05.52'W. The harbour is located by Pen Dinas, a conspicuous hill 120m high, with the Wellington monument at its crest. The head of the north breakwater, the wooden jetty, on the Wellington monument leads 140°, which clears you south of the Castle Rocks. The approach should be treated with caution in strong onshore winds – beware of cross-tides and boulders around the head of the south pier, the stone pier and the Trap (an area of rough ground), which is to the north of the wooden jetty. Visitors should approach the entrance on a bearing of 110° and locate the West Cardinal mark, and then align with a yellow-painted lamppost beyond, on the shore. Using the above as a transit until you are abeam of the wooden jetty, turn immediately to port and proceed in mid channel to the marina.
Wooden jetty
The wooden jetty is marked with Q WR 9m; Red Sector (141–175), which covers the Castle Rocks. The south Pier is F1.(2)WG 10s 12m 10m. There are four FR (vertical) on a radio tower 2.8 miles to the south. The entrance is narrow with a 90° turn to port inside the wooden jetty head. The bar is immediately outside the head of the stone pier; at LWS (low water springs) there is about 0.7m over the bar when on the leading line. Boats drawing 2.0m are advised to enter up to 2.0 hours before and 2.5 hours after HW in calm conditions, and boats drawing up to 1.0m can enter 3.0 hours before and 3.5 hours after HW.
The marina
There is a speed limit within the outer harbour and the marina. All vessels leaving or entering the harbour should not exceed 5 knots. It is also advisable to check your stern wash. Aberystwyth Marina is tucked away safely in the inner harbour and has 165 berths. Be assured that your boat remains afloat in the marina, no matter what the state of the tide. All visiting vessels are required on arrival to report to the marina office to complete a mooring contract. Boat owners are required to produce a valid copy of their fully comprehensive insurance documents. 
VHF
You may hail 'Aber Marina' on Channel 80.
Marina office
Aberystwyth Marina is part of The Marine Group. There is a dedicated marina office on site, open Monday to Sunday, 9.00am – 5.00pm, in the summer. However, note that the office is closed on Bank Holidays and winter Sundays. Also note that on Saturdays the office closes at 2.00pm. Check the marina website for the latest details.
Slipway
Aber Marina is a trailer boat-friendly location with both its own slipway and short-term trailer storage facilities. The slipway is not always in water, so you need to check with the marina. We thought trailer boating prices were very reasonable: £15 a day and £60 a week (as of 2022).
160+ marina berths
Berths have access to fresh water and electricity. Aberystwyth would be a great place to station one's boat for a summer season. Our advice would be to go online and check the marina's berthing charges for your own boat. Frankly, we were genuinely surprised how reasonable the berthing rates were. 
Washrooms & laundry
The marina has modern facilities, which have recently been upgraded.
Chandlery
Contrary to the marina's online data, the marina no longer offers its own chandlery on site.
Recycling
The marina has a full range of recycling and rubbish disposal facilities.
Parking
On-site parking is free to berth holders.
Marina services 
The full range of marina services were available on site. These included antifouling, valeting, hull washing, rigging, engine servicing and repair, electrical installations, and fault finding and repair.
Wi-Fi access
This is free to all berth holders.
Fuel
There is a diesel berth alongside. Petrol has to be ported by jerrycan from the nearby garage in Mill Street or even the Tesco superstore.
Gas
Cruising boats will be pleased to note that Campingaz and Calor Gas are both available from the marina.
Boat lift
There is a 10-tonne boat lift on site.
Security
Pontoons are accessed by a security code and the whole site has 24-hour CCTV surveillance.
Medina at the Marina restaurant
This is brand-new restaurant that began as a successful 'pop-up' from its parent cafe in the town. It is planned that it will reopen in 2022 at the marina. See the marina website for the latest details.
Victualling
There is a Tesco superstore, Aberystwyth Farmers' Market and sundry other provisioners close at hand. Turn right just over the River Rheidol bridge, at Heol-y-Bont, and head towards Park Avenue retail park. There are cash machines at Tesco and Morrisons.
Access by road
Aberystwyth lies on the A487 from the north and south, and on the A44 from the east. One arrives at the marina by the A467 crossing the River Rheidol at Heol-y-Bont, thence turning right into Y Lanfa, and left at the roundabout. Towing a boat and trailer to the marina is straightforward over good roads. However, this coast is very busy in summer.
Access by rail
Aberystwyth has its own mainline railway station, of which it is the terminus.
RNLI
The RNLI boathouse is situated on South Marine Terrace, just past the handy south beach public toilets.
Cruising destinations
Aberystwyth is almost a mandatory pause on any cruise up or down this West Wales coast of Cardigan Bay. Boats can spring off from Aber over to Ireland or down to the famed Pembroke Coast to South Wales, Devon and Cornwall. An easy day's cruise to the north will yield Barmouth, the Lleyn Peninsula, Abersoch, Pwllheli, Porthmadog and Mochras Lagoon. Even closer lie Aberdyfi, New Quay and lovely Aberaeron.
Aberystwyth Boating Club
This is located on South Marine Terrace (Aberystwyth, Ceredigion, SY23 1JY). In our experience, such local clubs are a mine of useful local navigational tips.
The town
In the Middle Ages, rural industries were important, and Aberystwyth had its fair share. By 1834, local trades included 20-odd boot makers, eight bakers, two corn millers, 11 carpenters and joiners, one cooper, seven tailors, two dressmakers, two straw hat makers, two hat makers, three curriers, four saddlers, two tinsmiths, six maltsters, two skinners, four tanners, eight stonemasons, one brewer, four lime burners, three shipwrights, three wheelwrights, five cabinetmakers, one nail maker, one rope maker and one sail maker. In the Edwardian period, mineral cargoes (chiefly lead) from the Vale of Rheidol were shipped from the town by sea. This led to improvements in the rather exposed harbour. Over the years, Aberystwyth has suffered substantial damage due to many storms and its exposed position on the coast. After the arrival of the railway, Aberystwyth's popularity as a seaside resort was quickly established, and it remains to this day. It is certainly the premier seaside location in West Wales. It is a very family-friendly place, popular with younger crew. Aberystwyth also has many Welsh cultural institutions and thus forms a bridge between North and South Wales. In the streets and in the bars and restaurants you will certainly hear the Welsh language. However, all the foreign and UK university students living in the town also bestow a real cosmopolitan flavour. In this respect, Aber enjoys the best of both worlds: a melding of Welsh and international culture. There are lots of pubs, cafes, restaurants and bars, as well as sufficient supermarkets and victualling establishments to keep the whole crew happy. 
Seaside fun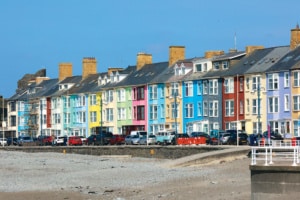 Out and about, Aber has two beaches, but the north beach is considered better and safer. Aber holds the Welsh record for the highest summer temperature of 34.6°C set during 2006. Aberystwyth railway station is also the terminus of the Vale of Rheidol Railway, a steam-operated narrow-gauge heritage railway. Constructed between 1901 and 1902, it was intended to ship mineral cargo, primarily lead, from Devil's Bridge down to Aberystwyth for trans-shipment. By the time it was finished, lead mining was in a deep downturn, and thanks to the Aberystwyth Improvement Company, the railway came to rely largely on the tourist industry, opening for passengers in December 1902. It still remains open for the summer season, offering a journey of 12 miles – well worth a trip. 
Funicular railway
There is also a funicular railway at Aber. This is the Rheilffordd Y Graig/Aberystwyth Cliff Railway. It runs to the top of Constitution Hill, which supplies superb views both up and down the coast. Essentially it is a rope railway and the longest electrically operated funicular in the UK. It is impressive in terms of its engineering and its siting. Carriages are hauled to the summit at a stately 4 miles per hour and are driven by a powerful motor and high-tensile steel cables, secured by a sophisticated electronic safety system. An adult return ticket currently costs £6.50, and family tickets start at £14.50. A cafe awaits you at the top. The railway is open from 10am to 5pm, seven days a week from April to October, and often later (till 6pm) during the high season. You can check availability by telephone: 01970 617642.
Camera obscura
Also at the top of Constitution Hill is the camera obscura. Essentially this is a dark room with a large tabletop in the middle. A live image of the outside is gathered by a pinhole lens and is projected onto the table. The effect is almost eerie, but fascinating. A camera obscura provides a very special and intimate experience, and one that delighted the Victorians and everyone since. Not to be missed!
The verdict
Aberystwyth is an excellent stopover, weekend landfall or summer season cruising venue. It opens up this dramatic but surprisingly little-known West Wales cruising ground. It will satisfy the keen boating couple, trailer boating fanatics or the full family crew – and the reasonable prices will make you smile. 
10 Interesting facts about Aberystwyth
Gilbert Fitz Richard built the first fortress at Aber in 1109.
In 1649, parliamentary forces razed Aberystwyth Castle to the ground.
The railway came to the town in 1864, fuelling a tourist boom.
Aber means 'mouth of the river', and Ystwyth is the name of that river.
In fact, only the River Rheidol passes through the town.
The restored Vale of Rheidol Steam Railway runs from the town.
Aber has the longest electric-powered funicular railway in the UK.
Aber is the oldest Welsh university, founded in 1911.
The hymn 'Jesus, Lover of My Soul' is set to Parry's famous tune 'Aberystwyth'.
The gritty TV thriller Y Gwyll / Hinterland is set in Aber.
Marina details
Aberystwyth Marina, Trefechan, Aberystwyth, Ceredigion, SY23 1AS
Tel.: 01970 611422
Email: aber@themarinegroup.co.uk
Harbour master
The official Aberystwyth harbour master's (as distinct from the marina) office is located by the Gat inner harbour. The HM works on VHF Channel 14, with initial contact on Channel 16. The HM may be telephoned on 01970 611433.