Greg Copp reports on the latest Ventura craft from the Rodman stable, a tough and practical 26-footer designed to get you home on a bad day.
Following hot on the heels of the 690 Ventura CC, the new 790 Ventura CC from Rodman is an impressive sea boat for its size. Not surprisingly, it has a good dose of Rodman DNA, inherited from this company's bigger offshore fishing boats and fast patrol craft. There is no shortage of middleweight centre console boats on the market, but not every brand cuts the mustard in this size category.
The 790 is your typical open centre console boat: its side decks are wide, its bulwarks are high and its cleats are chunky. Walking around the boat underway is reassuringly easy, helped by hip-high guard rails and the T-top frame. Even stepping off the port-side bathing platform is assisted by the stainless ski pole arch and a specific handrail. In terms of aft seating, this boat packs in a long stern sofa and a bench seat that folds out of the starboard bulwark. Combine this with rotating the helm seats aft and you can get six around the table, whose pedestal slots into the cockpit deck hatch. However, the main lounging area is forward, its flared bow design and 2.5m beam enabling a level of luxury not normally found in a 26ft open boat. Eight can get in around the oval table – or alternatively, with an infill, this area converts to a large sunbathing spot. Beneath the U-shaped seating are three neatly lined lockers – perfect for the warps and fenders. The wide anchor locker hatch reveals the power windlass, complete with forward controls, and a cavity capable of swallowing the anchor chain and more.
The helm is well laid out with sensible ergonomics and plenty of weather protection, though I would have preferred a higher seating position. That said, standing works well with the tall console. Our test boat was fitted with Raymarine's latest 12in Axiom display, complete with their ClearCruise Augmented Reality system, or AR for short. AR uses Raymarine's CAM210 high-definition day and night IP marine camera, providing an overlay of all AIS-equipped vessels – showing bearing and distance for each vessel on the screen. This system comes into its own at night, but as we had to navigate through a large flotilla of sailing boats, AR proved its worth in terms of tracking multiple close moving targets.
Below decks, there is compact weekend sleeping accommodation for a couple, nothing more. The sleeping space with your feet beneath the foredeck is fine, but there is limited room for getting undressed. There is the option of a chemical toilet to be fitted just forward of the helm, and I understand that RBS Marine could install a proper flushing toilet upon request. If you want a weekender-orientated 790, there is a 'cabin variant' due to be released soon. In the cockpit, the aft bench seat has plenty of storage beneath, and a deck hatch opens up to reveal the chunky hull stringers, fuel tank, transducers and a good amount of storage space. Our test boat was fitted with the optional £1,474 freshwater system and cockpit shower, as well as the £599 ski pole arch. One thing this boat lacks is bait boxes under the cockpit seats; if you want this feature you will need to stretch yourself to the 890 Ventura. Two further notable extras on the options list that would benefit this boat are the bow and cockpit biminis. Should you want an open Ventura, take £5,900 off the price for the cost of the T-top.
Driving the Ventura
This can be summed up in a word: predictable. Running into the confused sea produced by a residual swell from nearly a week of strong south-westerly winds was perfect Rodman-testing weather. The sea was deceptive as the wind strength was about a 4 with few white crests, but once you got up to 30 knots or more, you had little doubt about what you were running through. Rodmans are known for their build strength, and this 26-footer is no exception. Coming down off the wave crests, it was clear that the forward lines of the hull are reasonably sharp. This boat does not have a super-rakish deep-vee hull, but it cuts a path, and unless you get the rear section of the hull out of the water on a large wave, the ride is always smooth. Turning hard produced some complaints from the chines, but considering the sea state, this was to be expected. Hard turns, though sure-footed, did produce a small amount of cavitation – not helped by the fact that the test boat, being newly commissioned, was slightly overpropped with a 15.25in x 22in propeller.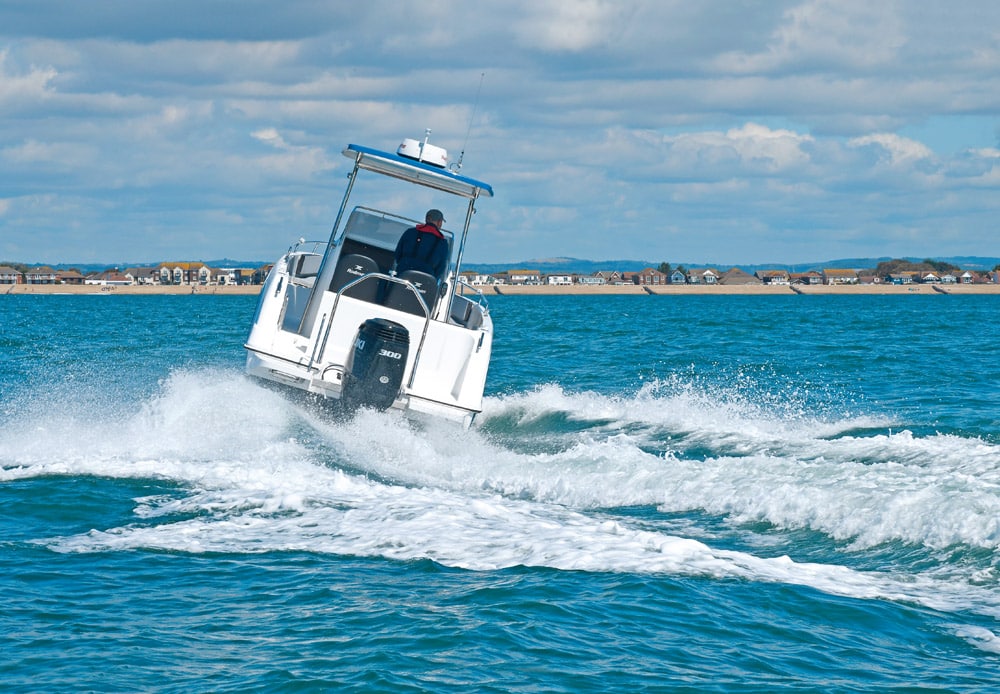 Performance was good, with 30 knots flashing up in just under 12 seconds. This time will reduce once RBS Marine have fitted a 20in prop as planned, and the top speed will likely hit the 42 knots that Rodman claim. Running at 3000rpm, the boat is at its lowest planing speed of 16 knots – ideal for ploughing through big seas when you get caught out on a bad day – and it returns a healthy 3.5nmpg. Pushing up to 23 knots at 3500rpm with the DF300 running at its minimum RPM for maximum torque is clearly its sweet spot, while still returning 3.5nmpg. The poise improves with more lift at the stern, and the forefoot is better placed to deal with the sea state. Looking for the roughest weather near the mouth of Chichester Harbour was a good test of the boat at this speed, and it had no problems dealing with it.
On pushing up to 30 knots, things became a lot livelier, but it is still an easy boat to drive. There was no white-knuckle gripping of the wheel as the hydraulic steering is responsive and well balanced. There were no trim tabs fitted, which I did not feel it needed. It has no problem getting on the plane quickly, and with the wind speeds of the day there was no evidence of it wanting to lean into the weather. Running at its top speed of 38 knots may not impress your in-laws, but it is great fun and provides a composed ride; you just need to stay focused if the weather picks up. This also requires you to stand, as sitting does not quite give you that perfect bow view of the sea pattern, which is where some adjustable offshore-orientated seats would be an improvement. Having a good degree of hull flare and topside height, little spray made its way on board.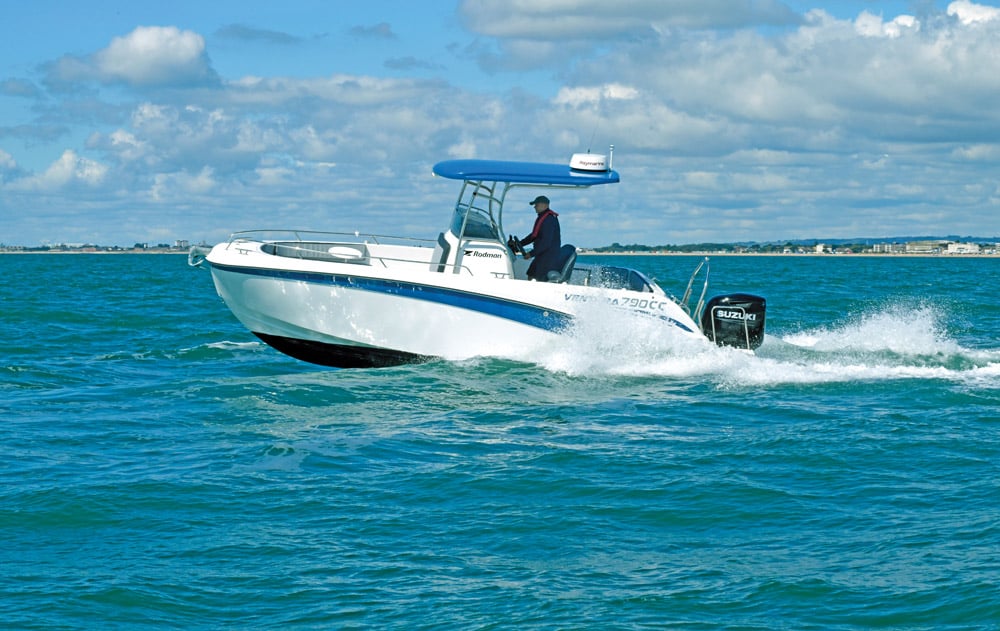 Verdict
Though far from being a jack of all trades, the 790 Ventura aims to be a credible water sports platform, while meeting the basic needs of the average fisherman. On top of this, it offers overnight accommodation, though no cooking or washing facilities apart from a cockpit shower. For those that want to stretch the horizons of this very capable offshore boat, the 'cabin variant' due next year will likely prove a popular choice. Engine options are predominantly Suzuki, ranging from 200hp to 300hp in single form, though Mercury 200hp to 300hp engines are also possible, with a good range of V6s and V8s to choose from.
What we thought
 

For
Responsive sure-footed steering

Soft-riding hull

Solid construction

Dry ride

Good performance

Safety and practicality

Movement on deck
 

Against
Adjustable seating would be a bonus in a boat likely to get a fair degree of offshore use.
Specifications
LOA:

8.2m

Beam:

2.5m

Power options:

Single 200hp to 300hp outboard – Suzuki or Mercury

Fuel capacity:

315L

Water capacity:

77L

Draught:

0.55m

RCD category:

C for 10

Test engine:

300hp Suzuki DF300
Performance
38.0 knots (2-way average); sea conditions: a confused F4 as a result of 3 days of 20- to 30-knot winds producing a fairly strong residual swell

0–30 knots:

12 seconds
Price
As tested: £110,000 (inc. VAT) with Suzuki DF300 – commissioned and delivered to the UK
Contact
RBS Marine Ltd, Birdham Pool Marina, Birdham Pool, West Sussex, PO20 7BG