Alex Whittaker tests a highly affordable British starter boat for all the family.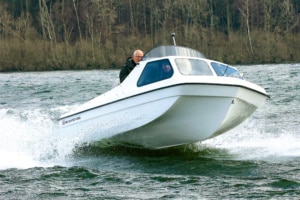 The Sea Hunter Viper is a compact new British boat. It is a multi-purpose, cuddy cabin family vessel, eminently suitable for the first-time buyer. The smart little Viper is 4.5m long, weighs only 350kg, and prices start at a keen £7,995 (boat only). Most significantly for beginners, it is also available as a 'package', including the boat, a 25hp Tohatsu outboard and a P&D trailer. Since it weighs so little, it may be towed behind a small family car.
Hull
P&D Boats describe the Viper as having a 'hybrid' hull. This is a semi-cathedral, dory-type tri-hull with a flatter planing area aft. The main central hull has a sharp entry at the forefoot and is flanked by two outboard sponsons. To reduce drag, these sponsons are sharp and slim at the business end, broadening out considerably aft. The effect is to increase hull volume forward, and also to allow the boat to run flatter on the plane and reduce any slamming. Such a hull also makes the boat less 'tender' – in other words, less liable to rock as you step aboard than a similarly-sized deep-V monohull. Interestingly, the Viper is fitted with an integral buoyancy ring (under the gunwales), which the manufacturer claims makes this little boat unsinkable. The Viper has full CE Mark Category C certification for four persons – Category C is for boats operating in coastal waters and large bays and lakes with winds to force 6, up to 27 knots and significant seas 7ft high.
Stepping aboard
Any 4.5m boat will be low in the water, so naturally one must step down into the hull. I found it better to board aft and step on the simple aft seat. Once in the cockpit, I definitely felt safely enfolded. Even with the beam available, it felt perfectly comfortable for two adults at the helm position, with a further two on the rear seats. A design feature of this boat is the way the interior moulding plays to the strength of fibreglass construction. For example, the two seats at the helm were bolted to sturdy fibreglass mouldings – there were no spindly seat posts to break or work loose. Similarly, at the back of the boat, the seats either side of the outboard well have integral moulded bases topped by simple removable cushions – a very practical feature. It is the same story in the cabin, where the side benches are integral parts of the boat, with removable cushions on top.
Helm
The cuddy cabin, topped by the nicely formed polycarbonate screen, gave surprisingly good shelter on our rather boisterous test day. The helm position is delightfully minimal and sensibly thought out. The controls comprise a rubber-rimmed stainless steel 'destroyer-type' wheel and the Tohatsu engine controls, complete with kill cord. A black panel houses a row of switches (with fuses) for the cabin light, anchor light and nav lights and a 12V socket. There are also two unused switches and fuses – handy for an aftermarket depth sounder or chartplotter. Having said that, we would use the Navionics app on our smartphone, driven from the helm's 12V outlet to the left of the wheel. We would then use a simple car-type sucker mount to affix our smartphone. 
The simply upholstered seats are very firmly mounted, so you can brace yourself in the turns. They also have folding backs, and their moulded bases have storage behind their access panels. The bonded-in blue floor covering is just about right for this sort of boat.
Cuddy cabin
This was the prototype boat, and it had a highly practical open back to the cuddy. Inside on the prototype there were two benches topped with removable cushions and there was storage under. This would be a useful retreat in inclement weather, and a good place to eat your sarnies and down a soft drink. A small child could nap in there, and you could fit an aftermarket Porta Potti. On the prototype, these nifty benches were too short to be berths. However, P&D Boats are responsive to customers' preferences and you may customise berth options! The treatment of the cabin bulkhead can also be customised. We felt the simple option of a studded-on canvas cover would be very practical and the company indicated that this would not be a problem. On inspection, the tinted acrylic cuddy windows were suitably thick. They were bolted on and bonded in. They looked like they could take a green 'un over the bows, and years down the line, replacement would be easy.
Foredeck
The theme of practical minimalism continues onto the tiny foredeck. This is furnished with a stainless steel stem roller, which protrudes just enough to keep the anchor rode's 'drop' clear of the bow. On a boat this size, you will be keeping your anchor in a handy bag in the cockpit, not in any anchor locker. In any event, you will be working your lines and anchor from the cockpit and not the foredeck. Similarly, the centrally placed chromed cleat is big enough for two warps, should you need them. The cleat does not need fairleads since this boat is so low in the water that your warps are likely to be arriving from above – from the pontoon, the pier or another boat. The tow eye on the stem is also a handy place to clip on a V-fender, which you are likely to need.
Engine
The prototype boat was fitted with a manual tilt-and-trim Tohatsu 25. Larger engines can be fitted, rated up to 40hp. This engine ran surprisingly quietly, and with the current ruinous price of petrol, this modest power option is a good choice. Incidentally, all the engine and steering controls are neatly routed via a conduit tube under the boat's gunwales. For practicality, the craft uses a plastic carry-aboard petrol tank, which stows aft by the outboard well – a very practical arrangement for any compact trailer boat.
Performance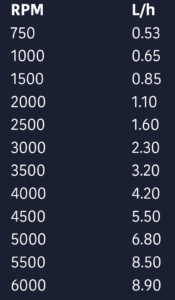 The test boat had no means of measuring fuel flow, or speed through the water, so we could not conduct our usual extensive numeric tests. However, we would expect a Tohatsu 25 EFI engine to consume around a gallon per hour (4.55L/h) even at 4000rpm, so consumption is modest. To back this up, here are full-range figures from boat-fuel-economy.com, a respected industry information source:
On test
I could get comfortable at the helm straight away. The wheel and throttle position suited me, and there was even some support for my throttle arm. We felt that the navigator/observer could do with a grab handle on the port gunwale top, and later boats will have this. Despite the necessarily low freeboard, one feels absolutely secure at the wheel, seated or standing. In such a small craft, everything seems much more immediate and 'out in the fresh air'. On the test day it was squally, a touch wet, and the water was rough and boisterous – ideal real-world testing conditions, which provided the exact recipe for an engaging ride. She pops onto the plane quicker than expected, follows her nose, corners like roller skates and puts a massive smile on your face. She is very responsive to the throttle even with a modest engine. You can also stop worrying about fuel consumption. Playing with the wheel and throttle becomes addictive because it is all so minimal (that word again) and fun. I felt this engine and hull formed a great little package, even though the boy racer in me usually wants more. No matter how aggressively I addressed the lumpy chop, I could not provoke any hard slamming. This is unusual on cathedral hulls and suggests that P&D's R&D had helped them get their 'hybrid hull' right. Bearing in mind the cost of fuel, this combination struck me as a family boat 'sweet spot'. As a family day cruiser, a trailer cruiser, a settled-weather coastal fishing boat or even a family diving support vessel, this little boat punches way above her weight.
The verdict
Stellar value for money, this versatile boat is a winner. 
Pros
Keen package price
Highly versatile little craft
British made
You can customise your build with the manufacturer
CE Category C offshore certification

 

Its narrow beam also makes it suitable for the UK canal system
Cons
No obvious shortcomings – this is minimalism done well
The navigator/observer could do with a handle

 

on the gunwale
Specifications
GRP hull: Deep-V hybrid (unsinkable: buoyancy ring)

 

Length: 4.5m (14ft 9in)

 

Beam: 1.85m (6ft)

 

Weight: 350kg
Draught: 2ft
Max. load: 450kg
Engine (as tested): Tohatsu 25hp
Engine (max.): 40hp
Certification: Category C / 4 persons
Towing rings: 2 aft, 1 forward
Contact
P&D Boats
Tel.: +44 (0)1283 499837
Package boat pricing
This boat is available as a package comprising boat, P&D trailer and Tohatsu 25 outboard motor. The boat also comes with a simple slant cockpit cover included in the price. This is sturdy enough to be the road towing cover too.
Price guide
Base boat only: £7,995

 

Tohatsu 25hp: £3708
Trailer: £1895
Includes VAT.