Alex Whittaker test-drives two sassy new bowriders that come with a unique addition – a mini cuddy!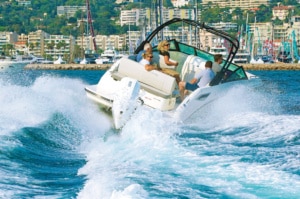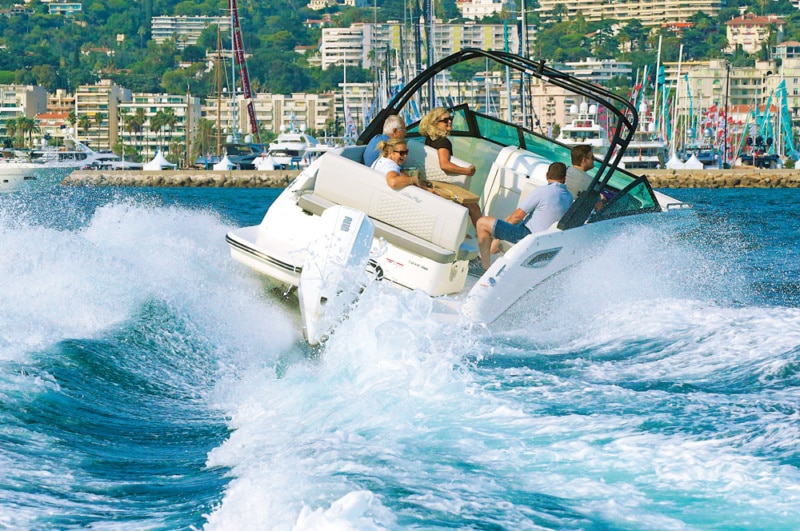 Sea Ray have brought out two 'Euro' versions of their new SDX 250 luxury bowrider. However, fear not: these fine sports boats eschew any fashionable Euro minimalism. Step aboard and everything chimes with those familiar American values of comfort, practicality and space. The feeling is one of upmarket opulence, with generously proportioned upholstery, luxury stitching and high-quality fittings. Ideal for water sports, day cruising or just chilling out, both models can carry more than a dozen revellers in great comfort. Both versions feel like large luxury convertibles fitted out for serious family partying on the water.
Specifications
The outboard version has a 250hp Mercury 4-stroke, and the inboard version sports a MerCruiser 300hp 6.2L petrol engine with a Bravo 3 outdrive. As you would expect, the overall specifications for each version are very similar. Both boats have the same huge maximum capacity of 14 persons, the same easily trailerable beam of 8ft 6in and the same petrol tankage of 63 gallons. However, a closer look at the specs yields a couple of surprises. First of all, at an LOA of 27ft 6in, the outboard version is longer than the inboard version's compact 25ft 2in (enough to trigger a higher berthing charge in many marinas). Secondly, and counter-intuitively for some, the outboard version with a 250hp Mercury is actually heavier than the 6.2L inboard petrol version.
Hull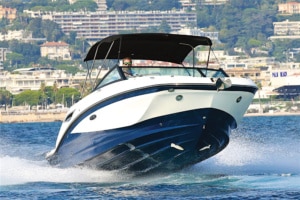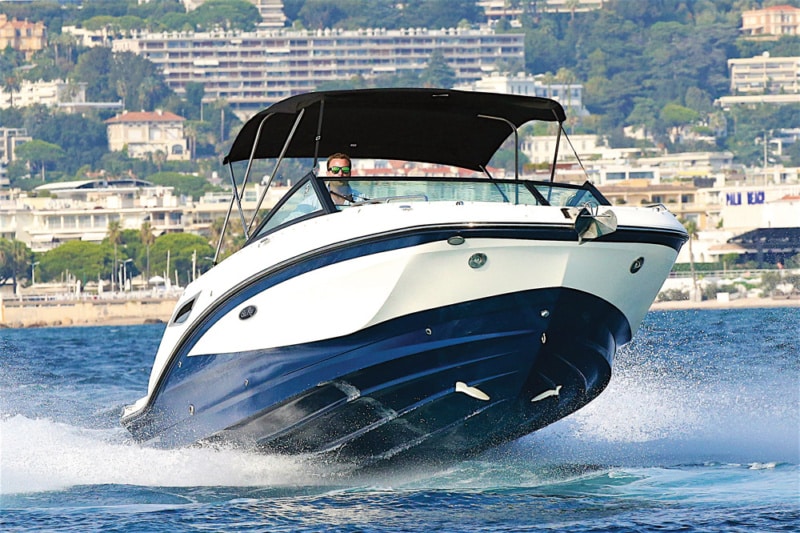 The hull avoids side decks and carries the full width of the beam well forward like a deck boat. The clever thing is that it manages this while riding on a 21-degree deadrise sports boat hull. This delivers a large, almost rectangular bowrider seating cockpit above that V-hull – a cunning layout, which also reduces the awkward angularity of many deck boat designs. The downsides of deck boat and cathedral hull-type running surfaces have also been deftly sidestepped. It was noticeable that the hull did not slam at speed in lumpy conditions, and spray control was excellent.
Transom
Stepping aboard involves no clambering over transoms, since on both versions the swim platform is delightfully uncluttered. There are two storage spaces set into the swim platform floor. A four-step reboarding ladder is also tucked safely away to starboard. Even the stainless handles on the edge of the platform (to assist reboarding) are set sleekly out of the way. The optional SeaDek flooring was cool underfoot on a hot Mediterranean day, and provides a very practical decking solution. The inboard version can have the optional manual submersible step – great for kids and dogs to get back aboard from the water. Overall, the inboard version swim platform feels a winner in the space stakes because there is no outboard well. However, since the outboard version sports a nifty footbridge over said well, there's not much in it.
Rear convertible sunbed
The large flip-back convertible sunbed/lounger set to port allows an easy walkway forwards. Most unusually, it is on rails and can be set back by 17in to create even more cockpit space at rest. A separate long port seat, with storage under, runs forward from here through the cockpit. It can easily swallow boards and skis since it is over 7ft long. Note that there is additional storage under the sunbed. At this point, one notices the high quality of the upholstery, the stitching, and general fit and finish around the boat. Although it is made in Europe, this feels like a pukka American sports boat. The sunlounger is flanked by stereo speakers and handy beverage holders – a great place to laze or sunbathe facing the water. There are USB outlets to charge your phone, plus a 12V outlet to drive an inflator for dinghies and tow toys.
Cockpit
The transom walkthrough means that you do not have to step on upholstery, and a storage locker lies under the coaming. There is also a transom door, with bolt, that folds out from the gunwale. Near to hand are the main battery isolation switches, and the drive lifting switches, all behind their own gunwale door. Just ahead is another storage locker set into the floor of the forward coaming leading down into the cockpit. Forward on either side of the expansive rear cockpit are runs of more well-upholstered seating, with even more storage below. In typical American fashion, the seat backs are deeply upholstered. On either side of the forward end of this run of seating, the cushions broaden out to meet the wide helm and observer's seats. This provides an efficient use of space, which also allows a central path for moving about the boat, even when all the other crew are seated. When 14 crew are on board one will appreciate this layout even more.
Sociability
Since the transom lounger and the helm and observer's seat have flip-over backs, all the cockpit seats can be configured to face each other. This makes a large sociable conversation pit with good sight lines – ideal for convivial drinks and snacks too, with a clever table that cantilevers out from a seat base to port. To starboard under the bench seat lies a dedicated carry-aboard cooler storage space. Under a locker in the deck is yet another watertight storage space, fully rubber gasketed, where, among other things, the table may be stored.
Helm console
The smart helm console is to starboard, with a door and forward walkway lying to port. The door has a handy integral storage space. A pleasant surprise lay behind that door: the SDX is a bowrider with a mini cuddy! This useful interior (with sitting headroom) had optional cushion upgrades to give a 5ft-long napping space for children. Lockers are under all the seating, and there are USB outlets and stereo speakers too. Most significantly for a family boat, it has a toilet. This mini cuddy effectively doubles as a dry storage space, which further declutters this well-thought-out boat. The helm position, with its uncluttered SIMRAD multifunction display, was minimal but good, and all the controls fell to hand. The Fusion stereo and USB outlets added to the driver experience. The Fusion unit automatically pairs with crewmembers' smartphones via Bluetooth. There is also a slick row of ready-use switches for functions like lighting, bilge pump and bilge blower. The helm's wide seat, with flip-up bolster, easily gave me enough room, but of course not that locked-in feeling of a seat with arms and wings. The throttle control is on the gunwale, but I did manage to get some support for my forearm. The throttle position seemed natural both seating and standing. I noted that the observer's seat had a sturdy 24in stainless steel grab rail.
Bow cockpit
Forward through the opening windscreen (with air dam door below) one meets one of the neatest bowrider cockpits I have yet encountered. With its lush matching upholstery, this is yet another special place to be. The seating can be converted to a large sun pad. Subtle deck lights, stereo speakers, USB outlets and handy beverage holders add to the sybaritic vibe. There is a storage net with space for yet another cooler, plus more storage under the seating. There is also a small moulded step to aid access sideways onto a pontoon. At the bow there is a flip-top locker revealing a four-step boarding ladder, plus access to the self-stowing anchor's rode. An optional handset is available to wash down yourself, the ladder or your anchor. Of the two boats tested, one had a bimini option, the other had a matt-black heavy-duty tubular wake tower. The choice is yours. 
On test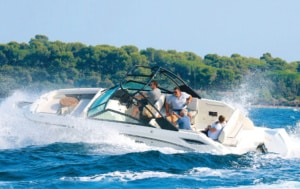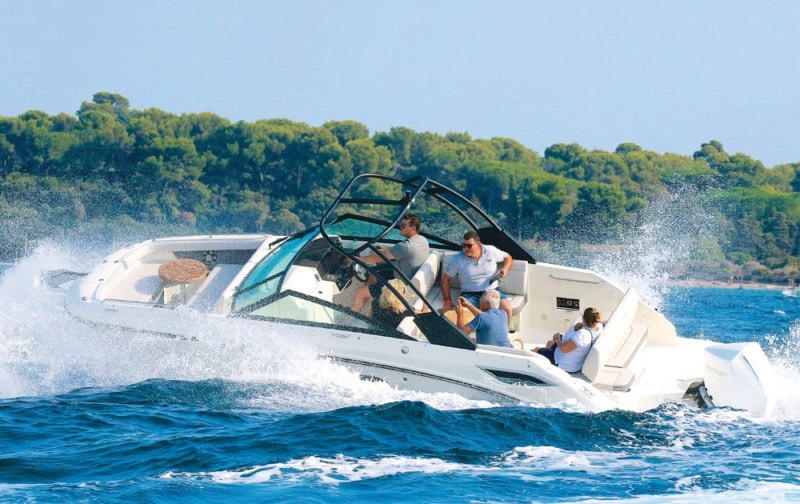 The Med began cutting up a bit rough and had reached a force 3 by the time we were out on the water – not the usual partying weather for a bowrider, but great conditions for real-world testing. Three up, with a three-quarters-full fuel tank, I confidently expected to get drenched. But first, a health warning: you must take my test figures with a pinch of salt. Both boats had to contend with adverse conditions, such that we could not fully complete the speed and consumption tests. The inboard example was definitely a 40-knot boat, clocking up a creditable 41 knots in the challenging but slightly moderating conditions just after the test period. This MerCruiser is a great performer – smooth, quiet and surprisingly punchy. I loved it. The Mercury outboard was refined, quiet and powerful – a superb engine. I would say on balance the outboard version was a trifle more agile of the two.
However, on test, the outboard version trailed a little on speed at 35 knots WOT. Yet again, the sea state was pretty demanding. The outboard version would definitely have clocked around 40 knots on a normal day. Both versions felt taut and well put together, with no buzzes, rattles or slamming. Both displayed a safe, solid and surprisingly soft-riding hull. Both seemed to trim with a slightly bow-up attitude – a bit more pronounced on the outboard version. Just a personal opinion, but I felt the inboard version, with all its weight entirely within the hull, made steadier progress in lumpy seas. However, both versions exhibited truly exhilarating lock-to-lock sports boat handling. Overall, I was impressed at how dry each boat remained under the adverse conditions. The hull spray rails, knuckles and chines clearly work. Excellent family boating.
The verdict
This is a superb, safe, luxurious, fast and sporty dayboat with an amazing capacity of 14 ravers, plus its unique cuddy. In either flavour, the SDX has got to be a winner. 
What we thought
Pros
Fit and finish: Very good indeed
Keen price: Good value for money
Safe: Tested in conditions we should

 

have avoided
Fast: A 40-knot boat in normal conditions
Commodious: Vast seating and storage plus that unique cuddy with toilet
Versatile: Dayboat, party barge, family water sports platform – it has it all
Cons
No obvious deal breakers but:

 

Snap-in carpet is an option
SeaDek flooring is an option
Specifications
Sea Ray 250 DXE/DXOE
25ft 2in inboard
27ft 6in outboard
Beam: 8ft 6in
Draught: 40in (102cm) outboard; 36in (91cm) inboard
Weight: 5301lb (2404kg) inboard; 5557lb (2521kg) outboard
Fuel capacity: 63 gal
Engine options: 250hp Mercury 4-stroke outboard, MerCruiser 300hp 6.2L/Bravo 3 inboard
Contact