The Sun Sport 230 OB is a Sea Ray model built in Europe and, it would appear, very much intended for the European, as opposed to the US, market. Barry Thompson investigates this likeable, trailerable, family-orientated cabin weekender.
While we're more familiar with Sea Ray's innovative take on the bowrider, with models such as the Sundancer and SLX Series, the new Sun Sport is all about maximising the benefits of the trailerable cabin weekender. Pursuing this theme, Sea Ray have launched the Sun Sport series, which comprises two hull platforms: the 230 (6.96m) and the 250 (7.90m). The former comes in two options, either outboard or inboard, with the only difference between them being the transom area, which in the case of the inboard option is altered to accommodate the MerCruiser sterndrive. But while the 230 is available in single-outboard or sterndrive form, the 250 is purely an inboard-powered craft – a model that features a slightly enhanced layout too over its 230 stablemates.7
Party time
The Sun Sport series has been designed to be party-friendly with an interior dedicated to comfort and convenience. This includes a fully moulded U-shaped seating module around the rear of the cockpit with a UV-protected squab. Storage space is provided under the seating, including an optional fridge. Cockpit access is via a port-side transom step-through with a hinged lid and lift-out forward panel – a little messy, but it works. Removing a seat squab means you don't get wet or sandy feet on the upholstery. There's a separate sun pad across the rear deck area with massive storage space below. 
An attractive circular teak table is a great option. Drink holders abound, and the fit-out includes a Fusion sound system with Bluetooth, Wi-Fi streaming and multiple speakers. No space is left unused. The boat has three lockable storage areas to keep your gear safely stowed when you're not on board – plenty of comfort for both the body and the mind!
Three's company
Two fully swivelling bucket seats are provided with adjustable bolsters, which give the occupants a total of three seating options. When seated, you're tucked away below the screen, out of the wind; then, when adjusted with the bolster position in place, your eyeline is close to being level with the screen. Furthermore, the adjustable steering wheel allows you to set the helm to suit your driving stance. Standing is generally the position you want to adopt when close-quarter manoeuvring, but the foot/leg space is sufficient in the cockpit and consequently doesn't suffer from being impaired by the seat locations or their varying settings.
Driving the 230 OB through a good strong chop, which was accompanied too by the occasional squall on the day of the test, I certainly got to experience all three of these helming positions. In the calmer, more protected water when trying to dodge the rain, I was seated and most grateful for the benefit of a windscreen and its wipers. Out in the rougher water, I certainly found standing with the bolster in place to be more comfortable. 
Ergonomically speaking, whether sitting or standing, the driving position is good and complemented by the design of the helm and its associated dash. The latter's two-tier arrangement allows for a reasonably generous-sized MFD – in our case, a Simrad 9 – as well as a Fusion stereo system, a Quick anchor winch, and the usual switches and displays.
About deck
The Sun Sport is not a fishing boat, of course, but it can undoubtedly be fished from. In fact, our test boat had a couple of rod holders already fitted – and, if required, the boat's storage spaces will allow several of these to be used for tackle, bait and even your catch, if you were fortunate enough to hook your supper!
While Sea Ray do offer a clip-down carpet in the cockpit sole, the most functional option, in my view, is that which our test boat featured – namely, SeaDek's highly practical faux-teak flooring alternative. Following the trend of larger sport yachts, Sea Ray have incorporated a full foredeck cushion into the Sun Sport 230 for those that like to soak up the sunshine. However, this isn't simply a top-of-deck addition; rather, it's fitted into a moulded recess below the deck profile and hence isn't susceptible to being blown off by the wind when underway. Commendably, there's also a cover to protect the foredeck cushion from the elements, so it never needs removing. 
Access to the foredeck area is via a sliding set of steps, which also double as the lockable cabin door. The Quick auto winch, complete with a remote, is neatly hidden away under a hatch, which is coated with antiskid and, along with the split bow rails, facilitates safe and easy entry and exit.
Cosy cuddy
The Sea Ray Sun Sport 230 has no side decks, which has allowed the beam to be maximised in the cabin. Below deck, the surprisingly spacious cuddy cabin is well appointed with a comfortable V-berth, making it an ideal place for guests to take a break from the sun. It's a great place too to put the kids down for a nap, or for Mum and Dad to enjoy an overnight getaway. Along with the portable head, the cuddy provides all-day convenience or the option to extend your adventure overnight. Being trailerable and having the benefit of a cuddy sleep-aboard cabin, this boat will make a very attractive option for many families, in my view.
Options
Everything you see on this boat, from the anchor winch to the four-step boarding ladder, is standard. You get a Fusion stereo system, toilet, depth finder and even a Mercury VesselView. There are plenty of options available, but even the stock standard package is enough and more   than adequate for day boating.
If you see yourself overnighting, I would add the canvas cockpit enclosure with curtains, a fridge and a transom shower as well. If you go for the 'Captain's Package', you get the bimini top, canvas cockpit and tonneau cover, round teak cockpit table, sun pad walk-through cushions and a starboard windscreen wiper thrown into the spec list. If water sports are more your thing, you'll likely wish to consider the 'Elevation Package', which adds a black water sports tower with a bimini top, tower racks and a ski mirror.
Performance
Sea Ray give a lot of attention to their helm ergonomics, the benefits of which become very apparent when driving. For example, the helm seat fits one nice and snugly, and consequently you feel secure and at one with the boat. All the 230 OB's controls lie conveniently at hand, and the instruments likewise are within easy view. With the DTS system, the steering is light and positive. 
I pushed the boat into the short, harsh choppy seas and I confess it handled them really quite well for a vessel of this size and type. Once I had the trim set up, I felt more inclined to squeeze the throttle, but no more than around 20.5 knots @ 3500rpm. On the return through the following seas, I jumped that to about 33 knots @ 5000rpm, whereupon the boat performed confidently, remained stable and maintained good lift in her bow.
Power-wise, this model is fitted as standard with a Mercury 150hp, but you can go as high as the V8 250hp, just as we had fitted to our test boat. Full bore, across flat water, I managed to achieve 40 knots @ 5650rpm, which saw a fuel burn of 81Lph. 
In summary
Overall, the Sun Sport 230 hull design delivered excellent stability and a smooth ride considering the sea conditions on the day of the test. It held a reassuring raised bow attitude, and despite the flying spray, I only needed to put the wiper on a couple of times to clear the screen.
One of the features on the boat that I particularly liked was the VesselView Mobile system. This helps you stay alert through an on-board management system connected to your mobile device. VesselView Mobile uses Bluetooth to display gauge information on your iPhone or Android and allows you to monitor all engines and customise data points across three screens. You can also receive alerts if something isn't right with your engine.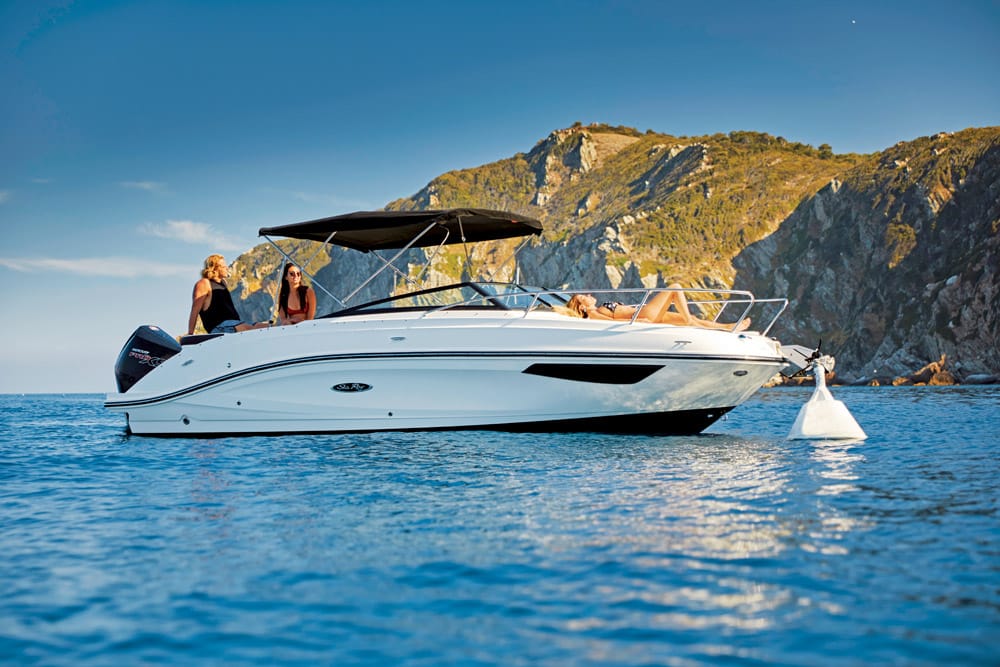 The fit and finish of the Sea Ray Sun Sport 230 is exceptional. It will certainly attract those families who enjoy water sports and day boating, but its versatility in terms of its overnighting/weekender capabilities coupled to the benefits of it being trailerable is really where the Sun Sport scores. All in all, the 230 OB model in Sea Ray's new Sun Sport series is a very likeable craft and represents a welcome addition to the market, in our view.
Specifications
Make & model:

Sea Ray Sun Sport 230 

Type:

Cabin

Construction:

GRP

LOA:

6.96m

     

Beam:

2.59m 

Deadrise:

19 degrees

Height on trailer:

2.12m

   

Test power:

Mercury 250 V8 

Propeller:

Revolution 17 4B

     

Power options:

Outboard, sterndrive

   

HP range:

150–250 hp

         

Fuel capacity:

189L

MFD:

Simrad 9

Stereo:

Fusion

Anchor winch:

Quick

Flooring:

SeaDek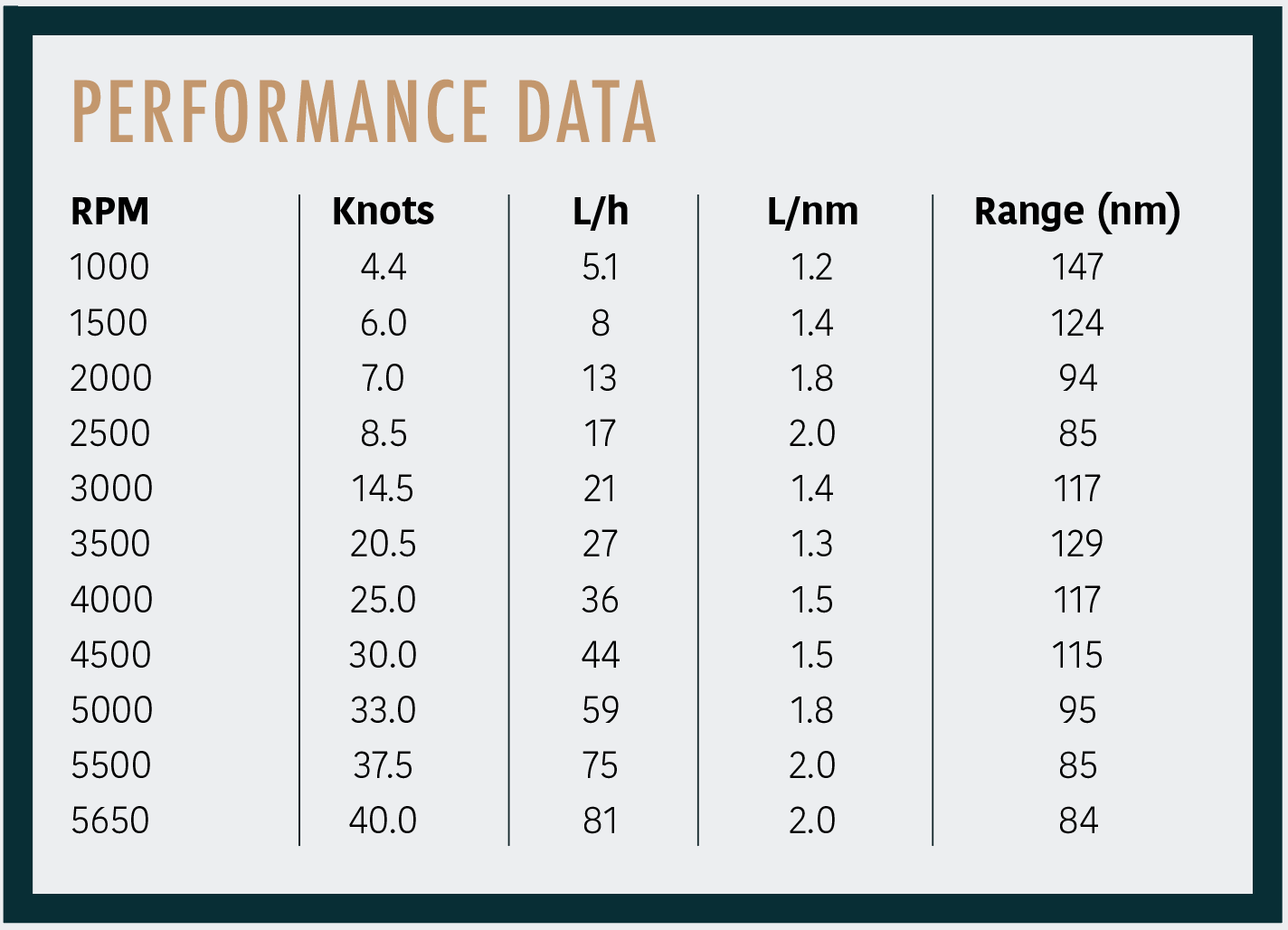 Price
Base boat with Verado V8 250 delivered, commissioned & ready to go at £90,719.00 inc VAT.
Contact