Reborn after 52 years, this legendary powerboat still sets a pace few craft can match. Greg Copp reports on a revamped timeless classic …
We all love a classic in some form or another. Be it the original or a modern concept with retro influence, a piece of the past has plenty of appeal. The new Spearfish 32 by Supermarine Motor Yachts of Chichester is truly a classic, with its original ancestor gracing the London Boat Show in 1969. Much has come and gone in half a century, but the success of this Alan Burnard-designed hull has never been forgotten. Apparently, 135 of these hulls were laid up, the first GRP boats that the original Fairey Marine built. Seventy-three were pleasure boats, of which quite a few were raced, and 62 were the military 'Spear' version, some of which presumably saw service in the Royal Navy. 
The new Spearfish 32 is likely to enjoy a more coveted existence, though on-board impressions hint that this boat will take more than its occupants are likely to want to suffer. At a glance, its clean minimalistic appearance has a classic and modest unassuming appearance, much in keeping with the concepts of 1960s styling. The low foredeck seems to offer nothing bar two low-level coachroof rails, with a long traditional window beneath. However, you need to look closer, as although the design in this area has no safe yet ugly guard rails, there are stylish drop-down trip-free cleats, and virtually unnoticeable button fender securing points. Both forward hatches sit perfectly flush, as does the tinted coachroof light. The navigation lights are hidden in the nose coaming, which then runs down the skinny side decks, providing you with some degree of warning that you could inadvertently step off the boat. There is some security when moving around this section of the vessel, as you can grab hold of the top of the one-piece stainless steel wrap-around windscreen rail. The boat is narrow, so unless you reduce the cockpit to a size that makes it unrealistic, the side decks have to pay a price. 
Stepping aboard via the long 3ft bathing platform leads you to a grey synthetic-teak walkway, flanked either side by rear-facing sunbeds. The hull itself is 32ft, so with the bathing platform the Spearfish does in effect become a 35ft boat in berthing terms. However, along with its transom shower, this generous extension will prove invaluable. Stepping down into the cockpit, you will be struck by the depth of it. It feels perfectly secure and, as I discovered, is shut away from most windblast. The aft cockpit area comprises a U-shaped seating area, with an aft section that folds down providing access to the walkway. Our test boat had a small fold-out table on the starboard side, and I presume, due to the highly bespoke nature of the boat, that a larger table could be specified. There is a small wet bar on the port side behind the navigator's seat, whose gas strut-enabled lid opens with characteristic precision, revealing a contemporary fold-out tap. Opening the small locker beneath revealed what would be discovered throughout the boat, that the gelcoat behind the scenes matches the external finish. This small wet bar can be specified with a larger set-up, housing a griddle and second fridge. In the cockpit sole are two hatches, the rearmost housing the engine cut-offs, while the forward hatch gives access to the fuel tank. The upholstery, as is to be expected, is superbly finished. 
The most striking aspect of the cockpit is the triple SHOXS shock mitigating seats. These leave you in little doubt as to this boat's true character, and coupled with Simrad MFDs and blatantly good ergonomics, they tell you this is a serious driver's boat. The helm and dash construction is simply superb. I suspect its designer thrashed out a mock-up where they could easily see and access everything, including a drink, while driving this boat to its limits. The dashboard is carbon fibre, topped with a leather overhang. The individual primary switches are just to port of the adjustable wheel. Below sits the remote control for both displays, so your left hand just needs to drop off the wheel to scroll through the information on offer – no stretching or touch screen dabbing while judging a wave pattern. Your right hand falls onto the throttles, or the joystick control beneath, and the Zipwake automatic interceptor panel sits above – not relegated to an inaccessible corner as is often the case. There is a convenient open cubbyhole just by the right knee – ideal for stashing items likely to go astray when things get lively, like reading glasses. Sitting or standing, the position is great, as these heavy-duty seats quickly convert to luxury leaning posts by folding down the seat bases. There is a stainless foot bar for sitting, and an angled deck section when you stand with your feet wedged. What makes the set-up so secure for the helmsman is the fold-down armrest between the two helm seats, so unless you turn the boat upside down, you can't fall out. There is one potential downside to these superb ergonomics, and that is that if you are particularly large, or used to sprawling at a big flybridge helm, you may find it on the snug side.
Below decks, two things initially strike you: the quality of the fittings and the 6ft 3in of headroom. Generally, with a 32ft weekender sports boat, you have to crouch in the cabin, but Spearfish want you to spend some time here, because if you didn't you would not enjoy their superb galley. The marble-effect worktop and stainless steel sink are complemented by a 54L stainless fridge, with an electric Miele flush hob and combination grill/microwave above. However, what really makes this galley the below-deck focal point is the Miele coffee machine – one that grinds beans, no less. Opposite the galley, the heads is finished in similar style, fully equipped with shower and raised bowl sink. The cabin's light upholstery is finished and stitched to the highest standard, which with the light-grey teak-effect flooring looks great and gives an enhanced feeling of space. The central table drops down to create an overnighting double bed, with a hidden foot extension under the built-in TV, giving you more sleeping space than you would otherwise expect.
Raising the sunbed section reveals an engineering work of art. Two MerCruiser TDI 4.2L 370hp engines driving through Bravo 3 sterndrives sit within the width afforded by a boat with a 2.95m beam. There isn't lots of space around them, but it works, and the engineering is of the highest standard. This is not the only engine option as you can choose MerCruiser TDI 3.0L 270hp engines on Bravo 3s, or even MerCruiser TDI 4.2L 370hp engines with traditional V-drive shafts – in keeping with the original Spearfish character. There are also diesel Yanmars on offer in either 250hp or 370hp forms, both on Yanmar ZT370 sterndrives. I am informed that the 370hp 8L V370 Yanmar will likely be the most realistic big diesel option, due to a potential shortage of the 370hp MerCruiser. For the purist petrolhead, there are twin 430hp Volvo V8s on duo-prop sterndrives, which should give this boat a 53-knot top speed.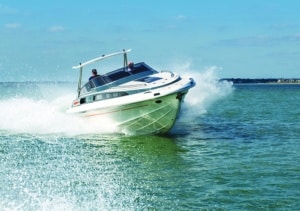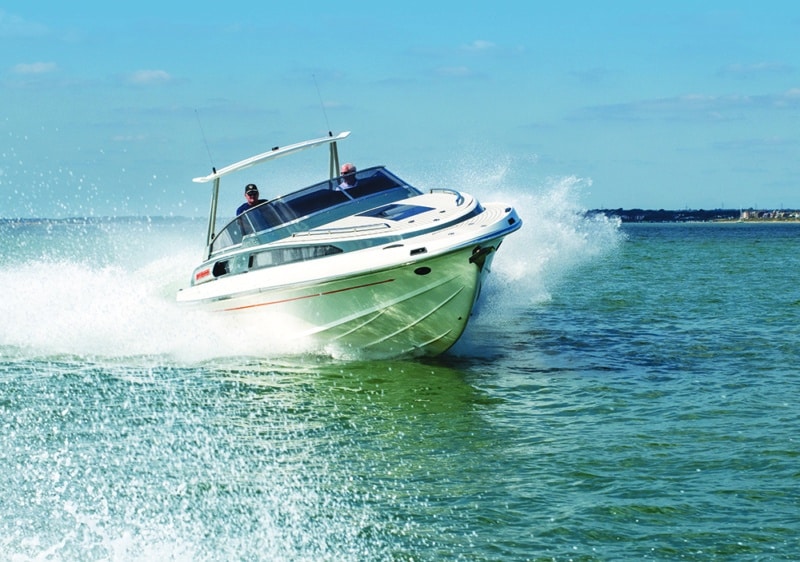 Driving the Spearfish
Running at 40 knots through a combination of confused water and ferry chop, I wondered whether naval architecture has actually evolved much in half a century. This is a modern boat, hand-built using resin infusion and high-quality materials, however hull design is what really counts, and with the Spearfish it counts for a lot. The ride is nothing short of superb. The shock-absorbing seats were barely needed as we ran through the mess of churned-up water off Calshot, and then over and through the tall ridges left by the Red Jet. It was not just the sharp flared deep-vee hull that enabled us to cut a reassuring dry path, but the whole composure of a hull that never seems phased. The helm set-up is great, and shut off from most of the windblast with a great view over the bow, you soon feel immersed in the driving experience.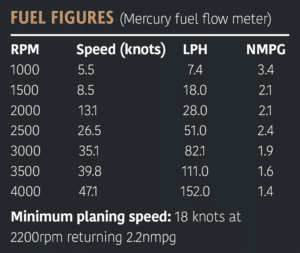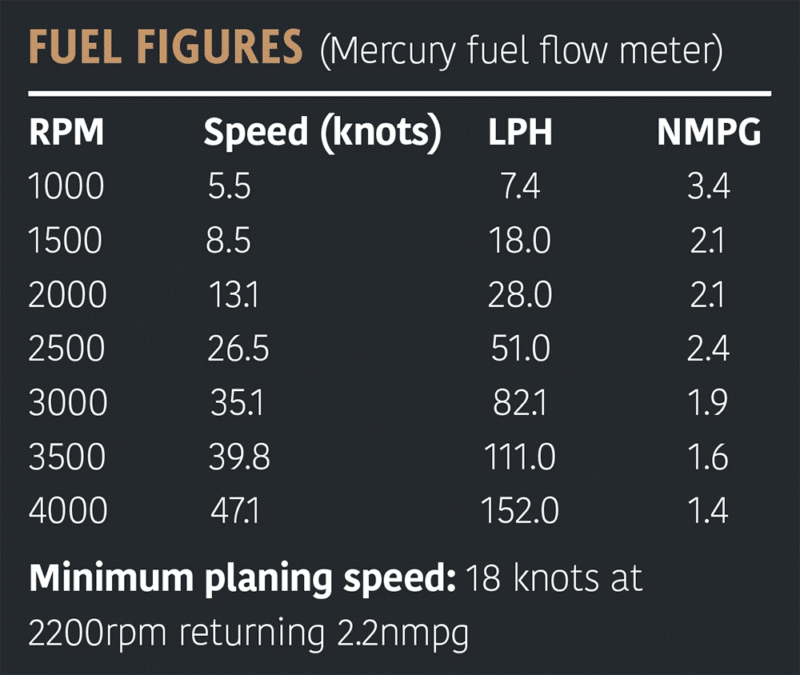 This craft is capable of some truly manic turns. With a transom deadrise angle of 24 degrees, the Spearfish heels in a sure-footed way that not many boats can manage. You simply can't get an adverse reaction from her as you throw her from one lock to another. The steering is light, quick and well composed, and though this boat is arguably more fun driving in a series of hard turns, she is capable of soaking up some fast sea miles. In this department, life with the Spearfish starts at 30 knots, as unless you are driving into the face of a gale, anything slower does not feel quite right. Much of this is down to the MerCruiser engines, which, like many diesels, suffer from that inevitable diesel lag before the turbocharger gets into its pace, which in this case is past 2000rpm. I have experienced this before with the 370hp MerCruiser, and although it is less pronounced in a 4.5-tonne boat, you will notice it when powering up from displacement speed in a hurry. If you nail the throttles, there will be a pregnant pause before the engines get spinning, then she is off like a scalded cat. This craft is far from lethargic, but I suspect that the 370hp Yanmar option will provide a slightly faster boat off the mark and be possibly more responsive running into big seas. The twin 430hp petrol engine option will be a peach to drive, but of course at a cost.
The hull also plays a big part in this high-speed sweet spot as the ride becomes more sure-footed, especially past 35 knots. At 30 knots she is returning over 2.2nmpg, which only really starts to dip past 35 knots, and then not by much. Though she has the added bonus of the Zipwake system, being a well-balanced boat in terms of weight placement, the Zipwake does not have much to do. Running flat out is a case of trimming out 30% on the sterndrive legs, otherwise you will get the impression that she is only a 42-knot boat. This extra trim releases those last 5 knots pretty quickly, and the miles fly past. 
Verdict
This is an expensive boat that few will buy in its 'basic form'. Not many 32-footers cost £440,000 all up, even at the upper end of the market. The big question is: is it worth it? Well, in this instance, I recall the words of an experienced marine surveyor: 'If it costs £500,000 to build a 50ft boat that is 90% perfect, it will cost £1000,0000 to build it to perfection. Most people will go for the 90% option … but not all.'  
What we thought
For
 

Fantastic build quality

 

Superbly precise steering

 

Great attention to detail

 

Cockpit security at speed

 

Fit and finish

 

Very fast

 

Good weather protection
Against
 

Foredeck access is for the nimble-footed.
Specifications
LOA: 10.95m
Beam: 2.95m
Hull: Deep-vee non-stepped

 

Displacement: 4500kg (dry)
Power options: From twin 250hp Yanmars on ZT370 twin-prop sterndrives to twin 430hp Volvo V8 petrols on duo-prop sterndrives
Fuel capacity: 600L (132 gal)
RCD category: B
Test engines: Twin 370hp MerCruiser TDI 4.2L 370hp engines on Bravo 3 twin-prop sterndrives

 
Price
From: £340,000 (inc. VAT) (twin 250hp Yanmars)
As tested: £440,000 (inc. VAT)
Performance
47.3 knots (2-way average), sea conditions F3, crew 4, fuel 30%
0–30 knots: 9 seconds
Contact
Supermarine Motor Yachts Ltd, Northshore Shipyard, Itchenor, West Sussex PO20 7AY