A driver's delight, few sub-40-footers offer such a balance of versatility and performance. Greg Copp reports on Wellcraft's new 355 model …
If you read the last issue of PBR, you may have got a taste of Wellcraft's new 355 in our Preview section. Alternatively, if you were on the pontoons at the Southampton Boat Show, you might have seen the latest member of the Adventure Craft Club. Proudly sporting no fewer than three outboards, this boat makes a powerful statement, which it follows up with substance. Wellcraft may now be part of the Beneteau Group, and the 355 may be built in Poland, but this boat has a fair degree of American persona, not least the 900hp sitting on the transom of a 39ft boat.
The resin-infused deep-vee hull with its transom deadrise angle of 20 degrees was designed by Michael Peters, a man with an impressive portfolio of hull designs. Power options are either triple 300hp Mercury V8 Verados, triple 300hp Yamaha F300s or triple supercharged 350hp Mercury Verados. This may seem slight overkill, but the combined engine weight is just over 750kg, and outboard servicing costs and the ease with which they can be serviced are hard to ignore.
The 355 is not just about the driving dimension, as it is also a practical boat that a couple can comfortably spend time on. The design focuses on providing just one cabin, which would rival some 45-footers in terms of size and headroom. The island double berth is generous, with flush storage both sides and a single hanging locker located next to the companionway steps. Long hull windows provide plenty of light, and a generous heads compartment with full headroom sits on the starboard side – complete with a separate shower compartment.
The wheelhouse design has been carefully thought through, notably the large starboard side door. It is sufficiently wide to enable both the helmsman and crewmembers in the saloon to exit easily. The saloon features an L-shaped sofa on the starboard side. This serves a folding table, which, if needed, can be lowered to create a double bed, in conjunction with the sofa, that is wide enough for an adult couple. The starboard section of this sofa is composed of two modular sections, which can be repositioned behind the helm seats to provide seating around the table for four. Running down the port side of the saloon section sits the galley, including a large fridge, sink, drawer storage, glass and bottle holders, and a flush hob. The wheelhouse opens up to the cockpit, as the large window section behind the sofa hinges upwards, locking horizontally under the coachroof, while the door locks back.
The cockpit has three variations: the first option has a fender/dive bottle rack sitting over the transom; the second option has a folding bench seat across the back of the cockpit with fender space behind – as per our test boat; and the third choice is a second galley/bait well, with rod holders on the aft edge of the coachroof. All options have twin bathing platforms flanking the engines, storage/drinks holders on the back of the wheelhouse and bulwark gates on either side. Self-draining storage lockers sit either side of a huge storage cavity under the cockpit. This is one of the bonuses of outboard power, as this area is freed up to provide space for a generator, items like a roll-up tender and an optional Seakeeper gyro stabiliser should you want it. Deck movement benefits from the asymmetrical wheelhouse design, providing a full-width side deck on the starboard side, taking you to a long triple sunbed on the foredeck. Thanks to the boat's vertical stem bow, the forepeak can accommodate a deep anchor locker with windlass, and being an 'Adventure Craft' it has the all-important roof rack, onto which kayaks and boards can be secured. All decking is synthetic teak, and either side of the forepeak bench seat are located very clever pop-up LED lights, which sit flush and otherwise unnoticed – perfect for evening socialising or night-time deck work.   
One benefit of a design that has no under-sole mid cabin is the abundance of deck storage lockers, and the fact that the wheelhouse deck sits lower. When it comes to storage, this boat really excels, so storing items like the mattress infill for the temporary saloon bed is a case of conveniently popping it under the saloon floor. As is to be expected with a boat of this size and nature, you are given a lot of choice in the extras list. Entertainment is courtesy of a Fusion WB670 hi-fi system, and 32in TVs in both the saloon and forecabin. The optional £1,600 satellite domes on the coachroof that flanked the Garmin open-array Fantom 54 radar on our test boat were empty, but either can be fitted with a marine satellite dish.
Behind the wheel
The helm design is focused on letting the helmsman know what they need to know at a glance. Two 16in Garmin MFDs sit forward of the primary switches, joystick, bow thruster control and throttles. The leather-covered wheel matches the three leather-upholstered flip-down bolster helm seats. The throttles are easily reached, with the joystick forward of them. When seated, there is a short foot platform located for your feet, but when standing, you will want to locate your feet in a recess under this platform. There is a fold-down footboard that sits higher, which would be ideal for the shorter helmsman wanting to stand and get a good view over the bow.
Driving
This truly deserves a section to itself, as this boat drives superbly. Two things strike you: firstly, the lack of impression of speed, and secondly, its blistering acceleration, which propels you to 30 knots in 8 seconds – which you only really notice if you are looking at the plotter. This is the bonus of having three 300hp outboards, but even so, this is quick – and this was with 150 gallons of fuel, plus the 'boating junk' that Sea Ventures had left under the cockpit. The ride is particularly smooth, not just from its deep-vee hull, but the lack of noise that many GRP boats make as a result of having over 7 tonnes travelling at planing speed. If you do not want to empty the big 220-gallon fuel tank in a hurry, you will need to keep an eye on the plotter to keep it down to its 33-knot sweet spot – otherwise it hammers up to its top speed just shy of 46 knots with impunity.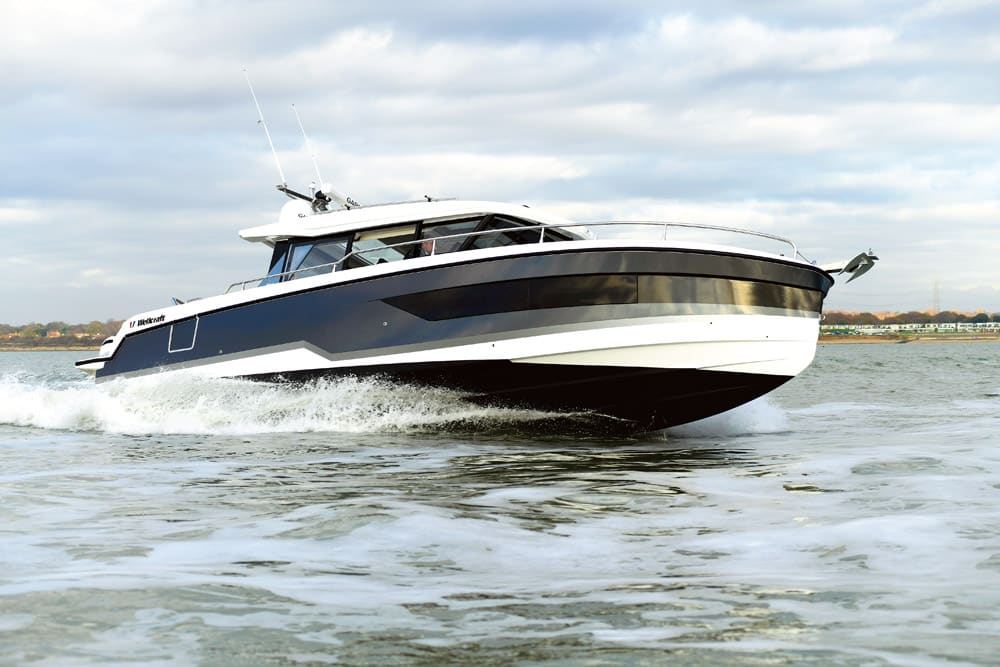 It planes at as low as 14 knots and comfortably at 15 knots with the trim tabs 50% down, so if you are caught out in bad weather and need to keep the speed down, you can still plane. That said, running through what chop and ferry wake we managed to find was easy work for the 355, even at 45 knots. The boat needs 50% trim out on the engines once past 35 knots, and even with a bit of wind on the beam, trim tabs were barely needed to level things out.
Next to acceleration, the most exciting aspect of driving the 355 is how she steers. She tucks into some impressive tight turns, which her non-stepped deep-vee hull excels at. I think I can honestly say I have not driven a boat of this size and displacement that turns so fast. This is one of the benefits of having three outboards pushing the stern round, ably assisted by Yamaha's highly capable Digital Electric Steering – providing a superb balance of response and control at high speed. You get a good degree of sports boat-like lean when you want it, without the slightest hint that things might go sideways. One thing that struck me was the virtual absence of a blind spot when turning hard to starboard, and the limited blind spot when turning to port. Wheelhouse boats often suffer this due to the relation of helm height to the top of the window line. However, as the Wellcraft does not have the helm perched on top of a mid cabin, this 'wheelhouse blind spot syndrome' is hugely reduced.
Verdict
This craft has several capable contenders in the field in which it intends to make its mark. However, I suspect that due to its versatile zero-compromise nature, it will have a strong appeal. It does have three big petrol engines, so it is a case of balancing fuel costs against lower outboard servicing costs, and the fact that modern outboards are the most reliable forms of planing power. In terms of engine options, it is a matter of personal taste, and with a wide range of extras on offer you can cater specifically for your needs.
What we thought
 

For
Rapid acceleration

Soft riding

Responsive balanced steering

Good helm ergonomics and visibility

Practicality

Build quality

Deck safety

Storage
 

Against
I would have preferred to have had more toe room under the raised foot platform at the helm when driving the boat standing, as this would provide that perfect leaning angle against the seat. However, this is subjective in relation to individual height.
Specification
LOA:

11.85m

Beam:

3.30m

Draught:

0.84m

Air draught:

2.53m

Fuel capacity:

1000L

Transom deadrise angle:

20 degrees

Displacement (3 x 350hp engines):

7.3 tonnes (dry)

Category:

B for 10 or C for 12

Engine options:

3 x 300hp Mercury Verado V8s, 3 x 300hp Yamaha F300s, 3 x 350hp Mercury Verados
Performance
46 to 50 knots, depending on engine option
Price
As tested: £495,572 (inc. VAT) (3 x 300hp Yamahas, heavily specified)

Sea Ventures specification price: £475,373 (inc. VAT) (3 x 300hp Yamahas, well specified)

 

 
Contact