Paul Lemmer provides an insightful round-up of some of the top exhibits at this year's HSBO 2021 in Sweden, an exhibition where both innovation and high performance are among the merits of many of the best on show.
Like many activities during the COVID period, the HSBO (High Speed Boat Operations) event, which usually takes place biannually, was postponed last year and the numbers attending this year were down by 25%. Nevertheless, the quality of seminars, talks given and product on display lacked little in terms of their overall standard. Hosted by Ullman Dynamics, as a networking platform for those requiring high-speed boats for professional use, it is difficult to imagine a better opportunity to discuss requirements for a multitude of specific operations at sea. As with previous HSBO events, the organisation, hospitality and the ability to mix, converse and exchange ideas with some of the most significant and influential personnel associated with high-speed craft were exemplary. 
HSBO is, in reality, something of a paradox, as while all the craft are fitted with Ullman mitigation systems, and it is hard to fault these proven high-quality products, the event takes place in the sheltered waters around Gothenburg. So, as a consequence, there is little real opportunity to test their world-class shock mitigation properties. 
So, onto the boat highlights:
FUGU 29
This attractive and well-presented Swedish stepped-hull craft by the Petestep company was a popular talking point at the event. With its heavily raked windscreen, low-profile cabin, bright stainless grab rails and interesting non-slip decking, this beautifully finished 9m x 2.75m RIB looked slightly out of place among the commercially orientated black/grey-liveried craft present. Its stylish looks and small but practical cabin made this particular version well suited to leisure activities too, of course. But as a fast sports cruiser, the FUGU presented one of the finest-handling stepped hulls I have ever tested. Fitted with a 370hp V8 MerCruiser diesel sterndrive providing a top speed of 54 knots (62mph) with four people aboard, she was no slouch, but it was the sublime handling and ride that really impressed. At full speed she could be put into a tight turn without the slightest slip or imbalance, and when jumping the steep wake of a passing ship she just cut through with a reassuring 'hot knife through butter' feel. Apart from a couple of criticisms (lack of a grab handle around the top of the windscreen and the slightly offset steering wheel), this is the perfect fast cruiser for those who appreciate top quality combined with excellent handling characteristics. 
Marell Quad
Next on test were the two Swedish 14.9m Marell 'Triple' and 'Quad' RIBs, named in recognition of their chosen power plants. Attached to lifting brackets on the transom of the 9.5-tonne Quad were four Mercury 450hp V8 outboard motors, and regardless of anything else, at 'full chat' their 32-cylinder motors made the most glorious sound. A 'petrolhead's' dream machine! Coupled to an 1800-litre fuel capacity, one would imagine this craft to have the right credentials to cruise for some distance. However, burning 600 litres per hour at her top speed of 55 knots, she only has a three-hour/170-nautical mile range! For most operations, however, the craft would normally cruise at a considerably reduced speed, thus providing a much better range. And it was also pointed out that even at a respectable 40 knots, the burn rate dropped to 240 litres per hour, increasing the range to 7.5 hours/293 nautical miles. As most patrol craft cruise at around 25/30 knots, it was a shame there were no fuel burn figures available at these more practical speeds.
Marell Triple
With an identical hull to the foregoing, the main differences with the 'Triple' version were its fully enclosed wheelhouse, four-berth cabin, flat aft section and engine choice. Powered by three of the latest Volvo D6 440hp diesels, coupled to DPI automatic sterndrives with hydraulic gearboxes and operated by a joystick control, this vessel appeared to be a more practical craft than its Quad counterpart, despite being 1.5 tonnes heavier and yet only 8 knots slower at full speed. But importantly, this rig proved approximately a third more economical than its Quad outboard alternative. The joystick controls gave superb slow-speed control, and the electric vessel control has the ability to stay exactly on a stationary fixed GPS position at the push of a button – a very useful facility for rescue operations, etc. The high-speed handling on these boats was surprisingly reassuring for such large craft, both being able to be turned at full speed without any cavitation or quirkiness, although the diesel version, with its greater torque, was quicker to accelerate out of the tightest manoeuvres. 
De Hass Interceptor DHM 1050
These tough-looking Dutch-built 10.5m aluminium RIBs are aimed squarely at the professional operator's market – chiefly police, coastguard and customs duties. With a wide protecting console mounted aft and four Ullman Biscaya seats, the crew are in the most comfortable location for rough sea conditions and perfectly positioned too for keeping an eye on the four additional crewmembers also seated on the Biscaya seats directly in front of the console. Powered by a pair of the latest Volvo 440 diesel engines, this 6-tonne 50-knot craft has a cruising range of 360 miles. It felt reassuringly solid, purposeful and planted too during my testing and displayed excellent handling characteristics to boot. The uncluttered foredeck has the option of a large removable watertight container for additional specialised equipment, and the raised stepped bow section, encompassing another large locker, doubles as a boarding platform for crew transfers. In addition to the solid foam fendering protecting the craft, there is also a strong aluminium aft platform to protect the sterndrives from collision, thereby providing all-round impact resistance. Considering the build quality, strength and powertrain of these craft, 500,000 euros seems a competitive price compared with some craft at HSBO. It comes as no surprise either that De Hass have a sizeable customer base and a number of craft already on order.
Spectre Natt 11.8
This most certainly is not your usual RIB. In fact, it is the product of ideas created by the highly respected professional boat-handling instructor Andreas Isaksson – a man who, as a result of his years of training rescue, coastguard and military personnel in high-speed boat-handling/navigation, has now designed his own vessel. The boat, in fact, is built entirely from carbon fibre, is a smidgen under 12 metres in length, performs at 60 knots and weighs in at a remarkably light 3500kg. It also fits into a high cubed 40ft container for easy transportation to wherever Andreas's boat-handling/training skills are required anywhere in the world. Everything about this craft reflects the wealth of knowledge gained from years of small boat-handling in a variety of sea conditions, and ergonomically it is difficult to fault the controls/layout. With the supremely comfortable Ullman Atlantic suspension seats for the driver/navigator and Biscaya seats for passengers, crew comfort is guaranteed. But additionally, there are flush-mounted aircraft-style cargo tracks built into the deck that allow a multitude of seat/cargo securing options, and while not a new idea, they do offer tremendous flexibility for the cockpit layout. Among the unique features are the extended aft tube carriers combining a carbon-fibre engine protector hoop and the 1400-litre 'Explosafe'-type removable foam-filled fuel cells, which, apart from preventing fuel surge imbalance issues, are also bullet-resistant. The extraordinarily sophisticated navigation/communication systems also contribute to making this craft very special. 
Another benefit of the light weight and clever hull design is the remarkable theoretical range of 875 nautical miles at 25 knots, making this one of the most efficient petrol-driven 12m craft in its class. The Adam Younger-influenced deep-V triple-stepped hull powered by twin 400hp Mercury outboards was conceived by Andreas to combine high performance, efficiency and a level ride, together with flawless handling. Having put the craft through its paces, I can confirm that it is an exceptionally satisfying boat to pilot. But there is good and bad news here: the good news is that it fulfils and even exceeds many aspects of its design brief; the bad news, though, is that it is not commercially available and there are no plans to put it into production!
Yachtwerft Meyer Custom 9m
This tough aluminium-hulled German RIB, weighing in at 3000kg, was conceived specifically for police/rescue/military/dive rescue/recovery operations and features some very innovative concepts, including a unique fold-away removable buoyancy tube section in conjunction with a quickly deployable aluminium dive ladder. By simply releasing a catch on a section of the topside of the hull, the complete section with the attached buoyancy tube hinged sideways reveals an open access area from the deck to the water for the easy deployment of divers and recovery of casualties. Also of interest was its substantial aluminium engine protection frame, which doubles as a life raft mounting and launching device. Underway, with her twin 250hp Honda outboards, she performed adequately rather than spectacularly but offered a substantial stable dive platform nonetheless, with a decent 45-knot turn of speed and a cruising range of just over 200 miles.
Sillinger 470
One of the longest-established, most respected names in French inflatable boat and RIB production, Sillinger for many years have been the main competition to Zodiac in both France and Europe. With a reputation for tough, no-nonsense craft, they are popular worldwide with commercial and military operators. One of the most intriguing craft on display was their covert operations submersible 4.7m inflatable boat. This outboard-powered, tiller-steered inflatable is designed to carry a number of special forces divers, who have perhaps deployed from a surface ship or submarine. Utilising this craft, they can make their way towards the shore/target until close enough to swim the last short distance. On the surface, this Sillinger can reach planing speed and thus quickly arrive at its destination before being deflated at sea through a special air venting system and sunk into shallow water completely out of sight. The engine and fuel system are 100% waterproof, and once resting on the seabed, after having completed their mission, the dive team can reinflate the craft's sponsons through its CO2 cylinders, before boarding and returning to the mother vessel. This craft is clearly of limited use except for covert operations but is nevertheless an interesting concept and one that undoubtedly has its roots in post-WWII special forces development.
Sillinger 765
Again, this is a well-built, no-nonsense conventional GRP commercial RIB with both safe and predictable handling, and one too that offers a spacious and stable platform for all types of operations. Fitted with six Ullman suspension seats, a wide steering console and high windscreen, this is a very user-friendly, well-priced craft. With the option of single or twin outboards of up to 300hp and a choice of internal layouts, it's easy to see why Sillinger are so popular worldwide. Also on display and tested was a unique hydrofoil version of the 765, but until this prototype is fully trialled and prepared for market, we felt it unfair to report on it fully. Nevertheless, in my view, the craft is someway off becoming a viable contender in terms of its handling and performance. The concept, though, is an interesting one and could be valid once fully developed.
Kraka Jet Board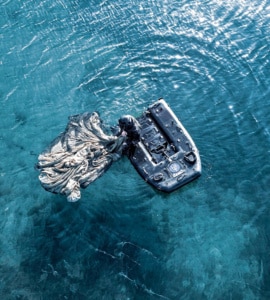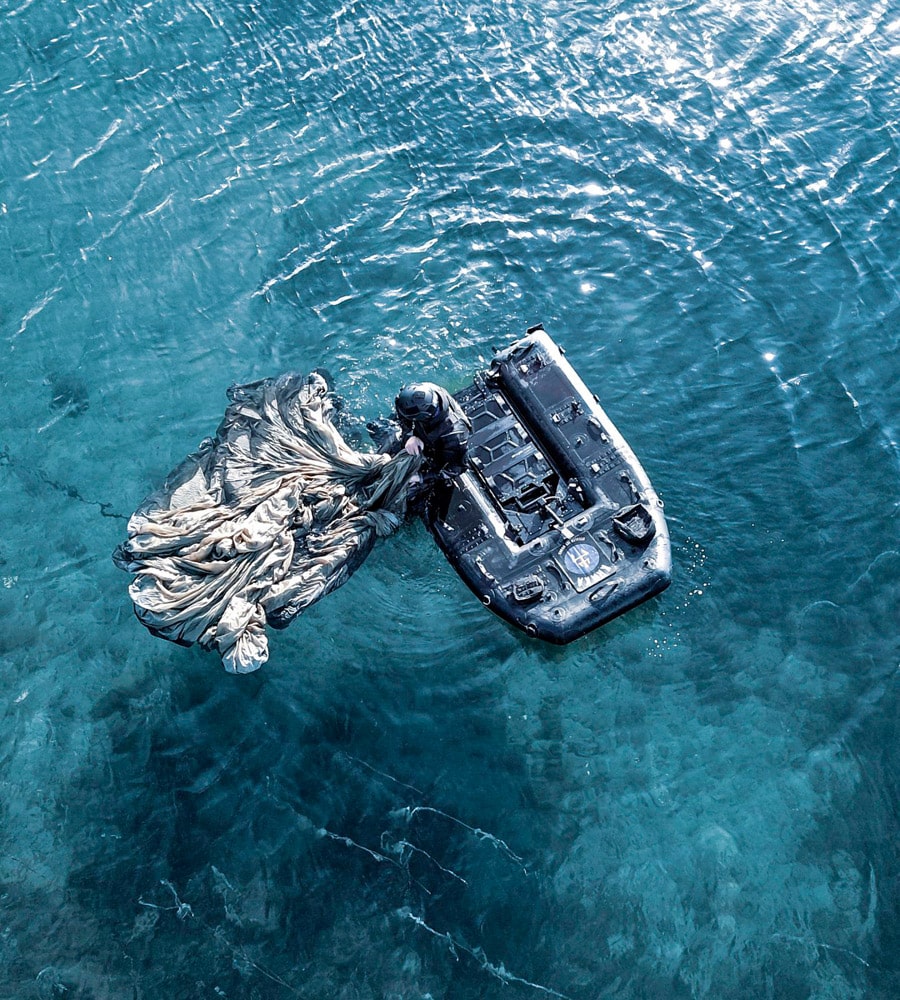 What is it? Well, perhaps it could be described as an unusual electric waterjet-powered raft possessing a low radar image. It likewise bore the slogan 'Some fear change. Others drive it'. Yes indeed, this product most certainly is different! Constructed from heavy-duty Hypalon, utilising 'drop stitch' technology, it's a super-strong, beamy, battery-powered floating raft for carrying personnel or equipment at low planing speeds with specialised operations in mind. Like the Sillinger 470, it's fully submersible and intended mainly for covert activities, although it could be used for other applications too, such as a self-propelled work platform. The Kraka is clearly very cleverly engineered and no doubt is suited to those entities with a very specific requirement. But apart from these limited few, I found it hard to determine its broader application.
Raven 8.5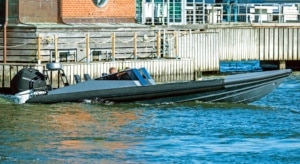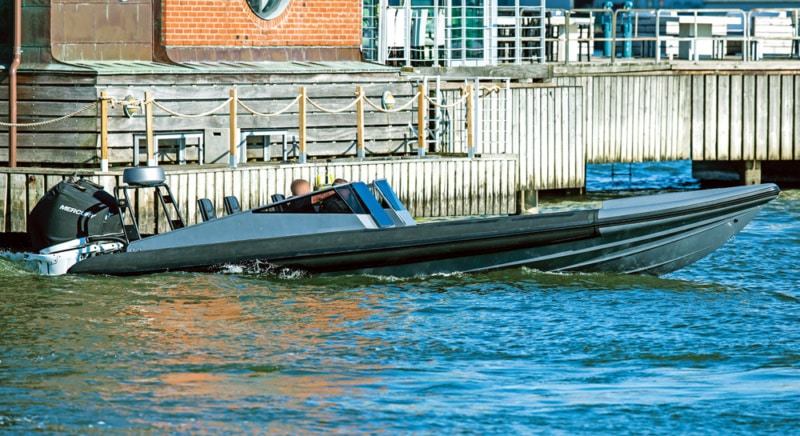 Finally, it simply wouldn't be HSBO without PBR getting the opportunity to test the legendary Raven RIB. What can one say about the fastest RIB in the world? (Current UIM world record secured in the Open RIB Class – At the helm was Jan Jorgensen of Raven RIBs with co-pilot Peter Mastrup from JJ Racing.) To have the privilege of sampling this 'rocket ship', as I can testify, is an unforgettable experience. With close to 1000hp, courtesy of a pair of race-tuned Mercury 450R V8 outboards on the transom of this unique 8.5m stepped hull, the Raven simply begs to be driven at ludicrously fast speeds. Indeed, on the day of my particular sea trial, we recorded just under 100 knots (115mph) on the GPS. This is an incredibly well-designed and stable craft with clear aerodynamic qualities and arrow-like features. 
In conclusion
HSBO remains, without question, one of the most individual and profound professional on-water events of its kind in the world – not only because of the boats and equipment on display, but also because of the degree of expertise on hand at the event, whether it be those attending or those participating and presenting. It's interesting to note, however, that in this niche and specialist sector of the marine industry, it would appear that little or no priority is being given to the need for green/sustainable technologies. Perhaps this is something this event could incorporate in future years. Undoubtedly, though, the 2021 HSBO proved another success for its organiser and host Ullman Dynamics. Congratulations to all, and here's to 2023 for the next one …