With multiple yacht and powerboat sales and over 5,000 people pre-registering for tickets, the 2022 South Coast Boat Show delighted exhibitors, with many already signed up for next year's event. HMS reports …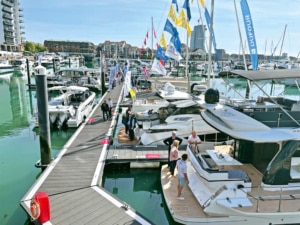 Here in the UK, the growing popularity of regional boat shows and the commercial success they continue to deliver for their exhibitors and sponsors has become an accepted fact within the industry. This represents a definite change from the time, perhaps little more than five years ago, when most marine companies, including the larger brands, considered the Southampton Boat Show to be the nation's only truly viable public showcase. 
Regional benefits
With the exception perhaps of highly specialist shows such as Seawork and RIBEX, regional shows have struggled to be taken seriously, and over the years, a good few have failed as a result. Nevertheless, it would appear that the likes of the South Coast Boat Show have more than proved themselves, and like their 'regional' counterparts, the advantages to the exhibitor include the massive savings to be enjoyed thanks to the more conservative meterage charges, and the lower number of days involved, which, of course, translate directly into reduced hotel costs, staffing requirements, hospitality and stand construction needs. Little wonder why so many question if the 'traditional', marathon-like, 10-day event model is still the best and most relevant option for the modern boating industry. 
There's no denying the fact that good weather makes an outdoor event, and it even helps to drive sales too. In the case of the South Coast Boat Show, it was most certainly blessed by beautiful sunshine and gentle breezes, which played up to the show's other great advantage, namely the opportunity to properly sea-trial the craft on display. In fact, our PBR team almost spent as much time out on Southampton Water testing boats as they did frequenting the show's marina pontoons! Visitors to this year's show were able to compare and contrast some 70 global power and sail brands on the water, all neatly gathered for inspection within the stunning surroundings of MDL's Ocean Village Marina, located within the very heart of Southampton's historic waterfront. 
Down on the water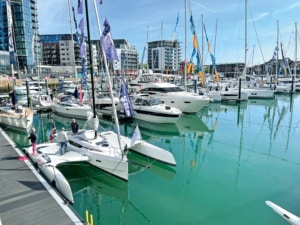 The standout exhibits relating to our sector included, undoubtedly, the Rupert 8m RIB, which made its UK debut courtesy of MCC Marine. We shall be bringing you a full report on this super-capable seagoing projectile very soon. But it's certainly a vessel our ribster readers in particular are going to admire and appreciate. 
Galeon, known for their large flybridge motor yachts, were debuting six boats at the show, including their 460 Fly and 325 GTO models. The latter is the company's very first outboard model and represents a genuinely exciting move on the part of this Polish builder, who have become famed for their award-winning Tony Castro designs. 
Saxdor, represented by IdealBoat, had a very convincing display at the show. Little wonder why Saxdor's model range of family-orientated day boats and cabin 'overnighters' are proving such a hit with those seeking a well-priced, contemporary sports craft. It's a breed of boat too that offers so many tempting features to lure the buyer. 
A selection of Axopars were present at the show, thanks chiefly to the Sunseeker London Group who, besides including PBR's 28 Cabin model Horizon in their line-up, displayed the Axopar Jobe special edition. A true showstopper, the Jobe craft could be seen halting the public in their tracks with its bright turquoise livery and sporty lines. 
For those favouring offshore craft of an all-weather design, the semi-displacement, utterly dependable and highly rated Seaward brand was represented in the guise of the company's 25ft E18 model. These hand-built 'gentlemen's cruisers' are the work of craftsmen and artisans who continue the prized tradition of the classic Nelson hull and all that it is famed for with the tradition of British boatbuilding. 
In addition, and representing all that is bound up in the UK's appreciation for Scandinavian boatbuilding prowess, the ever-purposeful seagoing attributes of the Nord Star motor yacht were proudly displayed on the main pontoon run nearest the marina entrance. Since fully making their mark here approximately four years ago, the Nord Star range has proved outstandingly successful, and has given the likes of the Botnia Targa and the Sargo more than a good run for their money in the process. Nord Star have become a very credible addition to the ranks of this particular niche sector of the offshore motor yacht market – one that attracts many former yachtsmen and serious offshore adventurers. 
Showing ashore
One observation I would make is that in its present form, the show particularly lacks the presence of the marine electronics companies, all of which have so much to share and display. Likewise, the engine manufacturers too, who could be encouraged to come with pop-up stands and even a small selection of interesting and relevant products to display. But among the landside exhibits that were present this year were showings from Cobra Ribs, courtesy of Parker Adams brokerage, Vanclaes trailers, Mastervolt, Pantaenius yacht insurance and, of course, the show's sponsors, Raymarine. 
Richard Marsden, UK Sales Manager for Raymarine, told PBR: 'The 2022 South Coast Boat Show brought us not only fantastic weather, but lots of enthusiastic boaters too. It was great to talk about our new products and help with technical questions. Furthermore, the marina was full of craft despite the supply chain issues facing the industry. We loved being a part of it.'
The last word
We'll give the final word to MDL's Sales and Marketing Director and South Coast Boat Show organiser Tim Mayer, who commented: 'We were thrilled with the turnout at the show, both exhibitors and visitors. The South Coast Boat Show is growing in size and importance year on year, and we intend to ensure it continues to do so, providing a solid platform for brands and marine businesses to meet and present to the boat-buying public. There were multiple power and sail yachts sold over the weekend. It's very encouraging for the marine industry that even in the current uncertain economic climate, people are continuing to invest in boats and the boating lifestyle. Following the success of this year's show, 90% of the landside exhibitors have already signed up for next year, and multiple brands have also secured marina space.' 
Now a firmly established event in the boat show calendar, the South Coast Boat Show will return to MDL's Ocean Village Marina from 5th to 7th May 2023. For information about next year's event, see https://www.mdlmarinas.co.uk/scbs.
An added feature
Held within Ocean Village's 'jewel in the crown', the magnificent Harbour Hotel, over 100 guests enjoyed a spectacular networking lunch, courtesy of marine advertising, marketing and PR specialist agency MAA. Journalists, and an exciting mix of business professionals from the marine sector, were entertained by sailing raconteur Tom Cunliffe and heard from event sponsoring companies, including Navico, Inland and Coastal Marina Systems, RS Electric Boats and Pick A Pier.   
'We couldn't do the work we do without the amazing pool of specialist marine journalists who support this industry,' said Mike Shepherd, Director of MAA (which has been running the press lunch for nine years). 'That's why we have the press lunch – to thank the journalists for their continued support, knowledge and enthusiasm, which enables businesses to connect with consumers (and other businesses). Plus, it's an excellent opportunity for our sponsors to liaise directly with the media, and to highlight their latest news.'
This year's event was sponsored by Navico (showcasing the Simrad NSX – the latest evolution in chartplotters and fish finders for powerboaters), Inland and Coastal Marina Systems (highlighting their innovative wave attenuators), RS Electric Boats (offering a Pulse 63 electric RIB experience) and Pick A Pier (explaining their optimisation of marina berths through shared-economy principles).