PBR's Alex Whittaker attends one of Europe's most glamorous and important events in the maritime calendar – a show brimming with new products, exciting world launches, and blessed by all things Mediterranean.
Most of us were delighted to be told that Cannes was back in business. It felt like the sun was finally coming out after the long COVID winter. However, travel restrictions meant that just getting there involved military-level logistical planning. In the end, I could not fly direct to Nice as normal but had to detour via Zurich. On my return, I then had to stop over at Brussels – tiresome, but worth it. As usual, I eschewed the taxi or helicopter transfer and hopped on the fast and efficient 210 bus from Nice Airport to Cannes – 30 euros return well spent.
Settling in
PBR HQ chose a superb local apartment for me. This was right in the old town, known as Le Suquet. My new front door was bracketed by busy pavement cafes, and when I walked upstairs and opened the tall louvred windows, I could gaze down on the happy diners. It was all delightfully Gallic, and the fun went on until the wee small hours.
Press club
Next morning, I was close enough to trundle my heavy camera trolley just over the promenade to the boat show quay. It was roasting hot from early morning, so my first port of call was the Cannes Yachting Festival Press Club. This is situated on a terrace high on the festival building, with a superb panorama of the show. I took time to register my press pass and to scope out the water cooler, free chilled Cokes and gratis beignets. The latter were handy since I never had time for lunch with all the boat tests. Naturally, in the 30-degree heat I found I had to drink a lot of water, but carrying more than a litre was a chore. Thus, this free in-flight refuelling at the Press Club was a godsend. Once all this was sorted, I attacked the show.
Presentations
Scribblers get invited to many company presentations at Cannes, sometimes two or three a day. Helpfully a number of these are held after hours. This means that they do not get in the way of the serious daytime business of gawping at powerboats. I found it very instructive to hear 'from the horse's mouth' what each company's response to COVID and climate change has been. It is no secret that boating has boomed under COVID – maybe not yet to the full extent for all families due to continuing restrictions, but the fact is that many, many new and second-hand boats are now in the hands of first-time boaters. Boat companies have boasted of increased sales, a lack of inventory stock, increased capacity and being sold out of their more prominent lines. Nonetheless, a number of world launches took place at the show, including those staged by Lomac, Axopar, Technohull, Grand Banks etc. Additionally, a few buzzwords kept on emerging from the lips of CEOs, as the boat industry has responded to changing fashions, environmental issues and the need to innovate. There were a number of companies at the festival talking about 'adventure boating', but never quite defining it. Other phrases included '100% electric boating', 'hybrid boating' and 'eco-boating'. There was definitely an initiative to get us punters used to more sustainable boating, travelling perhaps a bit slower and more economically, and maybe weaning us off our high-carbon V8s. The obvious contrast between this eco-view and the recent greatly increased sales of big petrol outboards poses its own paradox. It remains to be seen how the market responds to these new eco-offers. However, many manufacturers are moving towards a broader view of eco-sustainability, top-down from design to manufacturing. On a commercial note, it was significant that a number of companies, no doubt jealous of the success of fashionable car leasing, were now offering their own forms of shared ownership, so called 'boat club' ownership, and even leasing arrangements. Another theme among manufacturers was basing their brand in the founder country, but outsourcing production elsewhere in Europe – often to places in eastern Europe with lower labour costs. Expanding on this idea, well-known American brands like Sea Ray and Four Winns now have well-established production facilities sited in Europe.
Fashionable stuff
For an intensely shallow person such as myself, the great thing about Cannes is that conspicuous consumption has never really gone away. At Cannes, if you have it, you flaunt it. For example, a number of superyachts – much too big for the harbour – were anchored off in the bay. Many of these fab toys of the mega-rich even had helicopters on their top-deck pads. Many other superyachts had such opulent 'tenders' that they defied logic. One I noticed had a gorgeous race-tuned Cigarette for its tender. Yup, the full Miami Vice rum runner! Needless to say, it spent its days basking on a boat show berth, looking outrageously desirable. 
On other matters of fashion, I can report that triple outboards on the transom are now so last year. Large-capacity quad outboards are the new normal for many big Med RIBs. Such larger RIBs remain highly popular in the Med, and one manufacturer told me that last year most of their output went to France, the Balearics and Italy, in that order. It also still seems highly fashionable to eschew life jackets when boating on the Med. Kill cords remain optional. Meanwhile, good sunglasses and a haughty disregard for other boaters are de rigueur. The hourly scramble for the show's gate opening times, and thus access to the sea, brought out the worst in many drivers. There were a few scrapes and many near misses, usually followed by resigned Gallic shrugs. As for all those elegant promotional ladies that adorn many a back deck, I noticed that large straw hats and modest but chic shift dresses were the 2021 sartorial standard. Their presence certainly adds to the glamour of Cannes. As for the chaps, well, wearing blue blazers with chinos and brown shoes, so much in evidence in 2019, has now been abandoned. Cool dudes in 2021 were wearing tailored shirts, designer blue jeans and brown Ray-Bans. Mind you, you're still an utter nobody without a big stainless steel diver's watch on your wrist. Finally, only at the Cannes Yachting Festival could the harbour police be attractive young ladies in T-shirts and shorts, sporting hand-held VHFs on small runabout RIBs.
Food and drink
There were watering holes on the edge of the show site, and one or two pop-up coffee, fruit juice and snack stalls. These were not at all badly priced considering their convenience. However, the full panoply of French cuisine is available to you immediately outside the show, just across the Promenade de la Pantiero. It's worth noting that it was always easier to get a table at lunch in these fine establishments than at dinner. Queuing in France is often optional, but paradoxically, queuing patiently for a good dinner never seems to bother a true Frenchman. The Astoux et Brun restaurant facing the harbour has a superb reputation for its seafood and had orderly queues every night. I noticed waiters bringing wine to those waiting, so you must be able to order from the pavement. Incidentally, I was told by the BBC website before I left that I should expect to show my UK double-jab certificate before I would be served in French restaurants. This proved not to be the case. Nobody asked me to wear a mask, sit socially distanced or indeed show a certificate. By the way, the wonderfully narrow street immediately behind the big restaurants, Rue Meynadier (where I was staying), has a run of reasonably priced restaurants. I took bread and olives, ate steak frites and drank wine for a quite bearable 27 euros – not bad for the Riviera. As for any health restrictions at the show, well, they had clearly marked walking lanes, which everyone studiously ignored. 
Electric avenue
It was a sign of the times that there was a whole section of pontoons dedicated to electric-powered craft. The boat marketeers had clearly latched on to the fact that hybrid electric boats are not as attractive to the average punter as a fully electric claim. Thus, many hulls sported big stickers declaring '100% Electric'. I was keen to get on the water on a truly exquisite fully electric white sports boat from Vita Power. When I chatted to the lads on the stand, I was delighted to discover that they were from the UK. They fixed up a sea trial for me, which you will be able to read about in due course. This twin electric motorboat was exceptionally smooth and effortlessly reached over 30 knots in far less than ideal conditions. Frankly, the sea state was rough, but the power delivery was instantaneous – no building up to revs, just straight power when you opened the throttle. I was out for a test slot, and the boat easily had enough duration to take me down toward Mandelieu and then back over to the islands and return. The ride was sporty, civilised and oh so quiet. The vessel itself is elegant and has a nicely appointed cuddy cabin. The clever deck layout was ideal for the Med too. On return, to my astonishment, the boat could be recharged in just 40 minutes! Now this latter point made the whole concept viable. It started to look like a properly thought-out system to me. More details soon. Meanwhile the vita-power.com website has many more details.
Amphibians
Amphibious boats and RIBs are now a well-established powerboating genre. They combine wheels with a hull to propel themselves in and out of the water. There were big Iguanas rushing forcefully about the bay, but I spotted an entirely new design of amphibious craft on the hard by the Press Club. This was the 5.5m 140hp outboard-powered Wetton 56. It weighs 1330 kilos and can hit 34 knots. Not only could it drive in and out of the water under its own power, but most cleverly it was also its own trailer. This was complete with folding draw bar arrangement, plus folding trailer lightboard. You just extend a few items and tow the boat-cum-trailer behind your family car. Neat!
New diesel outboard
The intriguing new Cox CX0 300 BS0 II 300hp V8 diesel outboard was on my hit list. These are big devices, but the styling people at Cox have made these V8 marvels look very attractive indeed. I was utterly fascinated by the bold innovation and wanted to see if I could hitch a ride and find out for myself. Luckily, the sea gods smiled and I managed a trial on an Axopar 37 fitted with two of these astounding appliances. There will be a fuller exposition in due course, but the big takeaway from driving a well-found boat with 600 diesel horsepower on tap was the seemingly endless torque. In a typically messy Med afternoon chop, if I pressed the boat into a tight turn under power, she just continued to power right through the turn – no skipping, nodding off course or falling out. After just a short while enjoying the easy luxury of all that torque, the smooth power delivery made the ride feel truly epic. I was also struck by the relatively modest noise levels. Frankly, I was not expecting this level of refinement from a diesel outboard.
Surface-piercing drive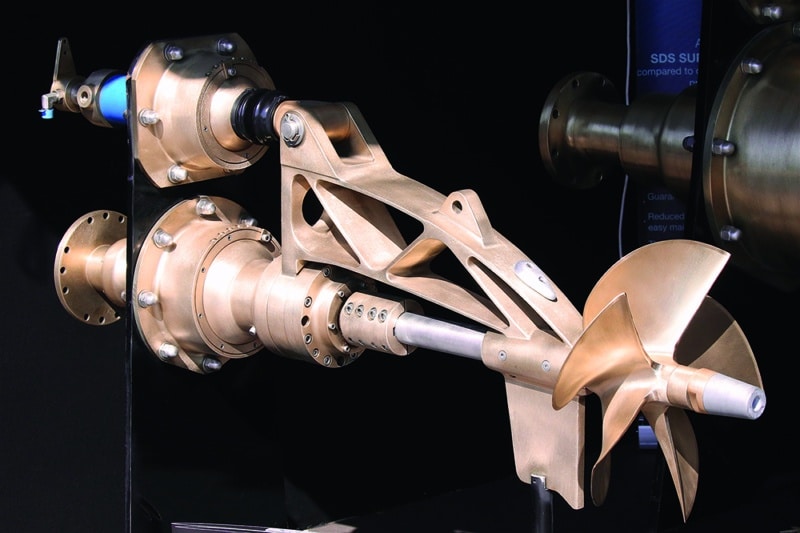 I was mooching through the smaller stalls one morning when I came across an amazing display of CNC-machined bronze items, one of which was a full surface-piercing drive complete with propeller. I am unencumbered by any knowledge of SPD technology and have never really had a chance to study such a drive. It was extremely interesting. Idly, I wondered if there will be electric surface-piercing drives in the future?
Mercury 600hp outboard
The big news for petrolheads was Mercury's showing of their new 600hp petrol outboard. In the metal, it is a seriously impressive design. One instantly noted that the engine is bolted directly to the transom, and only the lower casing with the twin contra-rotating props actually steers, which is logical for such a heavy motor when you think about it, but pretty impressive all the same.
Lightweight tender
Not everything high tech on show was big and heavy. AST Yachts & Composites were exhibiting their new light carbon tender with a sign saying 'Lift Me'. I did and I could manage it easily because it weighed in at just 47kg. It also had built-in wheels.
Zodiac Medline 9
Although we own a hard-hull sports cruiser, before we bought it, we actually had a family debate over whether to buy a RIB and station it at Mallorca. At that time, a Zodiac Medline RIB easily came out top of our list. The purchase never came to pass for family reasons, but since then we have maintained a keen interest in the Zodiac Medline series. I don't have room here to go into details, but at sea the Medline 9 RIB proved to be capable, comfortable, versatile and very fast – a great platform for family dayboating and water sports, with the undoubted benefit of a small cabin, and definitely worth a close look if you are in the market for such a well-thought-out family RIB. Incidentally, Zodiac were also showing their new electric tender in partnership with Torqeedo. This impressed me with the cleverness and simplicity of the system, and its highly practical integrated charging arrangements. 
New Axopar 25
Wherever you looked out on the water in the Bay of Cannes there seemed to be Axopars darting about in various shapes, sizes, configurations and colours. I rather liked the decidedly non-white Jobe Revolve versions. There is no doubt that fashionable Axopars have set a new design aesthetic that the market and competing manufacturers seem to like. However, the compact new 25 is a landmark design for Axopar. Now, for any manufacturer, scaling down a successful market-proven product is probably much harder than going bigger. An entry-level vessel certainly needs to watch its production costs, while maintaining quality. Also, scaling down to 8m (23ft 3in) from the familiar larger Axopars is not straightforward – especially while retaining performance and seaworthiness. The new 25 is only 0.9m longer than the nifty new 22 Spyder, but it packs in a toilet and basic accommodation. However, like the 22 it is clearly stamped throughout with the Axopar brand. Naturally, this new 2.23m (7ft 4in)-wide 25 was on my hit list, and I was lucky enough to crawl all over this fine new vessel with my cameras. The most impressive thing for me was the twin-stepped hull. It was definitely from the Axopar stable, with similar design cues at the raked stem. However, from there aft, the whole hull is a much more complex moulding than I had expected. It looks superb, especially in gleaming white, and those developed curves and sculpted side sections make it look and feel tough and stiff. Later I was able to undertake a sea trial, a description of which will appear in PBR in due course. Suffice it to say here that the immediacy of driving such a punchy, small outboard-powered boat made it feel more 'point and squirt' sports car than cruiser – definitely a pocket rocket, but with basic accommodation too. I think this compact Axopar might sell well.
Sea Ray 25
Sea Ray were displaying two versions of their impressive new 25 bowrider. These are comfortable, spacious, big-shouldered, family-friendly party boats. They have the touch of the deck boat concept about them, with a large aft deck and broad forward cockpit. On test they proved to be fast and dynamic sports boats. I was able to take both flavours, inboard and outboard, out to the islands. More details soon, but briefly, in a very lumpy force 3, they were great fun and utterly safe. At times in the marginal conditions it was a wild and wet ride, but utterly exhilarating. Proper family sports boating!
Après show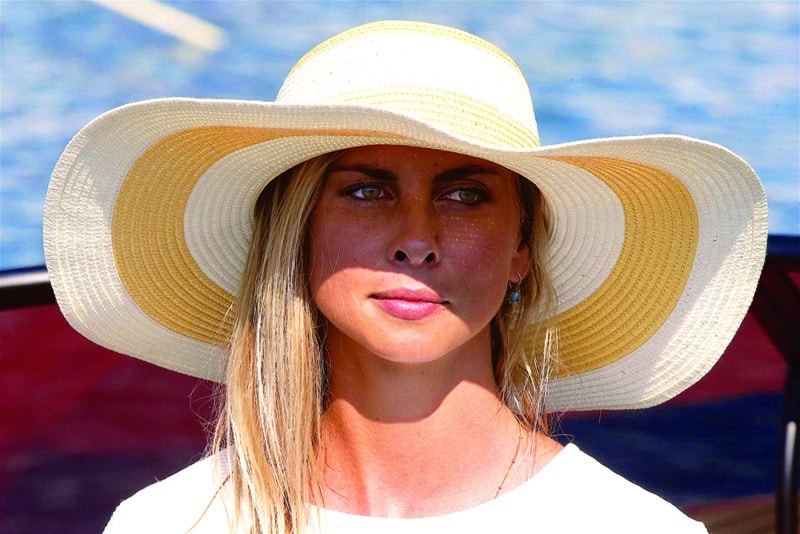 When the ticket-buying public go home it is time to fit in some sunset sea trials. After that, it is impromptu party time on the pontoons. It is normal for the press corps to grade these parties put on by the big brands. On the last night of the show, I chose the Sea Ray party since it was pizzas and Heineken. Cannes is so chic …
The verdict
Miraculously, and in denial of all the irritating naysayers, official attendance at Cannes 2021 was equal to that of pre-COVID 2019. At the final press conference, we could clearly see this was a great relief to the organisers. Their fortitude and perseverance were amply rewarded. While I love Southampton, Cannes is easily my favourite boat show. Nothing quite matches its sunny Riviera setting in the Old Port, close to the glamorous Boulevard de la Croisette. The Cannes show's ambience is laid-back and fun, but businesslike. The range of new boats on offer is probably unrivalled in Europe, which is ideal if you are in the market for a new boat for the next season. This year Cannes did not disappoint, and frankly it was a cracking event. Every keen boater should visit the Cannes Yachting Festival at least once. However, my advice would be to make a trip of it and go for two or three days. There is so much to take in.