One of the questions we get asked most often is what apps do you use, what app do you recommend for weather or tides, what's the best charting app? In this article we'll take a run through what I and my colleagues have on our phones.
XCWeather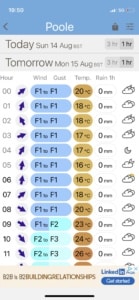 For weather information the apps you will want to look at will vary according to how far you plan on heading off. Boating close to home my most regular go to app is 'XCWeather'. This is optimised for mobiles and also can be accessed via a normal PC. The app is simple, and I like the way that you can change the way the app shows you wind speed to either knots or Beaufort scale (eg F6) and the simple layout works well.
Windy.app & PredictWind
Two apps which I like and I'm making more and more use of are 'windy.app' and 'PredictWind'. Both of these have much more depth than 'XCWeather' and you will need to spend time deciding how best to make the most of them as there's a risk that there's so much to them that you don't really ever do so. These are apps with paid options too to get more from them – my recommendation would be to get a feel from them first as I have yet to pay for them as the base editions give me plenty.
Met Office App
My big disappointment weather app wise is the MetOffice app. It offers little for boaters beyond the basics and doesn't give access to the Inshore Waters and Shipping Forecasts – as it stands give it a miss and just save a link to the  BBC Weather page on their website (not the BBC Weather app as that has the same failings as the MetOffice app).
Imray Tides Planner App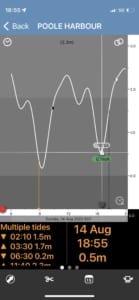 For tides there are loads out there but beware! Based on the south coast in Poole we have a strange double high tide phenomenon where we get two highs then one low. A fair few of the tides apps don't show this which makes me wonder what else they get wrong. My goto is the Imray Tides Planner app. What it lacks in design and intuitiveness it makes up for in just giving good accurate data. It gives free tidal curves for the next 24 hours and for very little ( a few £s) you can upgrade to get tidal curves for the whole year. You can also add the option for tidal stream but there's a better app for that – Navionics…..
Navionics Boating Marine App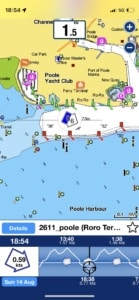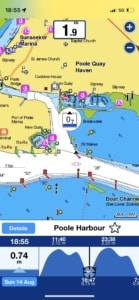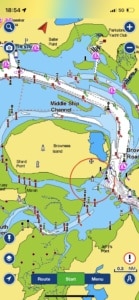 The Garmin owned 'Navionics Boating Marine' app is really worth checking out and worth paying to get annually as it really gives you so much that's useful for you afloat. At a basic level it gives you charts of the whole of the UK but what you also get though is tidal curves and tidal stream data as part of the app and these are really good and easy to use. You have a look around your area of interest and click on the little tidal height rectangle or the tidal stream arrow and you can scroll through the height or stream for the rest of the day in a very visually appealing way. From a planning point of view you can also plan routes and link the app to your Raymarine or Garmin plotters (if they are loaded with Navionics charts too) to allow you to plan on your phone or tablet then transfer this planning straight to the onboard plotter – clever and really useful!
Just a bit of a warning though, like many such apps the Navionics app offers a feature called 'autorouting' which like in your car works a route out from your departure point to your destination. Some of the routes I've seen it plan have not been great with the route passing over areas that whilst there is enough water under the hull would be better avoided – in short an app doesn't remove the need for you to plan a good, safe route as the skipper. I have also used iSailor a few times as a charting app and this is pretty good too.
RYA SafeTrx App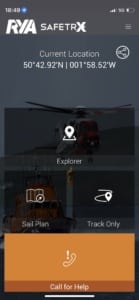 An app that's become more and more popular is the RYA SafeTrx app. The idea with this app is that you log details of your planned route/day out and then share this to a friend(s). If you get overdue they will know and they can contact the coastguard.  If its considered serious the coastguard may be able to access your last known position. This app is free and well worth checking out by all boaters but also those kayaking and paddleboarding.
Plotter Apps
If you have a plotter on board and it's relatively new, then its pretty likely that they'll be an app to link to the plotter. These are really good as they allow you to sit anywhere on your boat and control the plotter from a phone or tablet. I used Raymarine 'RayControl' app working in tandem with an iPad running Navionics to give me two systems, and so a bit of redundancy, to circumnavigate Ireland. This worked brilliantly and now on any passage I make an iPad is at the heart of my navigation 'package'.
MarineTraffic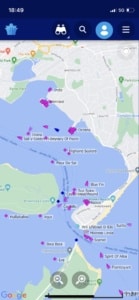 Finally a great app that's useful and fun in equal measures is 'Marine Traffic'. Large vessels, lifeboats and rescue helicopters have transponders fitted called AIS. A good number of pleasure vessels operate AIS too and the ability to see these vessels can be useful and fun – give it a try!
Inevitably anything electronic is a fast moving area so keep an eye out on what's out there and try the new apps as they come out – make sure you let us know at PB&R which ones you rate too!
Keep safe and have a great time afloat!
Paul Glatzel is a RYA Powerboat and Personal Watercraft Trainer and wrote the RYA Powerboat Handbook and the RYA Advanced Powerboat Handbook. He runs Powerboat Training UK & Marine Education in Poole & Lymington (www.powerboattraininguk.co.uk & www.marine-education.co.uk)
Read article on PDF Viewer